Pound rallies after UK tax cut u-turn: can GBP maintain momentum?
Subscribe to Weekly Highlights
The major market events for the week ahead right in your inbox.
Subscribe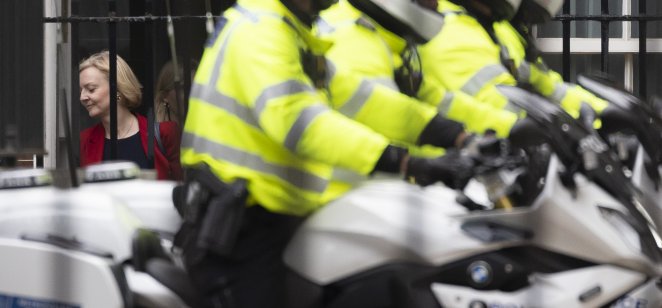 Content
Sterling has rallied by around nine cents against dollar (GBP/USD) in the past four sessions and wore, early on, some extra early winter insulation from the chancellor's humiliating 45p tax rate U-turn.
Speculation that the Office of Budget Responsibility (OBR) could bring its forecasts forward and better UK economic numbers – the economy actually grew 0.2% in the second quarter, an upward revision from -0.1% – gave the pound some early punch.
By early afternoon in London GBP/USD was up 0.7% on the session at 1.1236.
Nevertheless, one of the pound's core problem remained – a near universal lack of market confidence in the government's fiscal plans, leaving investors with the question: will short-sellers return once the Bank of England stops its temporary bond buying exercise?
Viraj Patel from Vanda Research thinks, on balance, more bad data is needed for another run on sterling. The UK housing market is key he says. "In the absence of that [housing data] short sellers need a bit more ammunition to test any [dollar] parity thesis."
He adds that if UK mortgage product premium risk stays high "there's going to be a lot of pain in the next three to six months."
What is your sentiment on GBP/USD?
Vote to see Traders sentiment!
Backlash contained? It's unlikely
"Just because they've [the government] done this U-turn doesn't mean that everything turns back on its head. It's whether the ripple effects will continue over the next 3-6 months, from one week of chaos."
"If in two weeks time there's enough backstop they've [Bank of England] provided you could go back to gilt sales…and you could be trading between 1.15 to 1.20."
The Bank of England suspended a planned sale of gilts due to the turmoil in the bond markets following the new government's mini-Budget.
| | |
| --- | --- |
| Long position overnight fee | 0.0051% |
| Short position overnight fee | -0.0116% |
| Overnight fee time | 22:00 (UTC) |
| Spread | 0.008 |
| | |
| --- | --- |
| Long position overnight fee | -0.0076% |
| Short position overnight fee | 0.0030% |
| Overnight fee time | 22:00 (UTC) |
| Spread | 0.00006 |
| | |
| --- | --- |
| Long position overnight fee | -0.0036% |
| Short position overnight fee | 0.0007% |
| Overnight fee time | 22:00 (UTC) |
| Spread | 0.00006 |
| | |
| --- | --- |
| Long position overnight fee | -0.0032% |
| Short position overnight fee | 0.0008% |
| Overnight fee time | 22:00 (UTC) |
| Spread | 0.00013 |
The pound, says Patel, still remains the bellwether signal on whether the bank of England needs to act, or not. If there's a flash crash, back to 1.05 "the bank will need to consider emergency rate hikes".
But it's the frightening inability to read market conditions that worries fx strategist Jane Foley at Rabobank. Both political and trade negativity hang heavy she says.
Three warning signs Rabobank's Foley points to:
Soft UK investment growth may mean the Tory government has failed to convince the market of Brexit. Last month Liz Truss confirmed "that the UK may not strike a free trade deal with the US for years".
US Democrats are clear that a Truss threat to undo some of the Northern Ireland protocol "may endanger the peace process which they see as 'not conducive' to a trade deal".
Truss had also already been warned about the dangers of her fiscal programme during the Tory party leadership contest, not least by Rishi Sunak.
There's also the issue of the UK's current account deficit, currently at a record high of 8.3% of GDP.
It gets worse
"Typically, funding a current account is easy when the nation's fundamentals are strong, or perhaps when the central bank is also vacuuming up assets," Foley says.
"If overseas investors do not find the fundamentals appealing, asset prices and the value of the currency will fall until they are cheap enough to trigger bargain hunters.
"This dynamic has arguably been weighing on GBP for months. Truss and Kwarteng added rocket fuel to the fire."
Raising rates while opening the quantitative easing taps is contradictory behaviour. While markets aren't class war moralisers they dislike too much political unfairness, not to say confusion.
Nearer lunchtime DXY was at 112.31, up 0.17% and EUR/USD was 0.37% lower at 0.9755.
GBP teardown:
FX strategist and finance consultant at Keirstone, Francis Fabrizi
Looking at GBP/USD, price has reversed from the lows of last week and has found resistance at 1.1305. "I believe this is a temporary pullback fuelled by Truss and Kwarteng's decision to abort plans for recent tax cuts. If we see sellers regain control at this point, price is likely to re-test 1.0358. However if a break through the 1.1305 resistance level occurs, 1.1562 is the next level price is likely to target."
EUR/GBP has been declining from the 0.9274 resistance level from last week. "Since then, price has fallen over 500 pips. Sellers have been given an added boost of confidence by today's tax cut announcement which leads me to believe price will fall to 0.8600 if price continues its bearish run past the current 0.8727 support level. If we see a break and hold below this level, 0.8522 could be the next long term target."
Related reading