Porsche reveals F1 ambitions: P911 closes in on deal buy 50% Williams Racing stake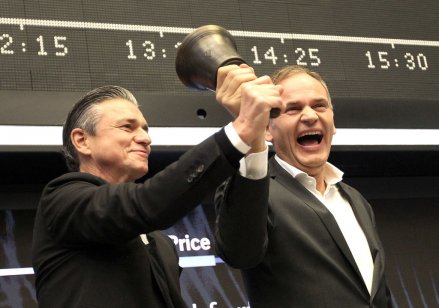 Racing ahead since its initial public offering (IPO) back in September, Porsche (P911) is on a bit of roll right now. With its stock price up 20% since its IPO, the iconic luxury carmaker has shifted gears and is reportedly planning to buy a 50% stake in the Williams Formula One racing team.
So, what affect will this have on the stock, and can it now start to compete with F1 dream team Ferrari (RACEm), both on and off the racing track?
What is your sentiment on P911?
Vote to see Traders sentiment!
Porsche (P911) share price chart
Porsche (P911
) has entered the Formula One

(FWONK)

race

Porsche made its stock market debut on the Frankfurt stock exchange on 29 September. Trading under the stock ticker P911, Volkswagen (VOW3) spun-off its luxury car division and defied the naysayers by pricing Porsche (P911) shares at €82.50 (£79.32) per share, which was the top end of the initial range given at the start of the month.

Experts were sceptical about the listing, believing it would fail due to market conditions of rising inflation, interest rates and recession woes. But P911 shares have soared and now, the carmaker is also embarking on a new venture and is looking to part own a Formula One (F1) team.

This is not the first time Porsche (P911) has set out to own a stake in a F1 team, back in September it looked like it would happen as P911 engaged in talks with Red Bull. The German carmaker made no secret of its desire to enter the racing world. It reached a late stage, and they even trademarked the term "F1nally."

Alas, the deal collapsed and P911 went back to the starting block.

But Porsche has emerged on the F1 scene again and is now looking to own half of the Williams F1 team.

Porsche (P911) is a strong car company with revenue up 8% in the first half of 2022, so could it out race Ferrari (RACEm)?

"Sporting an EBITDA margin of 24.5%, this is high for the industry but still trailing its Italian rival Ferrari (RACEm) and here also lies the potential for future shareholders of Porsche, namely closing the valuation and operational gap to Ferrari," Saxo Bank's Head of Equity Strategy, Peter Garnry wrote in a note.

Garnry goes on to say that Porsche (P911) is a well-run organisation that has generated over €33.1bn in revenue in 2021 and an operating profit of €5.3bn and EBITDA of €7.4bn.

"This is good but not on par with Ferrari's 35.7% in 2021. It should be said that Ferrari (RACEm) is a company that can extract even more in profits per car manufactured due to its higher brand status," Garnry said.

"With an estimated market value of €75bn and the EBITDA of €7.4bn in 2021 it translates into a multiple of 10.1x which is significantly lower than Ferrari's multiple of 22.2 times market value to EBITDA."

But the checkered flag has yet to fall, and Porsche is not out of the race - just yet.
Ferrari (RACEm) share price chart
F1 (FWONK) results can affect stock prices
"It is clear when you compare Porsche (P911) to Ferrari (RACEm) that there is room for improvement and a potential upside if Porsche (P911) can improve its operations and expand on its already strong brand," Garnry said.
As Porsche (P911) draws near to its F1 ambitions, what affect will this have on its stock price?
Well, currently Porsche (P911) stock is on a roll, up 20% since its IPO, experts believe that owning a stake in a F1 team would add significant value to the Porsche portfolio.
A good benchmark to look at and help answer this question, would be Porsche's rival Ferrari (RACEm), as well as F1.
With a 35% EBITDA margin and an ever-increasing demand, Ferrari (RACEm) is a strong company.
But poor performance on the racing track has hurt the Ferrari (RACEm) brand over the past few years,
With that said, after the first four Grand Prix of the 2022 Championships, Ferrari's luck turned around and it was reported that HSBC investment analysts have upgraded Ferrari from a "hold" recommendation to a "buy" rating this week, which is testmenet to how well Ferrari has performed over the years.
We Tweeted yesterday that #F1 should have never been floated because it is influenced by too many external factors. Here's more proof:
Vettel leaves Ferrari: $FWONK -4.5%
Sainz joins Ferrari: $FWONK +3.1%
Both prices from the same time. That's a net loss of 1.4% or $90 MILLION... pic.twitter.com/5M5trjZDbw

— Formula Money (@FormulaMoney) May 14, 2020
However, changes in drivers can hurt the stock price of carmakers and F1.
In May 2020, F1's share price fell 4.5%, after Sebastian Vettel left Ferrari (RACEm). The very next day, the group's share price rose by 3.1%, after it was announced that Carlos Sainz would replace Sebastian Vettel. This led experts to claim that the influence of changes within the sport, affected the share price of companies too much.