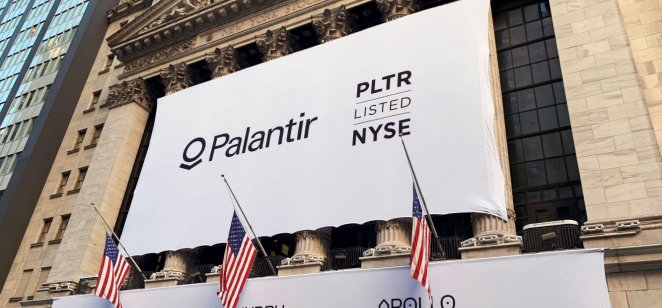 Content
Palantir Technologies (PLTR) stock could face pressure from competitors and can no longer count on healthcare contracts to boost its revenues despite recent price gains, one Wall Street analyst reckons.
The data mining company's stock has risen 30% over the prior trading week and is up 15% for the month.
Palantir (PLTR) stock price
Founded in 2004 from the anti-money laundering operations of PayPal by Peter Thiel, Dr Alex Karp and others, Palantir has set its sights on becoming the data operating system for companies and industries. Palantir takes its name from the "seeing stones" of JRR Tolkien's Lord of the Rings books.
Palantir's software products, such Gotham and Foundry, aggregate data from disparate sources and then analyse it using artificial intelligence to help organizations make better decisions.
"We remain cautious on shares over the next 12 months given the potential for margin pressure from competition and partnerships," William Blair analyst Louie DiPalma wrote in a note obtained by Capital.com.
Contract win?
A near-term catalyst for Palantir's stock price could come from news of a contract win.
"One of the anticipated wins that we believe Palantir management was likely referring to [in its May earnings call] is the US Army's Project TITAN Phase II contract. Over the next 10 days, we expect the Army to issue TITAN awards to Palantir and Raytheon (RTX)."
Raytheon (RTX) stock price
TITAN - short for Tactical Intelligence Targeting Access Node – will use the latest artificial intelligence and machine learning techniques to deliver battlefield information to ground stations from a variety of sources to the US Army.
The William Blair analyst cautioned that complex defence programs have "the potential to pressure margins" due to increased competition and the reliance on subcontractors.
Margin threat
William Blair's DiPalma said that while Palantir offers "a unique solution" with the potential to support growth rates in line with successful software companies, there were "several risks" to achieving this growth rate that were not currently priced into the stock.
"The primary risk is that Palantir does not significantly accelerate its commercial revenue," the analyst wrote.
Palantir has struggled to achieve the same type of "hypergrowth" for its commercial division that many of its data analytics peers have achieved despite its new sales strategy "showing potential".
DiPalma said that Palantir's total backlog has been flat for five consecutive quarters.
Peer risk
"We see risk that like several peers, Palantir could be negatively affected by federal contracts slipping forward," DiPalma wrote in his note.
What is your sentiment on GD?
Vote to see Traders sentiment!
The analyst says the company faces "formidable competition" from the likes of C3.AI (AI), General Dynamics (GD) and L3Harris.
General Dynamics (GD) stock price
Covid contracts
A major source of growth for Palantir's government segment in recent years has come from lucrative COVID-related contracts.
"While we expect Palantir to renew its COVID-related contracts, we do not expect COVID contracts to contribute significant new recurring revenue. In addition, Palantir won several COVID-related contracts in 2021, which could become a headwind if the infection rates decline," the William Blair analyst wrote.
Recent earnings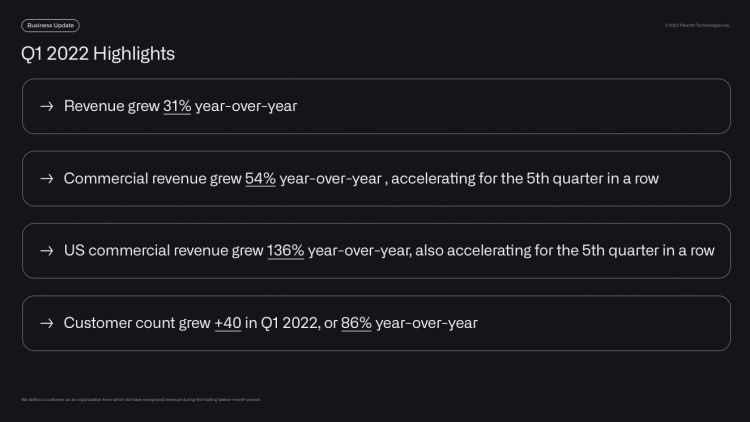 Palantir
In early May, the company published earnings for the first quarter of 2022, reporting adjusted earnings of two cents per share on revenue of $446.4m (£360m, €423m).
Analysts had been expecting earnings of four cents per share on revenue of $443m, according to figures widely available on financial news sites.
For the current second quarter, Palantir said it expects revenue of $470m, compared with an overall market consensus of $484m. Operating margin is expected to be 20%, compared with a consensus estimate of 26.4%.
Palantir will report results for its second quarter in August.
Further reading...