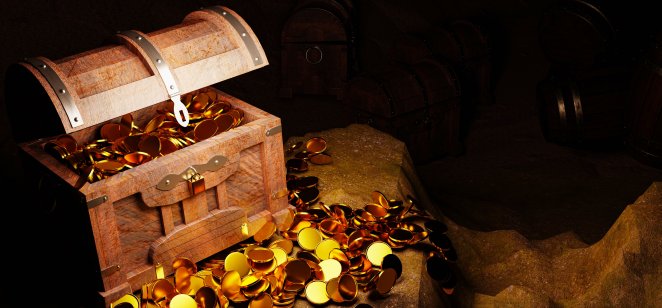 With the Russia-Ukraine conflict still raging on, the illegal gold trade has seen a surge in recent weeks as Russia, one of the biggest producers of gold globally, has faced an increased number of Western sanctions.
This has led to speculation by a number of investors that Russian gold may now find itself on black markets, as gold miners attempt to circumnavigate the new restrictions and transport the precious metal out of the country.
With the illegal gold trade already booming in a number of areas, such as the Amazon and parts of southern and eastern Africa, this new influx of gold from Russia is expected to significantly alter the supply-demand balance for gold.

Physical gold is seen as very difficult to trace, as its origins can be masked or simply undisclosed and it is very malleable and easily transportable across borders, which may go a long way in helping Moscow mobilise its foreign exchange gold reserves in order to continue fuelling its invasion of Ukraine.
How has the Russian conflict contributed to the illicit gold trade?
Russia has been given a number of opportunities to back down from the Ukraine conflict, with several heads of state intervening during peace talks as well. However its reluctance and the slow progress, if any, of the peace talks have resulted in Western sanctions being put in place not only on its central bank gold holdings, but also on its gold trade.
The US Treasury Department has highlighted that the existing sanctions on Russia also include gold-related transactions by the Bank of Russia. This has led to the Global Initiative Against Organized Crime (GI-TOC) highlighting the high possibility of Moscow using the vast illegal gold trade network in order to move reserves out of the country, and access funds which have otherwise been blocked by the EU, UK and US.
The GI-TOC outlines in this report how this vast network offers "a variety of economic options to an increasingly beleaguered Moscow as well as other sanctioned actors".
With Russia's gold reserves estimated to be worth around $140bn, the possibility of gold laundering is very high. It has been suggesed that these funds could then be used to reimburse Russian oligarchs for the sanctions they have faced all over the world, as well as to pay for Russian imports and military operations.
How will pirate gold affect metal prices?
Gold has steadily declined from its March highs, owing to a stronger US dollar (DXY) and higher US Treasury yields, as investors anticipated more aggressive interest rate hikes from the Federal Reserve. Fears over Chinese demand have also weighed on gold prices in recent sessions, since China is the world's largest purchaser of gold jewellery.
Clearly, if the illicit gold trade continues to gain traction in the next months, it will result in a potential oversupply, putting downward pressure on prices. This may also result in gold trading seeing increased regulatory attention as a number of states come down heavily to curb illegal channels.
Fears about economic growth, on the other hand, may lead the market to forecast a less aggressive Fed, recovering some of the investor demand that has waned in recent months.
Why has illegal gold mining in Latin America resurfaced?
Brazil's Amazon region has long been renowned for its gold and mineral riches, which has also led to it being a hotspot for illegal mining. Although the resulting corruption and political unrest are worrying enough, investors are now more concerned about the deforestation taking place in the world's largest tropical rainforest.
This recent gold rush has caused Brazil to be likened to the Wild West, with an alarming lack of regulations, both safety and environmental. Money laundering around the trade in the extracted gold, as well as the rise of criminal activity, have also been significant concerns in the last few years.
What is your sentiment on Gold?
Vote to see Traders sentiment!
Venezuela has also been at the forefront of the illicit gold trade in recent years, due to a number of sanctions imposed by the US, EU and the UK, following the US blacklisting the Venezuelan central bank.
Russia was a pillar of support during this time, airlifting physical gold from the Latin American country to Turkey, Uganda and the UAE and converting it into foreign currency to pump back into Venezuela and support its failing financial system.
This has led to investors speculating that Venezuela may step up to offer Russia its assistance in navigating sanctions this time.
Who are the other major players?
Apart from Russia and Latin America, parts of Africa, such as Kenya, Sudan and Uganda, are also believed to be heavily involved in the illegal gold trade, with Russia suspected of using its networks in those areas to facilitate the movement of its physical gold.
Due to this trade being seen as high-return and low-risk compared to other criminal activities, financial levers, violence and corruption have all contributed to the rise of illegal trading in Africa.
This has been counterproductive, as gold is an abundant resource in these areas and could have been used to uplift them from poverty, instead of being used illegally, with thousands of small-scale artisanal mines undermining efficiency and a unified strategy.
Read more