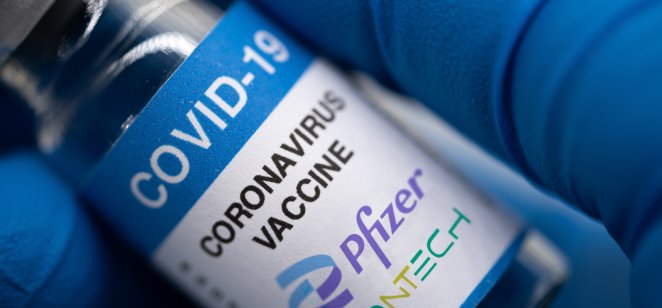 Shares in pharmaceutical biotechnology company Pfizer increased by 4% on Tuesday after it raised full-year guidance for its sale of its Covid-19 vaccination shots, according to third-quarter earnings results.
Pfizer's revenue from the company's Covid-19 vaccine called Comirnaty are now expected to total $36bn in full-year 2021, up from earlier estimates of $33.5bn. During the quarter the vaccine generated $13bn of revenue for the company, which is more than half of its total revenue during that period.
The pharmaceutical company signed additional supply agreements with countries since mid-July reflecting the US Federal Drug Administration's approval of the shot for kids aged 5–11 years old as well as the approval of single booster shots for adults with high exposure to the virus six months after the original dose.
To date, Pfizer has produced 2.6 billion doses of Comirnaty and shipped 2 billion doses to 152 countries or territories. The company expects to produce 3 billion doses in total this year and deliver 2.3 billion of them.
Financial results
Pfizer's overall revenue was up 134% year over year to $24bn as the company continues to benefit from strong year-over-year comparisons to before it started shipping the vaccine in late 2020.
Adjusted diluted earnings per share also rose by 129% year over year to $1.34. Both revenue and earnings figures beat analyst expectations, according to Refinitiv data.
Pfizer's shares closed 4.17% higher on the back of those results at a price of $45.45 per share.
"While we are proud of our financial performance, we are even more proud of what these financial results represent in terms of the positive impact we are having on human lives around the world," Albert Bourla, Pfizer's chairman and CEO said to kick off the earnings call Tuesday. "In the first nine months of 2021, our innovative medicines and vaccines reached nearly a billion people. Excluding our Covid-19 vaccine, we reached nearly 300 million people during that time. These are humbling numbers for all of us at Pfizer"
Future growth
One of the questions investors have is how Pfizer will grow its earnings in future quarters once the Covid-19 pandemic begins to subside.
Pfizer expects to generate $45bn–$46bn of revenue from operations not related to Comirnaty this year, which is lower from its previous guidance of $45bn–$47bn. Revenues in its oncology, hospital and rare disease segments all increased by double-digit percentages year over year but its internal medicines business is roughly flat year over year and inflammation and immunology revenues were down by 7% over that period.
During the quarter, Pfizer announced plans to buy cancer drug developer Trillium in a $2.3bn deal. Pfizer obtained a $25m stake in the Canadian drug maker last year and will buy the remaining shares for $18.50 apiece.
The acquisition will boost Pfizer's abilities in the area of blood-cancer therapies, which competitor Gilead Sciences also targeted as an area of growth last year with a $4.9bn acquisition of drug developer Forty Seven.
The difference between stocks and CFDs
The main difference between CFD trading and stock trading is that you don't own the underlying stock when you trade on an individual stock CFD.
With CFDs, you never actually buy or sell the underlying asset that you've chosen to trade. You can still benefit if the market moves in your favour, or make a loss if it moves against you. However, with traditional stock trading you enter a contract to exchange the legal ownership of the individual shares for money, and you own this equity.
CFDs are leveraged products, which means that you only need to deposit a percentage of the full value of the CFD trade in order to open a position. But with traditional stock trading, you buy the shares for the full amount. In the UK, there is no stamp duty on CFD trading, but there is when you buy stocks.
CFDs attract overnight costs to hold the trades, (unless you use 1-1 leverage)
which makes them more suited to short-term trading opportunities. Stocks are more normally bought and held for longer. You might also pay a stockbroker commission or fees when buying and selling stocks.