Peru walks a tightrope between locals and copper miners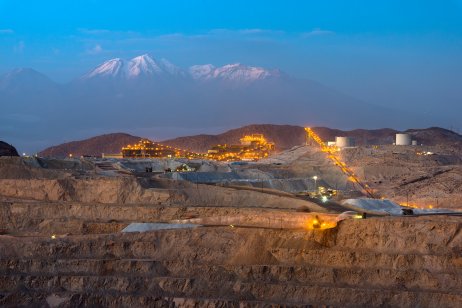 Content
Peru is the second-largest copper producer in the world, right behind Chile, producing approximately 12% of the global output in 2017. It is also the world's second-largest silver producer, along with being the topmost producer of zinc, gold and lead in Latin America.
Rich in natural resources, Peru has a lot of mining activity, which does not go down well with the indigenous people for polluting their land and uprooting their communities.
Recently, the expansion of the Las Bambas copper mine led to widespread protests and outrage, accusing global companies of not providing money or jobs to one of Peru's poorest areas, even as they extracted the massive mineral wealth.
What is your sentiment on Silver?
Vote to see Traders sentiment!
Peru is the second biggest exporter of copper in the world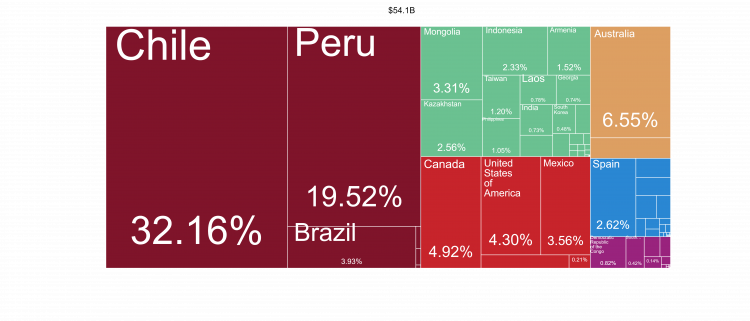 Copper ore exports by country chart – Credit: Atlas of Economic Complexity
Expansion of Las Bambas and its effect on Peru's copper sector
MMG – majority-owned by China Minmetals – is the owner of the Las Bambas mine in Peru. It recently obtained permission from the country's Ministry of Energy and Mines to expand its copper mine. This was met with considerably mixed reactions and widespread protests from local communities.
The expansion is mostly focused on the Chalcobamba pit of the mine. In 2020, the Las Bambas mine produced around 263,396 tonnes of copper. Following the expansion, the mine output is expected to increase by approximately 380,000 to 400,000 tonnes of copper concentrate in the medium term.
This would help Peru establish itself firmly in the global copper market and bring it closer to Chile – the top producer – and help generate more revenue for southern Peru.
With copper prices inching up at present, investors welcome the expansion plan as very timely. In the long run, it may help ease copper prices by increasing and regulating worldwide supplies, which would help combat price pressures arising from shortages and supply chain lags.
The biggest copper mining companies in Peru
According to Statista, Southern Peru Copper was the biggest copper miner in the country revenue-wise in 2020 clocking at approximately $3.5bn, followed by Compania Minera Antamina at $2.8bn and Sociedad Minera Cerro Verde at $2.54bn.
Glencore, Minera Las Bambas and HudBay Minerals are also some of the top mining companies in the country.
According to website aggregator Mining Technology, the biggest copper mine in the country by size is the Cerro Verde mine, owned by US-based Freeport McMoRan, which produced approximately 371,000 tonnes of copper in 2020.
This is followed by the Antamina mine, owned by Glencore, producing around 368,889 tonnes and the Las Bambas mine owned by China Minmetals with about 263,396 tonnes of output. The Toquepala mine owned by Groupo Mexico is also considerably large, amounting to around 231,204 tonnes in 2020.
Why does Peru's Las Bambas coppper mine face so many protests?
The Las Bambas mine, located in southern Peru in the Apurimac region, provides about 2% of the country's total copper output and is estimated to have lost over 400 days due to protests and disruptions like roadblocks since it started operations in 2016.
Owned by the Chinese company MMG – a subsidiary of Minmetals – Las Bambas faced a slew of protests by indigenous people, especially the Chumbivilcas people, who are a part of the Quechua community.
They allege that international mining companies like MMG exploit their region for its mineral wealth but fail to provide adequate jobs or money to the citizens leading to poor development of the region.
Miners are also accused of polluting land and water sources and leaving behind massive amounts of waste material. Large amounts of water used for mining operations become a huge issue in areas chronically affected by long periods of drought.
How will the new socialist government affect Peru's copper sector?
Pedro Castillo, the new socialist president of Peru has been in power since mid-2021. Castillo highlighted that his regime's intention was to focus on addressing poverty and inequality.
Like the neighbouring Chilean president, Gabriel Boric, Castillo also proposed the nationalisation of mines as well as the hydrocarbon sector in order to focus on sustainable mining practices and develop the community.
He has pledged to create a million new jobs in a year, which would support the disadvantaged communities affected by mining. He plans to nationalise mines and redirect mineral wealth away from global mining companies so as to help deal with poverty in the country. Gold, lithium, uranium and silver are also being targeted apart from copper.
Castillo also proposed implementing new taxation systems for mining companies. Although initially sharp rises were planned, the president has now considerably softened his approach and now attempts to push forward more prudent taxes. According to Pedro Francke, the president's economic adviser, the mining sector is open to cooperation regarding the revision of taxes, if done in moderation.
Nevertheless, this has led to significant anxiety among investors and copper miners alike, who see the risk premium for investing in Peru rising rapidly, through an increase in taxes and royalties. This could lead to less investment and supply over time, which could potentially lead to higher copper prices in the long run.
With approximately $56bn in open mining investments currently, with the majority in copper, this could significantly hamper Peru's copper sector in the long run.
Peru has also been dealing with significant political instability in recent years, with five presidents in the last five years, which is also a concern for mining companies.