Peru mine restrictions rattle metals markets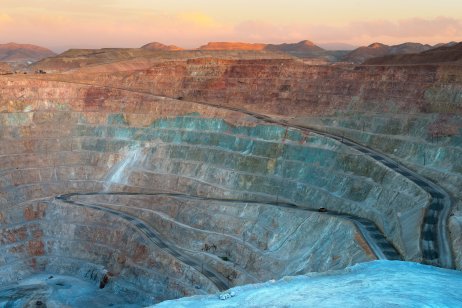 Industrial commodity markets were reacting Monday to the statement by Peru's Prime Minister that the country would not grant extensions on four mining companies' operation permits late last week.
By Monday, the base commodities heavily mined in the Latin American country were losing ground. By 1:30 pm EDT (UTC-5), copper was selling at $4.39 an ounce, down 0.24%. Zinc dropped 2.8% to $10.22.
"This could have severe consequences for supply on global markets because Peru is one of the largest copper, zinc and silver producers," said Daniel Briesemann, an analyst with Commerzbank, adding it could take some time before the issue becomes critical.
Edward Moya, a senior market analyst with Oanda, told Capital.com that, "Peru is going to help make industrial and precious metals markets a lot tighter."
PM announcement
Peru's Prime Minister Mirtha Vasquez said the shutdowns came after community protests about the environmental damage done by mining. The government, she said, would negotiate terms with the four mines concerning the closure.
"We will close the mines as soon as possible," Vasquez said. "There will be no extensions, whether for exploitation, exploration or even shutdown."
Under Peruvian law, all mines have an expected closure date, although those dates can be modified if regulators allow it. However, many mining companies have existing contracts running for several more years, said Briesemann.
Taxes
Peru's left-leaning President Pedro Castillo, who won July's election, campaigned on a promise that miners would pay higher taxes and royalties to redistribute the country's wealth. Within weeks of becoming president, he asked for the former prime minister's resignation so he could appoint Vasquez.

However, said Briesemann, Peru relies heavily on the tax revenue and royalties from mining companies.
"By stopping any future projects, Peru would be cutting off part of this income," he said.
Copper
Peru is the world's number two copper producer and mining accounts for a large part of its gross domestic product.
Copper is in short supply. Mainly due to its versatility. It's used in everything from electronics and electrical motors to wind turbines and electric vehicles.
In a note to clients on Monday, Briesemann wrote, "As far as copper is concerned, it will be interesting to see whether the supply deficit on the global market – which, according to the International Copper Study Group, was pretty sizeable so far – has increased further or whether the market has been better supplied again of late."
Casualties
Of the four mines, two are owned by Britain-based Hochschild Mining along with two others smaller operations.
Hochschild Mining stocks plunged 34% Monday.
According to the Times of London, the company called the action "illegal" and plans to fight it. The closure affects Hochschild's Inmaculada and Pallancata mines, which account for about three-fourths of the company's value.
According to Moya, given the inflationary focus grappling Wall Street, "Peru's controversial decision to rule out mining extensions should not be that much of a surprise."
Read more: Hochschild Mining (HOC) fighting mine closures