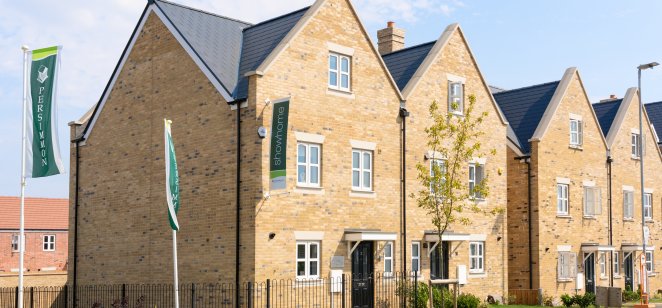 Content
FTSE 100 house builder Persimmon (PSN) provides its first half results this week. What will investors be looking for in the numbers and the feedback from the boardroom?
Analysts and investors will be seeking a few indicators such as, the trend in the forward order book; the number of active outlets (290 in April) and new outlet openings and any colour on reservation and cancellation rates.
CEO Dean Finch – who arrived in 2020 – may also give additional comment on costs associated with the Government's Developer Pledge to cover remediation for cladding in buildings over 11 metres tall.
Persimmon has set aside £75m to settle the cladding issue, one of the lowest figures among the peer group.
Back in 2019, Persimmon was accused of shoddily building homes that left inhabitants exposed to an "intolerable risk" in the event of fire.
An independent review of the company back then found that the failure to meet minimum building standards was "a manifestation of poor culture" at the firm.
What is your sentiment on PSN.L?
Vote to see Traders sentiment!
Challenging conditions
With a new boss at the helm in Finch, Persimmon will be hoping better times are ahead. But a first half trading update early last month did not make great reading. The York-based firm revealed a drop in completions and revenues in the first half of the year, as it cited planning delays and shortages of both staff and materials.
All these factors also affected operating margins, despite an increase in average selling prices.
The Persimmon share price fell sharply following this update and year to date the stock price has tumbled from around the 2,905p level to the current 1,847p position.
As Danni Hewson at AJ Bell points out, analysts will go over the numbers but also look for any guidance for the rest of 2022 and beyond, given the context of rising inflation, higher interest rates, sagging consumer confidence, the end to the stamp duty tax break and the imminent end of Help-to-Buy. That said the trading update did flag an increase in forward sales.
Key datapoints from the July update were - completions were down 10% year-on-year to 6,652. Persimmon had targeted 4-7% volume growth for 2022.
Average selling prices were up 4% to £245,600. Revenues were down 8% at £1.7bn; while forward sales were up a fraction to £1.9bn.
| | |
| --- | --- |
| Long position overnight fee | -0.0064% |
| Short position overnight fee | -0.0059% |
| Overnight fee time | 21:00 (UTC) |
| Spread | 0.11 |
| | |
| --- | --- |
| Long position overnight fee | -0.0308% |
| Short position overnight fee | -0.0137% |
| Overnight fee time | 21:00 (UTC) |
| Spread | 0.17 |
| | |
| --- | --- |
| Long position overnight fee | -0.0064% |
| Short position overnight fee | -0.0059% |
| Overnight fee time | 21:00 (UTC) |
| Spread | 0.16 |
| | |
| --- | --- |
| Long position overnight fee | -0.0308% |
| Short position overnight fee | -0.0137% |
| Overnight fee time | 21:00 (UTC) |
| Spread | 0.07 |
Ahead of these interim numbers, the current analysts' consensus forecasts for the whole year to December 2022 are for an 11% increase in sales to £3.8bn and a 6% advance in operating profit to just over £1bn.
In 2021 overall, Persimmon achieved an operating margin of 26.6%, the highest among all of the FTSE 100 and FTSE 250 housebuilders, but the July trading update hinted at some degree of margin erosion.
Persimmon's net cash pile at the end of 2021 was £1.25bn and it is this resource, plus ongoing profits, which is funding the firm's plan to return 235p per share per year to investors, market conditions and strategic considerations permitting.
House builders under pressure
Of course, 'market conditions' are seen in many quarters as a pretty ominous proviso. Last week, Capital.com reported that for house builders, the bad news may be just around the corner after signs that the market is already starting to cool.
As Hewson explains, one area of the economy showing signs of easing is the property market. "In what feels like a long overdue return to earth given the backdrop, Rightmove's latest survey backs up a recent reading from Halifax showing house prices are finally starting to soften.
"Shares in the housebuilders barely budged on the news, indicating the market may have already factored in a slowdown.
"However, strong selling prices have been the one thing insulating the sector from rising costs so it will be worth keeping tabs on future trading updates to see if margins are coming under pressure."
But on a pure valuation basis, analysts remain fairly positive on Persimmon right now. Marketbeat consensus rating on the stock is 'hold' with four out of eight brokers rating it a 'buy'; three a 'hold' and one a 'sell'.
City watchers will also be interested to see Balfour Beatty's latest number this week.
Though operating in a different segment of the construction industry to Persimmon, it will be interesting to see whether Balfour Beatty shows continued momentum after more than doubling annual earnings back in March and pointing to a strong order book. Since March the share price has rallied – from the 215p level to the current 286p.
Read more