Persimmon (PSN) share price forecast: Where next for the housebuilder?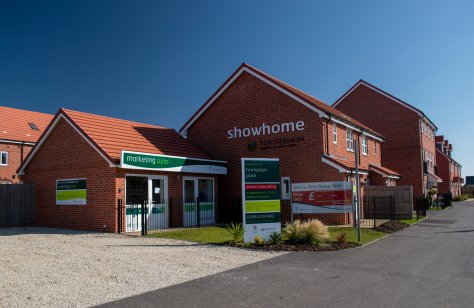 UK housebuilder Persimmon is bouncing back strongly from the COVID-19 pandemic, which has badly affected the industry. It recently announced its profits had risen sharply during the first six months of this year on the back of a strong demand for homes.
However, a number of industry surveys have suggested the once-buoyant property market is beginning to show signs of slowing down. What does this mean for the Persimmon share price forecast, and is there room for further growth for the rest of the year?

Persimmon stock analysis: Where is the stock now?
The company's share price was severely impacted by the COVID-19 pandemic. On 20 February 2020 it reached a record level of 3323p in an intraday high, but a month later, the price had more than halved as the first nationwide lockdown hit and building work ground to a halt.
The stock gradually recovered as coronavirus restrictions eased, returning to close to pre-pandemic levels by June 2021. The price has tailed off slightly over the past three months as property market growth has finally shown signs of slowing down.
Persimmon (PSN) stock forecast: Analysts' price targets
The consensus analyst price target for the stock is 3291p, according to the data from MarketBeat, which suggests Persimmon has an 18.6% upside potential from its current price of 2773p.
The average rating is 'buy', based on the opinion of 10 analysts, with the highest price target being £35.30 ($48.14) and the lowest coming in at £29.15.
In recent months, American multinational investment bank JP Morgan Chase & Co has reiterated its 'overweight' recommendation, while independent investment bank Liberum Capital has it as a 'buy' and UK investment bank Numis Securities has an 'Add' classification on the stock.
According to the Persimmon share price prediction from Wallet Investor, an algorithm-based forecasting service, the stock could rise to 2818.310p maximum by the end of the year and hit 3788.220p by 2026.
Risk warning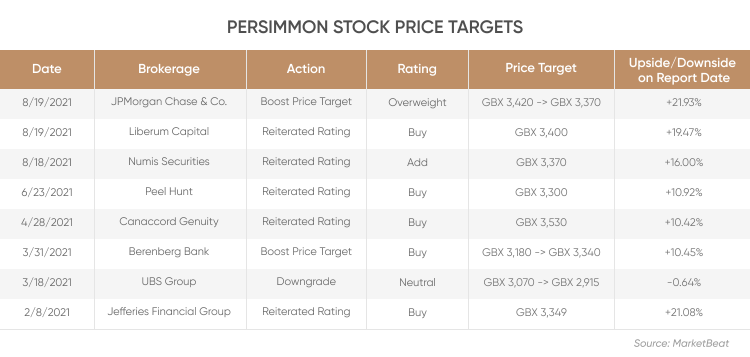 Persimmon: Latest results
According to the UK housebuilders' latest earnings report, its pre-tax profits soared 64% to £480.1m in the six months to the end of June 2021 due to increasing demand for homes across the UK.
The York-based group completed 7,406 new homes in the period – up from 4,900 during the same period last year – and bought 10,272 plots of high-quality land across 48 locations. This resulted in Persimmon's group revenue hitting £1.84bn, representing a 55% increase over the £1.19bn recorded in the first half of 2020.
Investors were also rewarded with 235p-per-share dividend pay-outs – 125p in March and 110p in August – as the company returned to making two payments each year.
Persimmon also revealed that the average new home selling price was now £236,199 – £11,133 up on the £225,066 level in the first half of 2021.
Dean Finch, the company's chief executive, branded the first-half performance "robust" and praised colleagues who helped achieve these results.
"In particular, I am pleased we have delivered strong growth in legal completions while also achieving higher levels of build quality and customer satisfaction," he said.
The market reaction was muted, with the stock rising 1.46% following the announcement, as seen on the Persimmon stock price chart below.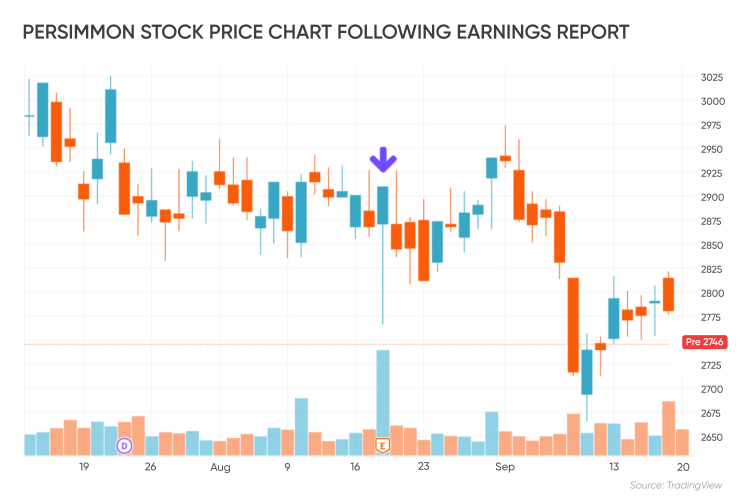 Outlook for Persimmon
As part of its interim results, the company announced forward sales of £2.23bn, including legal completions in the second half so far, up around 9% on the more normal trading year of 2019.
It also anticipates delivering around 10% growth in sales completions this year, while benefiting from a strong balance sheet and healthy levels of liquidity.
CEO Finch said the fundamentals of the housing market remained positive with improving consumer confidence, low interest rates and mortgage lenders keen to help customers buy their own home.
"This is an exciting time for the group," he added. "We have a strong platform for future growth with high quality land holdings, a diverse UK wide network and a business operating from approximately 300 outlets on average throughout the current year."
The company is due to give a trading update on 9 November, 2021.
What is happening to UK house prices?
Of course, housebuilders are affected by the strength of the property market. UK house prices have risen 8% over the past year, but the market is showing signs of slowing down, according to official figures.
HM Land Registry reveals the average UK house price was £255,535 in July – rising 8% since the same period last year. But this is below June's record high of £265,000, achieved on the back of a 13.1% increase in prices, as shown in the Office for National Statistics (ONS) graph below.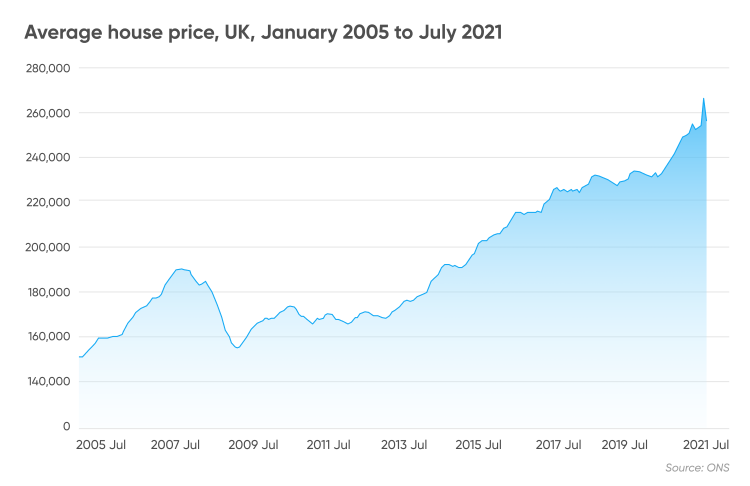 Persimmon: What are the analysts saying?
Marcus Cole, an analyst at Liberum, has branded Persimmon a "high-quality business with sector-leading returns and a strong balance sheet". "It also has good exposure to first-time buyers and low-price points, where affordability is best," he added.
Cole believes the housebuilder's first-half results were as expected, with pre-tax profits back to within 5% of pre-pandemic levels.
"Persimmon is rebuilding its landbank at very good margins and the balance sheet continues to strengthen, suggesting upside potential for the dividend," he said. "Demand remains good and margins are resilient, despite rising building material costs."
In August, Sam Cullen, an analyst at Peel Hunt, said Persimmon was continuing to perform well and retained his 'buy' recommendation.
"Build cost inflation of 4%–5% is being offset by underlying house price inflation, the group's strong land bank, and high embedded gross margin of circa 33%," he said.
Cullen was also optimistic. "A more cautious attitude to land buying should see net cash continue to grow past £1.3bn, even as dividends are fully reinstated," he added.
According to Danni Hewson, financial analyst at AJ Bell, Persimmon has been helped by the property price boom in the wake of COVID-19, as have many other housebuilders.
"It has benefitted from the sizzling housing market over the past year, which was brought about by a mixture of pent-up demand, changing lifestyles and that stamp duty holiday," she told Capital.com.
While acknowledging the market is cooling, Hewson believes the "mismatch of supply and demand" will keep things bubbling for years to come, and will highlight Persimmon's robust forward-order book.
"It [Persimmon] has also spent a sizable amount of cash over the last year snapping up new plots, which shows just how optimistic the business is about the future," she said.
However, there are a couple of potential issues to bear in mind. The first, she points out, is that Persimmon's share price has almost recovered to pre-pandemic levels.
By comparison, she noted, "Taylor Wimpey, Crest Nicholson and Barratt still have substantially more ground to make up, which could make their shares look more attractive to bargain hunters."
Then there are Persimmon's profits. "Once you look past the blip that was 2020, you'll see they've been pretty static, which suggests this is not a business that's likely to deliver stellar growth going forward," she added.
Looking ahead, changing consumer demand and a willingness to pay higher prices for bigger properties could give the housebuilder a nice bump over the next few years. Of course, that will also depend on the economic and political backdrop.
"As with all business right now, supply will be a recurring issue, both in terms of labour and materials," Hewson concluded.
Persimmon company profile
Persimmon was established in York, UK, by Duncan Davidson in 1972. It has since grown steadily, both organically and through acquisitions, for almost half a century. Its expansion began in 1976 when the Anglia business was set up, followed by offices in the Midlands and South West in the late 1970s.
The company further expanded with its first acquisition in 1984 when it bought Sketchmead, a Yorkshire-based housebuilder. By 1985, Persimmon was building 1,000 homes a year. It floated on the London Stock Exchange that year and later became a member of the FTSE 100 index.
According to the company's website, the Group comprises a network of 31 regional operating businesses giving it nationwide coverage, from North Scotland to South West England. It employs around 5,000 people.

FAQ
Why have Persimmon's shares risen?

Persimmon is a well-established housebuilder that's been in business for almost 50 years. Its stock price has risen as the company's profits have recovered from the impacts of COVID-19.
Persimmon shares: Buy or sell?

Whether Persimmon is a suitable investment for you will depend on your personal research and trading strategy. You need to perform your own due diligence and decide if the PSN stock meets your needs and appetite for risk.
Will Persimmon stock go up?

It depends on a number of variables. Therefore, it's crucial to do your own research to form an opinion of a company's performance and likelihood of achieving analysts' targets. Keep in mind that markets are volatile and past performance of the stock does not guarantee future gains.
Read more: Safe as houses: Persimmon's profits soar 64% in first half of 2021