PBOC back to easing monetary policy as growth stumbles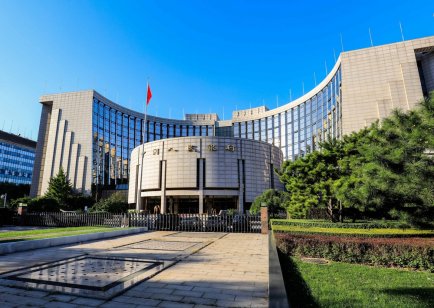 The People's Bank of China (PBOC) set to keep easing its monetary policy to support economic growth which started to slow down at the end of 2021.
On Monday, the Chinese central bank cut seven-day reverse repo rate, the main rate at which it provides short-term liquidity to 2.10% from 2.20%. It also reduced one-year medium-term lending facility rate to 2.85% from 2.95%.
The cut in rates came just before the National Bureau of Statistics released gross domestic product (GDP) growth data for the fourth quarter of 2021 and the full-year 2021. While GDP growth for the full year of 2021 was the highest in a decade at 8.1%, for the fourth quarter of 2021, GDP growth slowed to 4%, as compared with 4.9% in the third quarter of 2021.
More rate cuts ahead
Experts now suggest a further easing of monetary policy is on the radar.
"Economic momentum remains weak amid repeated virus outbreaks and a struggling property sector. As such, we anticipate another 20 basis points of cuts to PBOC policy rates during the first half of this year, in addition to the 10 basis points cut this month," Julian Evans-Pritchard, senior China economist at Capital Economics told Capital.com.
"We think policymakers will keep quantitative constraints on lending relatively tight, allowing for only a modest pick-up in credit growth. The upshot is that policy easing is likely to soften the economic downturn rather than drive a rebound," he added.
Easing to continue till second half
Dutch bank ING's chief economist for greater China, Iris Pang also predicts an easier monetary policy from China going forward.
"We expect there will be 5 basis points cuts in the one year loan prime rate (LPR) each month during the first half of the year (30bps for the first half of 2022). We base this view on the latest monetary policy actions and the Central Government's goal of stable economic growth," Pang said in a note.
"If there are more hurdles, we expect to see additional easing, most likely from RRR [reserve requirement ratio] cuts. Hopefully, we will see stable economic growth by second half of 2022. If not, the PBOC will need to keep cutting interest rates, and also cut the RRR even further," she added.
Slowing economic momentum
ANZ Research also said in a note that going by the comments made by Chinese Premier Li Keqiang and the comments at the Central Economic Work Conference in December 2021, the PBOC is likely to maintain an "easing bias".
According to a note by ANZ Research on Monday, the fourth quarter of 2021 was one of the weakest for China and the slowing economic momentum since the second half of 2021 has now forced policymakers to again support economic growth.
"Policymakers subsequently shifted back to a growth supportive stance. Although China's annual growth still beats the policy target of greater than or equal to 6.0%, the cyclical downturn in the second half of 2021 had prompted the government to inject stimulus at year-end," ANZ Research said in a note.
Read more: PBOC cuts one-year loan prime rate to support growth