Pandemic fuels rise of instant needs delivery companies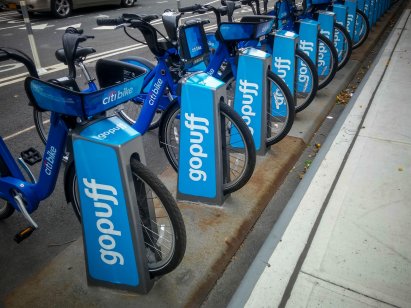 Content
In the cutthroat retail category known as "instant needs", mastering the art of delivering groceries and other small consumer items to individuals where they need them – and as fast as they demand them – requires a precise, well-coordinated execution plan with barely any wiggle room for error.
Despite the challenges presented by the unforgiving logistics and slim profit margins of this market segment, it is still attracting significant attention from investors.
These capital infusions have provided momentum that is fuelling growth and expansion strategies. Market leader Gopuff has received billions in investment dollars, and other companies with similar strategies such as Jokr, Gorillas and Getir are battling to bite off their piece of the pie.
Grocery e-commerce is a retail trend that began gaining ground about five years ago, and that movement has been further accelerated by the Covid pandemic. Shoppers who feared viral transmission at traditional retail stores – particularly in the early days and months of the pandemic – opted to shop from the safety of their own homes.
Serving 'consumption occasions'
It remains to be seen whether businesses catering to this market will continue growing at the same rate post-pandemic.
In a telephone interview with Capital.com, one consultant who advises retailers on strategies said future growth might require tweaking the business model by expanding beyond serving what he calls "consumption occasions" – when a consumer needs just one or a few items quickly.
"Economically, anytime you fulfil an order and bring it to someone's home, it's pretty challenging on your margins," said Emerson Delgado, a retail strategy consultant manager at McMillan Doolittle. "It would be really hard to be profitable doing just this long term. It's very capital intensive and these are low margin goods to begin with."
Triple digit growth
But in a statement emailed to Capital.com, Gopuff representatives insisted the company's future growth doesn't depend on circumstances created by the Covid health crisis.
"It's important to note that Gopuff was founded in 2013 and saw triple digit order growth every year even before the pandemic. In addition to introducing the value and benefits of instant delivery to more consumers, the pandemic also accelerated many existing trends we saw emerging before 2020: our customer base continued to mature at a faster rate, and orders for product categories like groceries, home cleaning supplies and baby products also grew at a faster rate."
Philadelphia, Pennsylvania-based Gopuff pioneered the instant needs category in the United States. Gopuff delivers to customers in about 1,000 cities in the US and Europe from 600 micro-fulfillment centres.
The company has come a long way since it was first established in 2013 by two business school students to supply hookah products. (A hookah is a water pipe used to smoke flavoured tobacco.)
Yakir Gola and Rafael Ilishayev met at Drexel University's LeBow College of Business where they became fast friends and identified a gap in the consumer delivery market. As they modified their market strategy, they soon expanded beyond hookah products to start offering snacks and sundries.
Gopuff has a 70%-plus share of the US vertically integrated instant needs market, according to research firm YipitData.
IPO rumblings
Gopuff raised $1.15bn (£840m) last March from investors including Softbank, Fidelity Management, and Eldridge Capital, among others. Then in July, Gopuff secured another $1bn on a $15bn valuation that included those investors, plus other big names such as Guggenheim Investments and Blackstone's Horizon platform.
Now there are rumblings that Gopuff – the leader in this category in the US – is planning to launch an IPO for mid-2022, as reported by Bloomberg, with the company issuing a pre-IPO $1.5bn convertible note led by Guggenheim Partners in mid-December. The note would convert to shares at the IPO price or a maximum value of $40bn, whichever is lower.
The Gopuff company representatives reached by Capital.com would not confirm or deny the IPO rumours.
They did send a statement that addressed the recent funding infusions: "The company was profitable for its first few years and the co-founders bootstrapped their early business. The company only took on outside capital to accelerate growth and expand its already sound model."
Investor interest piqued
Gopuff isn't alone in capturing the interest of investors. Other instant-needs companies including Jokr, Gorillas and Getir have all received large capital infusions that are giving a boost to the expansion of their delivery operations in America.
Because the United States features sprawling cities surrounded by suburbs and connected by freeways, Europe's higher population density has historically been a more attractive and established region for e-commerce grocery delivery.
Jokr, which has headquarters in the country of Luxembourg, established its American operations in New York City in April 2021. It raised $170m a few months later in July from investors such as Tiger Global Management, GGV Capital, and Balderton. In late November, it received another $260m from these same investors plus others, including Softbank.
Jokr also operates hubs in other major cities including São Paolo, Mexico City, Bogota, Lima, Warsaw, and Vienna. It takes a slightly different tack than other companies in the space because it pledges to give special consideration to local food brands, although it carries non-local brands.
Gorillas is a delivery start-up that got its start in Berlin and started operating in the USA in May 2021. Like Jokr, Gorillas also focusses its American deliveries in New York City, and operates in eight European countries as well. It has raised a total of $1.3bn in five rounds of funding from August 2020 through September 2021.
Getir, a Turkish start-up founded in 2015 that made its US debut this past November, has received $1bn in funding since 2017. It is currently delivering in New York City, Chicago and Boston.
These companies face an unrelenting quest to provide a consumer experience that emphasises reliability and speed as they serve customers who expect to receive their orders within 10 to 30 minutes.
That has led instant needs companies to set up "dark stores" and micro-fulfilment centres. These mini warehouses are typically situated near dense urban populations, but they aren't open to the general public. They are organised more efficiently than traditional retail stores because they are optimised for the streamlined picking and packing of orders.
Controlling the variables
Companies in the instant needs sector used to rely on individuals hired as independent contractors going to traditional retail stores to pick and pack items ordered by online customers, which is the format employed by Instacart, Postmates and UberEats.
But Gopuff and its competitors purchase their own inventory and store those goods in the dark stores where they sit ready for delivery drivers to pick up. By maintaining their own product supply, they exercise more control over which items are in stock.
Buying inventory at wholesale prices to resell for a retail profit adds an additional revenue stream. Operating micro-fulfilment centres means fewer variables that are out of the company's control, which leads to orders being filled and delivered more quickly and reliably.
Today, the product mix Gopuff maintains at each micro-fulfilment centre includes about 3,000 items such as groceries, alcohol, cleaning and office supplies, over-the-counter medications, toiletries, pet supplies, baby essentials, contraceptives, and tests for Covid and pregnancy. All are delivered for a fee of $1.95 with an order minimum of $10.95.
Covid acceleration
McMillan Doolittle's Delgado said although the pandemic gave instant needs delivery companies a boost, he expects the sector to continue gaining ground once the world health crisis recedes. Delgado's firm has worked with clients that include large grocery retailers such as Publix, Kroger and Peapod.
"The latest industry estimates are saying that for grocery e-commerce, the Covid pandemic basically skipped us ahead five years in growth. The future growth rate should be similar to what it was before the pandemic, but we're just working from a larger base."
Delgado added it is important to consider what purpose the retailer is serving when it takes an order. For example, consumers go to retailers like Walmart and Costco for what he calls "stock-up trips" to buy larger amounts of goods, while companies like Gopuff, Jokr and Gorillas and Getir serve consumption occasions.
Purpose defines threat
One strategy to develop these businesses would be to expand beyond serving consumption occasions, Delgado says.
"They could try to become a more mature, complete retailer and try to fulfil for everyday stock-up occasions. Stock-up orders don't need to be delivered as fast. They could diversify the types of orders they are fulfilling and add higher basket, higher margin orders."
The purpose that instant needs companies are currently serving has a direct impact on which businesses lose sales to them, he adds.
"The new threat these new providers pose is more to convenience stores, liquor stores, and to a smaller degree, drugstores," Delgado said. "They don't really impact groceries or mass stores or club stores who focus more on stock-up trips."
End game options
Still, expanding their purpose may not be the strategy these businesses choose to take, Delgado acknowledges.
"A lot of the time, the goal isn't necessarily to turn this into a mature, functioning business, but rather to sell your stake in the company at a much higher valuation during a merger or an acquisition."
Acquisition by an existing mega-retailer seeking to expand its own customer options could be one feasible "end game" option, Delgado said, with the acquiring retailer "paying for the customer base, real estate assets, and technology and capabilities."
At this point, it's a battle to gain the greatest ground so investors will take notice.
"The name of the game right now is just gaining market share, growing rapidly to gain funding. Once you have that market share, you can start securing these end game scenarios that will deliver a successful exit or valuation to all of your investors."
Will it snap back?
Ken Morris is a managing partner at Cambridge Retail Advisors, where he advises retailers on matters such as strategy, the selection and implementation of systems, and the integration of technology solutions with existing legacy systems.
He says the rise of retailers serving the instant needs market is part of a greater industry-wide trend to "get products closer to the consumer", whether that means setting up highly localised fulfilment centres, or even requiring that traditional brick-and-mortar retail stores do double duty as fulfilment centres.
"A lot of my clients who have big e-commerce businesses have been, over the last three or four years, starting to distribute product to their stores to fulfil closer to their consumers," Morris said.
When asked what will become of instant needs companies post-pandemic, Morris speculated growth could slow down somewhat but still remain robust. "I think it will snap back a little bit but not all the way," he said.
Read more: Business news: Tesla Cybertruck coming, US await retail data