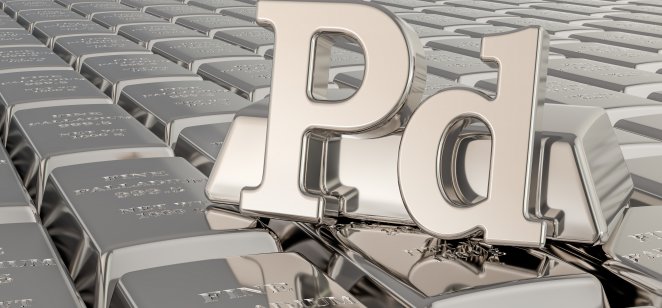 Palladium prices are having the best run in recorded history.
The metal may have made the headlines over the past year, but the palladium market has been in a bull run for half a decade.
The palladium spot price has been rising consistently since 2016
The price of palladium has soared 398.25% since 2016, making it one of the best-performing of all commodities. This includes outperforming gold, silver and platinum.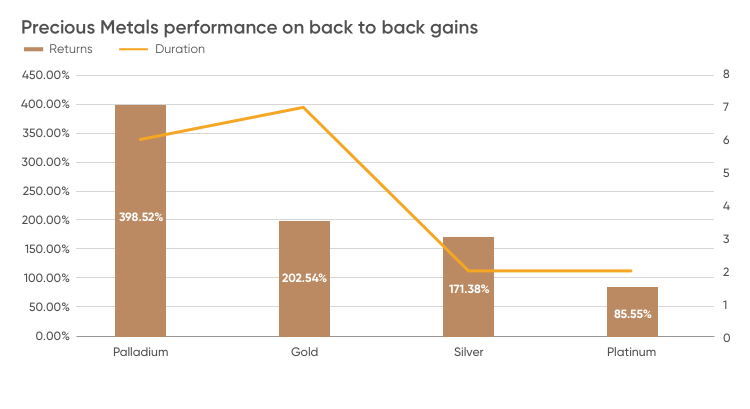 The above chart shows precious metal returns against the amount of time they took (duration).
Palladium spot prices have so far gained over 398% during six consecutive years. By comparison, gold prices only logged a little over 200% during the same time frame.
But what will the future value of palladium be? And what is the palladium price forecast for 2021 and beyond?
The charts may look very appealing, but traders should always be cautious. Given the extended strong run in the palladium market, a correction cannot be ruled out. The question investors need to ask is whether the palladium spot price has already reached its high point. That's difficult to answer with a straight yes or no, because there are plenty of factors involved.
Let's take a closer look at what's been happening in the palladium market so far and what we can expect the future value of palladium to be.
What is behind the strong rally in palladium prices?
Demand from the automotive sector has been growing in recent years due to tightening legislation on emissions in Europe and China. Most of the world's palladium supply is used in vehicles' catalytic converters to control exhaust emissions. Therefore, the increased demand contributes to the growing palladium price.
Speaking to Bloomberg in April, Tai Wong, BMO Capital Markets' head of metals derivatives commented: "It's a confluence of factors that's driving palladium. Fundamentally, there's going to be a material deficit this year and automakers need to restock."
With climate change becoming an increasingly serious issue, vehicle manufacturers are shifting towards more sustainable, environmentally sound designs with the launch of new electric vehicle (EV) ranges. Still, a full EV-only market could take years to implement. Meanwhile, palladium is used in hybrid vehicles, which are enjoying growing demand.
The year-over-year gains that have been seen in the palladium market are also the result of broader economic peaks and troughs. After losing over 49% in 2008 during the recession, palladium prices recovered in-line with the global economy.
Post-pandemic recovery
In 2020, COVID-19 restrictions had a negative effect on auto production, pushing manufacturing rates down by 15% over the year. However, as the auto manufacturing market rebounds, the palladium price is gaining momentum once more.
There are no immediate threats in the near term for palladium spot prices. China remains a large player in the commodity markets and its recovery from the pandemic is well underway.
The strength of the US dollar is also worth considering – palladium commodity transactions are always settled in the American currency, so its relative strength also plays a role.
The next chart below shows the US Dollar Index compared to the palladium price chart.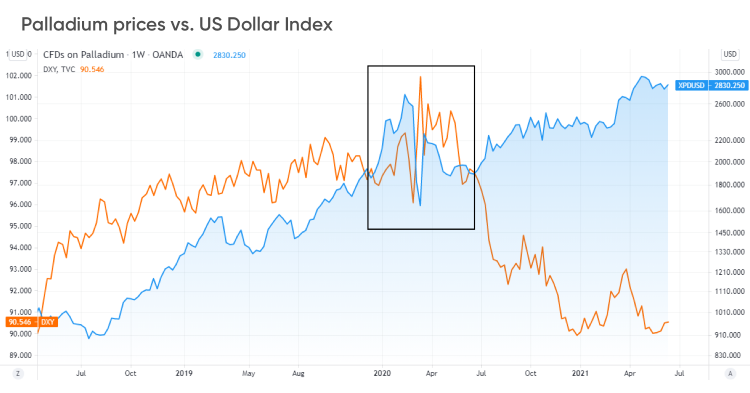 What is your sentiment on Palladium?
Vote to see Traders sentiment!
You can see how the sharp increase in the value of the US dollar (USD) during March 2020 led to a correspondingly sharp decline in palladium prices.
For the moment, the US dollar is in a steady decline. While there is scope for it to recover in the short term, the upside is limited. This bodes well for palladium prices.
Palladium price news and outlook
It's worth paying attention to the news when you're trying to keep track of likely moves in palladium's spot price.
Below are some factors to consider when trading palladium.
Nornickel (Norilsk Nickel) is the largest palladium mining company. Therefore, it pays to keep track of Nornickel's mining production data. This will give you insight into the supply situation. The company raised its 2021 outlook in April.

Russia and South Africa are the two biggest countries involved in palladium production. Therefore logistics, supply and international trade relations play a key role. Traders should keep track of geopolitical developments in these countries.

Emission controls and regulations are also critical in palladium price prediction. This can vary from country to country. The US, European Union, China and India are the largest markets for palladium, so it's prudent to track emission regulation news from these countries.
Palladium price forecast 2021 – 2022
While the long-term price forecast for palladium is for prices to increase, there is enough day-to-day volatility to offer attractive opportunities to short-term traders.
The palladium price chart below shows the commodity establishing a sideways range between $2,500 and $2,160. After trading in this range for nearly seven months, however, prices broke out and rose to an all-time high of $3,000.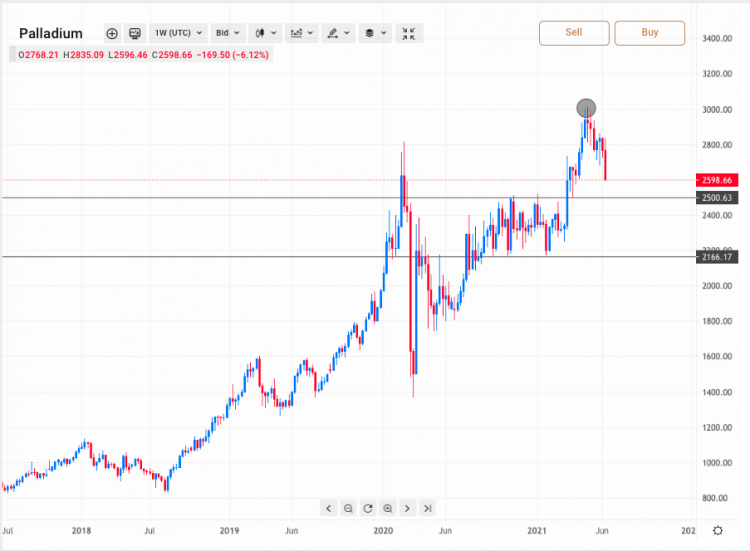 Prices are currently pulling back, but the upward momentum remains firm. As long as the palladium price holds the $2,500 level, further gains may be expected.
The medium-term view is only likely to change if we see a sustained fall below the $2,160 level.
This will open the way for palladium prices to tumble away from the all-time high of $3,000 by perhaps as much as 44%. But this would only occur in a very bearish scenario and would suggest that something is fundamentally wrong.
At the time of writing (18 June) there is a strong palladium supply deficit. Until this deficit is cleared or demand falls, prices could remain elevated.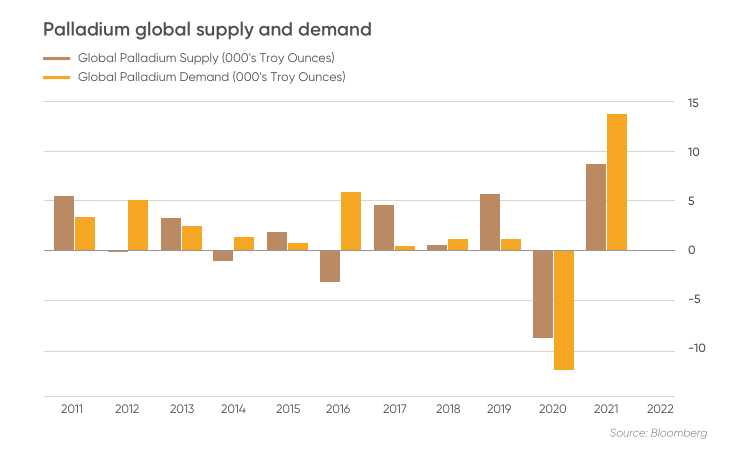 FAQs
Is palladium a good investment?

Whether palladium is a good investment depends on your trading goals. If you are seeking a hedge against inflation, palladium may not be the right choice. On the other hand, if you are looking for returns, palladium could be one to watch.

Ultimately, it depends on what you want to invest and what you hope to get from your investment.
Will palladium prices rise by the end of 2021?

It will take a while for supply to catch up with demand – perhaps until the end of 2021. As a result, palladium prices could continue the strong rally that started in late 2019.

However, this is not set in stone as demand may change in the interim.
What factors determine palladium's price?

Palladium prices are largely determined by the following factors:

US dollar: The strength of the US dollar plays an important role. Since palladium as a commodity is settled in USD, the relative strength or weakness of USD significantly influences palladium's price.

Supply: Palladium is a naturally occurring mineral that needs to be mined. Supply is therefore controlled by mining companies. Mining activity and geopolitics play a big role as a result.

Demand: Palladium's price fluctuates according to demand. The demand is directly influenced by economic growth. A healthy economy is needed to maintain demand.

A combination of the above factors can determine the future value of palladium.