P&G offsets higher costs with price hikes in fiscal Q1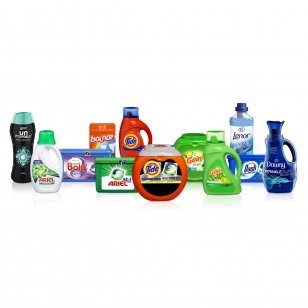 Inflation and supply chain constraints weighed on Procter and Gamble's profits in the latest quarter, but price hikes managed to offset some of those headwinds.
Net sales of P&G brands such as Tide laundry detergent, Bounty paper towels and Puffs facial tissues were up 5% year over year to $20.34bn, beating expectations of $19.91bn. Diluted earnings per share were down 1% year over year at $1.61 but were good enough to beat analyst expectations of $1.59.
However, the cost of products sold increased 13% in the quarter to $10.36bn, which lowered gross profits by 2% year over year to $9.97bn.
Guidance
Despite inflationary and shipping headwinds, Procter and Gamble maintained its fiscal year 2022 sales guidance at a range of 2% to 4% higher over the prior fiscal year.
P&G, however, raised its projected commodity and freight costs to $2.3bn up from $1.9bn and warned that inflationary pressures are broad-based and sustained.
"We will undoubtedly experience more volatility as we move through this fiscal year," P&G management said on the earnings call. "These costs and operational challenges are not unique to P&G and we will not be immune to the impact. However, we think the strategies we've chosen, the investments we've made, and the thoughtful execution of excellence have positioned us well to manage through these challenges."
Price hikes
To offset these risings costs, Procter and Gamble is raising prices on even more product categories.
Last quarter, the company raised prices in certain segments of its baby care, feminine care, family care, home care and fabric care businesses. Within the last few weeks, P&G also informed its retail partners it will raise prices on segments of its grooming, skin care and oral care businesses.
"We believe this is a temporary bottom line rough patch to grow through and not a reason to reduce investment in the business," management said on the call. "We are sticking with a strategy that has worked well before and through the Covid-19 crisis."
Read more: Procter & Gamble posts fourth quarter, fiscal year results