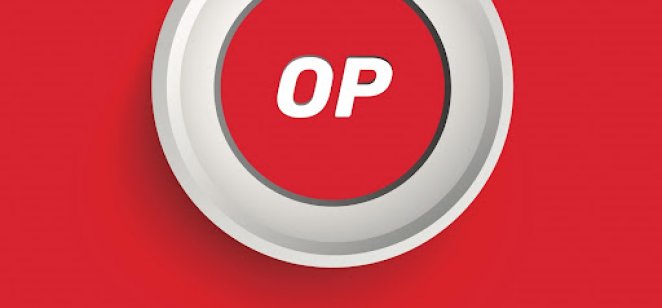 Content
Optimism aims to make things faster on the Ethereum blockchain, but in terms of cryptocurrency, what is Optimism (OP)?
Let's take a look at that, and examine what some online forecasters believe the Optimism price prediction could be.
The transaction speed puzzle
One of the crucial issues surrounding cryptocurrency is the speed of transactions. It makes sense that if we are using a new kind of currency based on a new kind of technology, then things should be quick, easy and, perhaps more importantly, cheap. After all, if we want to carry out any sort of transaction, it is best to get as much value for money as possible.
Therefore, when some blockchains make things harder by taking a long time, thus pushing transaction fees up, it rather defeats the point. After all, no one wants to use new technology if it makes things more inconvenient and more expensive.
This issue is, ultimately, one of the major problems with the Ethereum blockchain. While Ethereum has a lot of good points, its often-claimed slowness and the knock-on effect of higher 'gas' prices have put more than a few crypto enthusiasts off using it and steered them towards other, potentially quicker and cheaper networks.
The issue with these other blockchains is that they do not have the same sort of access to decentralised services that Ethereum does. Therefore, there needs to be a kind of compromise solution.
Fortunately, for people who want to do things on the Ethereum blockchain but don't want to have to deal with slow transaction times and high transaction fees, there are two options.
The first option is the ongoing upgrade to the Ethereum blockchain. This has moved the way blocks are added to the blockchain from the proof-of-work (PoW) model to the quicker and more environmentally-friendly proof-of-stake (PoS) method. But, since the upgrade is not quite ready yet, there are also layer-2 scaling solutions.
As the name suggests, layer-2 scaling solutions use a second layer to help blockchains cope with higher traffic. Imagine the blockchain as a first layer with a separate system running on top of this – that's your second layer.
If you take a transaction from the blockchain, carry it out on the second layer (thus stopping it being slowed down on the blockchain by increased traffic) and then put it back onto the blockchain – that's basically how a layer-2 scaling solution works.
What is Optimism (OP)?
Optimism is one of many layer-2 scaling solutions out there. It was first proposed in 2019, with its mainnet opening in 2021. As its whitepaper says:
"Optimism is built according to a strong design philosophy that stands on four main pillars: Simplicity, pragmatism, sustainability and, of course, optimism. It's important to understand these pillars as they heavily influence the design of Optimism as a whole."
In short, the idea behind Optimism is that it should be upbeat, last for a long time, be easy to work with, and do what it needs to do in a practical manner.
Every network on the blockchain needs to have its own cryptocurrency, and Optimism has its own native token, also called Optimism, with the ticker OP. This crypto helps fund third-party development proposals and integrations on the Optimism layer-2 chain, via the Optimism Collective decentralised autonomous organisation (DAO). People who hold OP can also take part in votes on the future of the network.
It is worth noting that, while you may see references to things like an Optimism coin price prediction, those are not strictly accurate because OP is based on Ethereum, which makes it a token rather than a coin.
Optimism's founders include Jinglan Wang, Ben Jones, Karl Floersch and Kevin Ho. While the concept has been around since 2019, it was only on 31 May 2022 that the first Optimism airdrop took place, taking the OP token away from being an upcoming concept and into being something that existed in the real world, or at least the real world of crypto.
The Optimism price history
Now, let's take a look at the OP price history. While we do have to remind you that past performance is never any indicator of future results, knowing what the token has done in the short time that it has been available to trade can help us with the context if we want to either interpret an Optimism price prediction, or else make one of our own.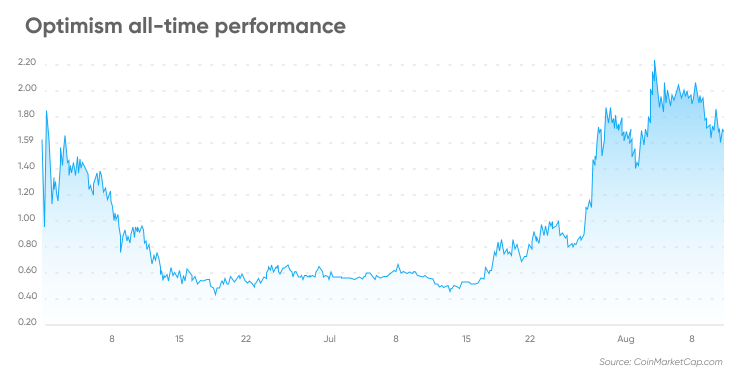 When OP first came onto the open market, via the first airdrop on 31 May 2022, it was worth $4.57, according to CoinMarketCap. It seems that price was rather optimistic, however, as the market almost immediately decided it was overvalued and sent it down to a low of $0.7973 before closing the day at $1.44.
While the initial price still stands as Optimism's all-time high, there have been some moves in the OP token price.
| | |
| --- | --- |
| Long position overnight fee | 0.0235% |
| Short position overnight fee | -0.0429% |
| Overnight fee time | 21:00 (UTC) |
| Spread | 0.03 |
| | |
| --- | --- |
| Long position overnight fee | -0.0137% |
| Short position overnight fee | 0.0041% |
| Overnight fee time | 21:00 (UTC) |
| Spread | 1.5 |
| | |
| --- | --- |
| Long position overnight fee | -0.1782% |
| Short position overnight fee | 0.1325% |
| Overnight fee time | 21:00 (UTC) |
| Spread | 0.006 |
| | |
| --- | --- |
| Long position overnight fee | -0.0500% |
| Short position overnight fee | 0.0140% |
| Overnight fee time | 21:00 (UTC) |
| Spread | 0.00660 |
In June, the market was still reeling from the depegging of the UST stablecoin and the collapse of the associated LUNA cryptocurrency. This was swiftly followed by the Celsius crypto lending platform freezing withdrawals, which only served to confirm the bear market. All this was bad news for the newly-minted Optimism, and it fell to its all-time low of $0.4005 on 18 June, less than a tenth of what it had been priced at when it launched.
There was some better news after that, with the token making a slow comeback to finish the month at $0.5434. In July, the news was initially poor, with the token dropping further to a low of $0.4147 on 13 July 2022.
Since then, OP has been able to capitalise on a crypto market that is giving some kind of hope by going through a recovery. Towards the end of July the price skyrocketed, going from $0.82 on 26 July 2022 to a closing value of $1.45 on 28 July, making for an increase of 27.75%.
Onvestors began depositing large numbers of up to 40,000 ETH into the Optimism smart contract in anticipation of the Ethereum 2.0 release. This led to a rise in trading, which saw the OP price continue to climb towards the end of July and early August. By the close of August, OP was trading at $1.21.
Ultimately, once The Merge was finalised, the crypto markets did not respond as positively as many investors had anticipated. Despite completing its launch on OpenSea, Optimism was trading at $0.8917 by the time of writing on 28 September 2022.
At that time, according to CoinMarketCap, there were almost 235 million OP in circulation and a total supply of 4.29 billion, giving it a market cap of around $209m. This made Optimism the 129th-largest crypto by that metric – a pretty impressive achievement for a token that has been around for less than six months.
Optimism price prediction
With that all out of the way, let's take a look at some Optimism price predictions. Keep in mind that cryptocurrency price predictions are often wrong. Also, there is a very strong chance that a long-term crypto price forecast will be made using an algorithm, which means that it can change at a moment's notice.
Firstly, as of 28 September 2022, CryptoPredictions' Optimism price prediction for 2022 saw it close the year at $1.051. From there, it was forecast to achieve $1.518 in September 2023. A year from then, the token was predicted to be worth $2.234, while by September 2025 it could be at $2.660. By September 2026, the site forecast OP could have attained a price of around $2.966, before closing the year somewhere around $3.031.
UpToBrain was highly optimistic in its OP price prediction, projecting it could rise to $1.70 this year, continuing to $2.45 next year. In 2024, it could potentially achieve a price of around $3.59, while the site made an Optimism price prediction for 2025 of $5.32. In 2026, the token could have increased further to about $7.36.
Meanwhile, DigitalCoinPrice's Optimism crypto price prediction suggested the token could rise to $0.95 in 2022, $1.99 in 2023 and $2.83 in 2024. By 2025, OP could be valued at $3.59, but the price might drop back to $3.11 in 2026.
In 2027, it could have recovered to $4.40, with a further increase to $6.23 in 2028. The site estimated OP to hit $8.84 in 2029, and gave an Optimism price prediction for 2030 of a maximum $12.41, rising further to $16.90 in 2031.
Finally, Wallet Investor had a positive take on the future of Optimism. The site thought that, by September 2023, the token could be worth $2.19, and be worth $7.10 in five years' time.
Closing points on Optimism (OP)
Before we finish, some final points. First, it is important to realise that OP has only been traded on the open market for a few months at the time of writing. This means that we don't know what its natural level is. Newer cryptos are often even more volatile than well-established ones.
Second, we should point out that while Optimism should get some credit for writing its whitepaper in clear, easy to understand and plain English, the truth is that while layer-2 scaling solutions are not the easiest thing for a crypto beginner to get their head around, there are also a lot of them. It is hard to see what Optimism can do to stand out from the crowd.
Finally, when considering an OP token price prediction, it's important to keep in mind that cryptocurrency markets remain extremely volatile, making it difficult to accurately predict what a coin or token's price will be in a few hours, and even harder to give long-term estimates. As such, analysts and algorithm-based forecasters can and do get their predictions wrong.
If you are considering investing in cryptocurrency tokens, we recommend that you always do your own research. Look at the latest market trends, news, technical and fundamental analysis, and expert opinion before making any investment decision. Keep in mind that past performance is no guarantee of future returns. And never trade with money that you cannot afford to lose.
FAQs
How many Optimism (OP) tokens are there?

As of 28 September 2022, there was a reported circulating supply of almost 235 million OP, out of a total supply of 4.29 billion.
Is Optimism a good investment?

There was a lot of, appropriately, optimism around OP when it first launched, although that has cooled somewhat. Things could all depend on whether the token and the platform can continue to develop their usefulness.

As always with crypto, though, you will need to do your own research, remember that prices can go down as well as up, and never invest more money than you can afford to lose. Past performance is no guarantee of future returns.
Will Optimism go up?

Cryptocurrencies can be highly volatile and prices can go down just as easily as they can rise. Also, you should remember that analysts and algorithm-based forecasters can and do get their predictions wrong. Keep in mind that past performance is no guarantee of future returns.

Always do your own research, and never invest what you cannot afford to lose.
Should I invest in Optimism?

This is a question that you will have to answer for yourself. Before you do so, however, you will need to conduct your own research. Never invest more money than you can afford to lose, because prices can go down as well as up.
Further reading