Onyx coin price prediction: Sold out in less than 24 hours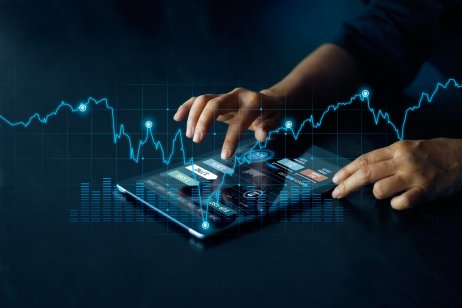 Onyx is a community-driven non-fungible token (NFT) platform that will use the Binance Smart Chain as its blockchain network. The project's core offering is that it will enable users to navigate through virtual missions in order to gain points, which unlock playable areas, in-game weapons, armour and other inventory.
In its final form, Onyx will serve as an open-world game spanning seven virtual continents, all of which will be developed in Unreal Engine 4 – a suite of three-dimensional (3D) development tools that offers cutting-edge graphics, advanced creation tools for photorealistic rendering and immersive experiences.
The game, which is set to launch at an unspecified date, will offer a multitude of tradable NFTs. Here we take a look at the project and what factors are shaping Onyx price prediction.
The upcoming project, which is named after the Gem of Saturn, will offer high customisable characters, with six different battle classes.
Onyx is spearheaded by a team of 30 experienced individuals, including developers, artists and graphic designers who have previously worked on projects such as Mustang, Football stars, MurphyCat, Fanadise and BurningMoon.
The company, which is supported by a community of over 14,000 members, states that its ultimate vision is to provide a one-of-a-kind gaming experience.
"Onyx plans to become one of the world's leading open-world blockchain games covering seven continents," said Motiur Rahman, a cryptocurrency analyst at
CoinJournal
"Players will be able to accumulate NFTs based on playable characters, inventory and combat gear within an expansive metaverse," Rahman told Capital.com.
Last month, the company held its private token sale of 250 BNB (with a 2 BNB maximum buy). It was filled in under 24 hours.
Private sellers received the token at a discount of 5% off the launch price. Onyx notes that it did not use a marketing campaign to promote its private token sale. Also, the company has an upcoming whitelist presale at an unspecified date, which will have a hard cap of 750 BNB and a 2 BNB maximum buy.
Overall, video games are projected to represent a $336bn industry in 2021, according to BITKRAFT Ventures. Revenue from virtual gaming worlds could reach $400bn by 2025.
This is largely due to the convergence between the physical and digital world, which is decentralising the gaming industry and giving players virtual ownership rights over in-game assets such as NFTs.
The play-to-earn phenomenon is shifting traditional proprietary models of ownership through user-owned internet economies.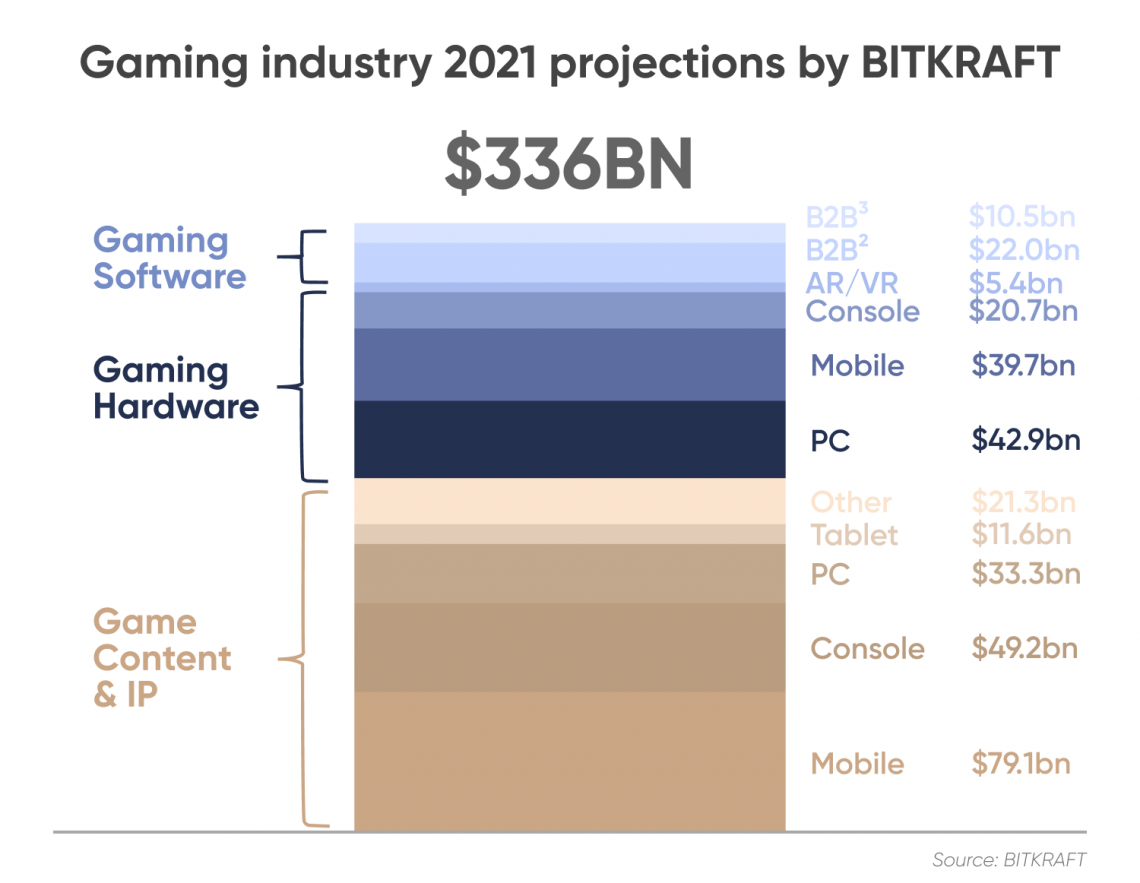 What is the ONYX coin?
Once the game is launched in its final form, the main function of the ONYX coin will be to serve as the in-game currency.
Onyx players will be able to stake NFTs within an open-world game centred around cats. Since the game will use the Binance Smart Chain as its blockchain network, users will be able to buy tokens with low fees and trade ONYX on the decentralised digital asset exchange.
The ONYX token will be issued on the Binance Smart Chain (BEP-20), with a price precision of eighteen decimal places.
Binance Smart Chain will enable the two following elements for ONYX:
a buyback wallet

an anti-bot mechanism which will assist with the launch and prevent bots from sniping contracts
Generally, a buyback mechanism involves the network generating income in a single currency token, the proceeds are then used to buy-back and burn its own native token.
ONYX price analysis: Technical view
The ONYX coin started its journey in November 2021. It achieved an all-time high of $0.0229 on 25 November 2021. Prior to that, it had been trading as low as $0.003483 on 18 November 2021 and $0.003236 on 19 November.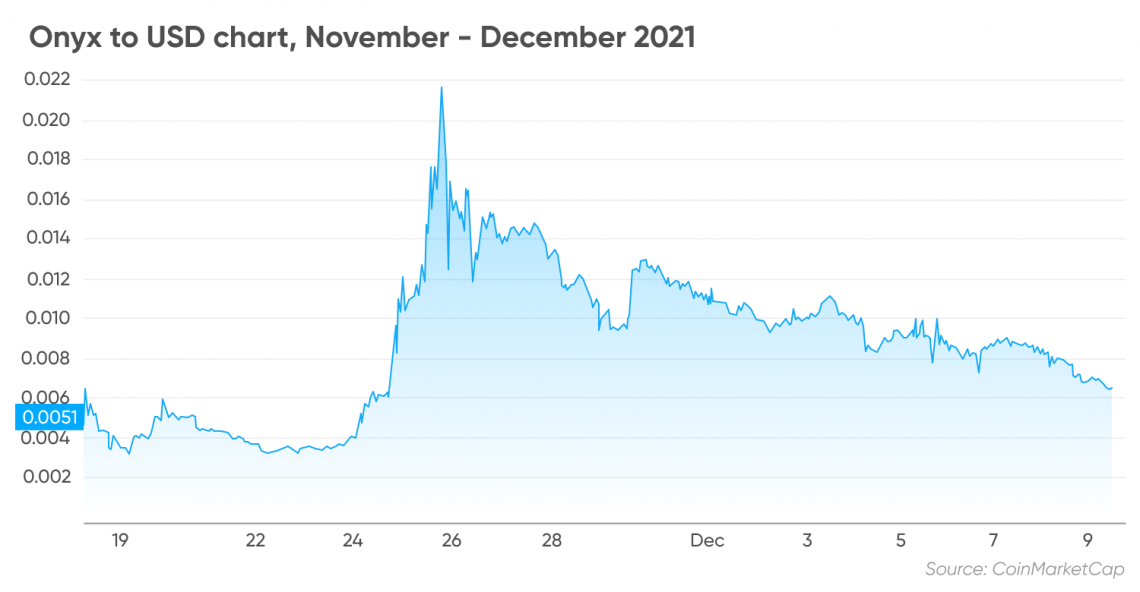 After reaching an all-time high last month, the Onyx token retreated to $0.01191 on 26 November 2021. The price did rebound to $0.01475 on 27 November, but this was followed by another sharp drop to a low of $0.009461 on 29 November.
The ONYX price then consolidated, trading within the $0.010 to $0.012 range until 2 December 2021, when it fell to $0.009411. It plummeted to $0.007333 on 6 December.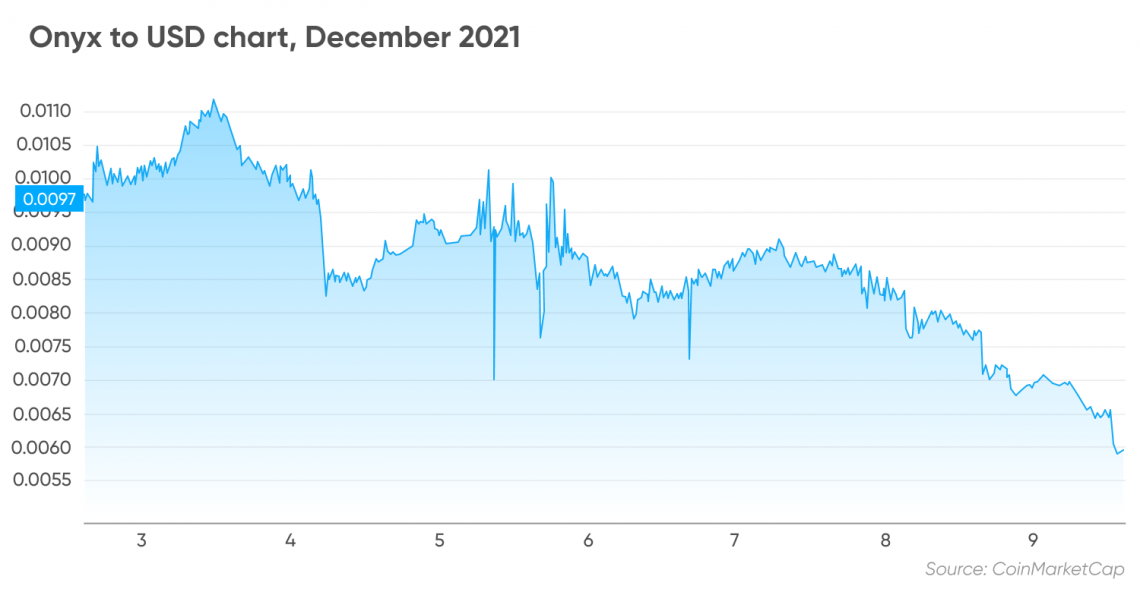 ONYX is currently (9 December) trading at around $0.006487. It ranks 4023rd in the list of cryptocurrencies by market capitalisation at $3.2m. However CoinMarketCap (CMC) notes that this market capitalisation is self-reported and has not been verified by the CMC team. The project's 24 hour trading volume is up 51.26% at $173,519.
Play-to-earn as the new horizon for blockchain-based games
Onyx's private token sale last month gave the project a boost. The company claims that it sold out in less than 24 hours.
At the core of the play-to-earn phenomenon is the appeal towards people from all gaming demographics. The hybrid structure of blockchain-powered games allows for significant re-investment of a game's revenue into user activities, which is a reason as to why the space is booming.
With Onyx, each game character is carefully crafted by the company's in-house graphic designers and outsource partners.
"After selling out their presale token in just under a day, Onyx is surely looking forward to launching their highly-anticipated game," Ansh Rathod, a technical analyst at CoinText, told Capital.com.
"The company has received a good response from investors who have shown confidence in the play-to-earn project which will include flagship features such as tradeable NFT weapons and an in-game token currency.
"The current market capitalisation of $3.2m is giving room for the ONYX price to potentially grow."
What are the risks for the ONYX coin?
The play-to-earn model is still an emerging niche and although it is redefining the gaming sector through the decentralisation of marketplaces for the creation, ownership and exchange of digital assets, there are still issues that remain with financial reporting and taxation that are inherent to digital economies.
A major risk for Onyx is that the company is still awaiting an audit, which will cover static analysis, on-chain monitoring, social sentiment, governance and authority, market volatility and safety, through CertiK, a blockchain security audit company. That an assessment has yet to be completed is something that could affect wider adoption.
ONYX coin price prediction: Buy, sell or hold?
In terms of an ONYX crypto prediction, algorithm-based forecasting service Wallet Investor gives a positive ONYX/USD forecast. Based on historical data, Wallet Investor sees the token rising to $0.164 target price by December 2022, $0.470 in December 2024 and hitting $0.623 by December 2025.
Digital Coin Price supports the bullish ONYX token price prediction, expecting the token future price to grow to $0.0120365466 in 2022 and $0.0194533312 in 2025. Although long-term Onyx price predictions for 2030 are not yet available, the site expects the coin to hit $0.0290849962 in 2028.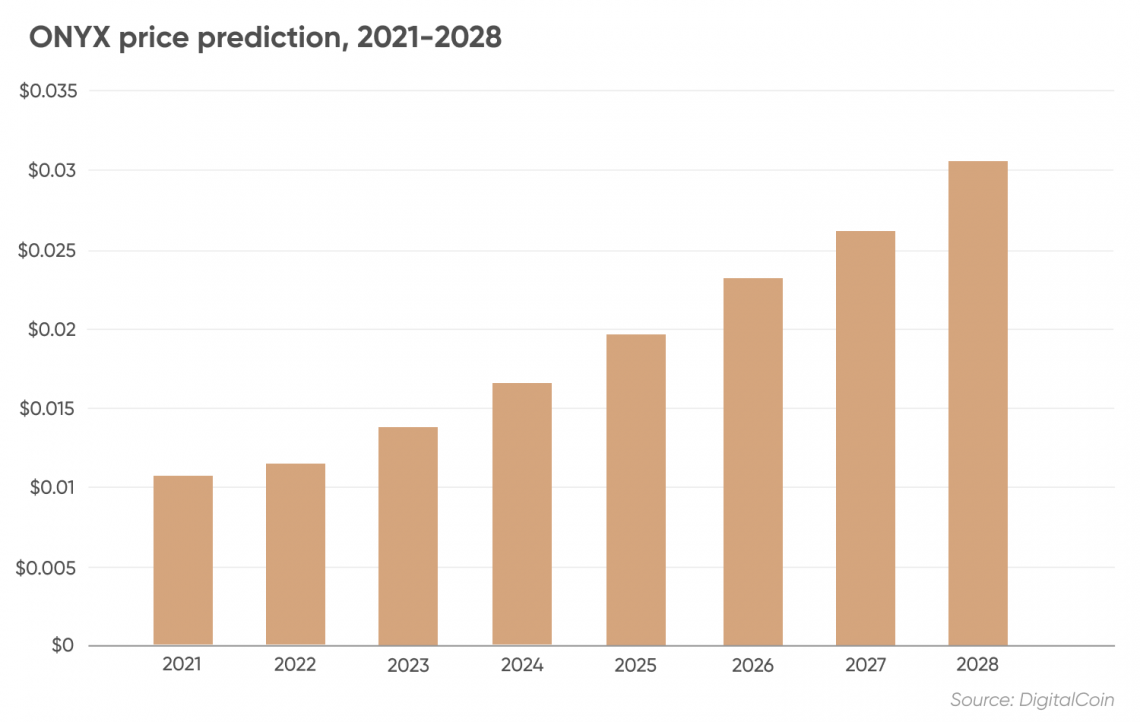 Note that algorithm-based Onyx predictions can be wrong. Forecasts shouldn't be used as a substitute for your own research. Always conduct your own due diligence before investing. And never invest or trade money you cannot afford to lose.
FAQs
Is the Onyx coin a good investment?

Whether ONYX is a good investment for you depends on your personal circumstances and risk appetite. Cryptocurrencies are high-risk, highly volatile assets and Onyx crypto price predictions shouldn't be used as a substitue for your own research. Evaluate the level of risk you are prepared to accept before investing, and never invest money you cannot afford to lose.
Will the ONYX token price go up or down?

The algorithm-based company Wallet Investor predicts that the price could reach $0.623 by December 2025.

Note that Onyx coin price predictions can be wrong. Forecasts shouldn't be used as a substitute for your own research. Always conduct your own due diligence before investing, and never invest or trade money you cannot afford to lose.
Read more: MANA to SAND: Five biggest metaverse cryptos to watch