Omicron variant boosts vaccine maker stocks MRNA and BTNX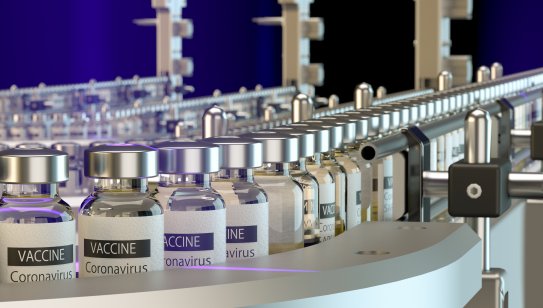 The new Covid-19 Omicron variant boosted the stocks of some vaccine manufacturers on Monday.
Moderna's stock opened at $370.33 (£277.58) per share before settling down to $359.42 by 15:00 UTC, representing a 9% gain on the day.
Similarly, BioNTech saw its stock open at $369.50 before settling at $360.79, a 3.5% gain from its previous close.
Pfizer and Johnson & Johnson (J&J) both had negligible gains on Monday as well. Pfizer's stock opened Monday near its 52-week high at $55.15 before falling to $54.26 by mid-day. Similarly, J&J's stock was up 0.24% to $159.68.
Merck and Novavax were the only manufacturers to see their stock lose value. Merck dropped 4.47% to $75.62 while Novavax opened higher at $228.76 before settling at $215.37, a loss of more than 1% from its previous close.
Addressing mutations
The stocks that saw the greatest upward movement on Monday all have one thing in common: their vaccine products can be quickly edited to address the Omicron variant and future mutations, according to the companies' executives.
Moderna's CEO Stéphane Bancel released a three-point plan to address the new variant over the weekend. The Massachusetts-based company is already testing a booster shot for other Covid-19 strains and plans to have a Omicron booster ready by early 2022.
Similarly, Albert Bourla, Pfizer's CEO, told CNBC's "Squawk Box" on Monday that Pfizer's Covid pill was designed with new variants in mind, saying definitively that "our oral treatment will not be affected by this virus."
BioNTech's stock also saw a boost from Pfizer's plans to adapt its oral pill to combat the Omicron variant.
What is your sentiment on PFE?
Vote to see Traders sentiment!
Drug pipeline problems
Other manufacturers like Merck weren't so lucky. Analysts said their drug development pipelines could negatively impact their Covid-19 treatment production.
For example, Citi Group downgraded the stock from "buy" to "neutral" on Monday with a price target between $85 and $105 per share.
Analyst Andrew Baum wrote in his note that the company's cancer-fighting drugs could complicate its Covid-19 pill development.
"We expect the diminishing outlook for islatravir to further expedite Merck's business development efforts," he wrote.
Similarly, Morgan Stanley lowered its price target for the stock to between $85 and $82 while rating the stock at "equal weight."
Read more: Covid chaos, Black Friday supply issues