Omicron dealt a blow to UK economy during December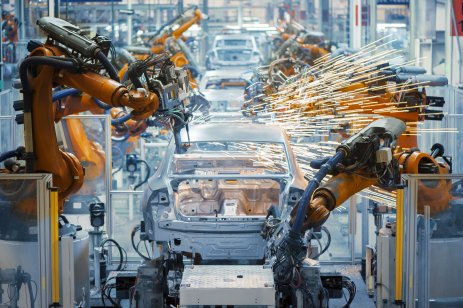 Tighter pandemic restrictions and renewed business uncertainty have dealt a significant blow to the UK economy in recent weeks, according to IHS Markit/CIPS Flash UK Composite PMI data.
The latest monthly figures reveal December was its worst month since February as private sector output growth eased considerably due to rising Covid-19 cases.
The slowdown centred on the service sector, which more than offset a modest acceleration in manufacturing production at the end of 2021.
Weaker recovery momentum
The headline seasonally adjusted IHS Markit/CIPS Flash UK Composite Output Index dropped to 53.2 in December, from 57.6 in November.
The survey found that weaker recovery momentum in the service sector was the main reason for slower output growth in December.
"Survey respondents widely cited a negative impact on consumer demand from tighter Covid-19 stringency measures and renewed travel restrictions," it stated.
There were also reports that business uncertainty related to the Omicron variant had led to a reluctance to spend.
Bigger than expected
Assistant economist at Capital Economics, Adam Hoyes pointed out that December's fall in the composite PMI didn't come out of the blue, given the recent rise in Omicron variant cases.
However, the extent of the problem was surprising.
"It was much bigger than expected and shows that caution among businesses and consumers is starting to weigh on activity, particularly in the services sector," he said.
Optimism diminishes
Manufacturing output remained constrained by raw material and staff shortages in December, although only a small minority of survey respondents cited tighter pandemic restrictions.
The figures also revealed how optimism regarding the year-ahead outlook for business activity diminished for the fourth consecutive month in December.
This largely reflected a slump in confidence among consumer-facing service providers, with public sector growth expectations for the coming year at their lowest level since October 2020.
Drop in spending
The flash PMI data reveals the UK economy is being hit once again by Covid-19, according to chief business economist at IHS Markit, Chris Williamson.
"Growth is slowing sharply at the end of the year led by a steep drop in spending on services by households," Williamson said.
However, he highlighted brighter news coming through from manufacturing, where an "easing of supply chain delays" helped lift production growth. This has also helped take some upward pressure off prices to hint at a peaking of inflation.
Omicron uncertainty
Williamson expects economic growth to weaken as we head into 2022 due to the expected rise in Covid-19 infections, along with the introduction of more restrictions.
"The bigger uncertainty will be on how rising infection rates both at home and abroad might cause further supply and labour shortages, and whether this means the easing of inflationary pressures seen in December proves frustratingly short-lived," he said.
Read more: UK economy expected to return to pre-pandemic levels by 2022