Oil prices near year low: Bearish momentum builds on China demand concerns
Subscribe to Weekly Highlights
The major market events for the week ahead right in your inbox.
Subscribe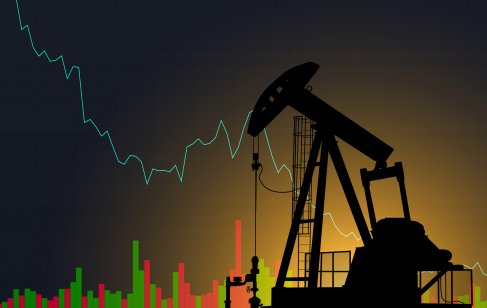 Content
Oil prices fell more than $2 a barrel on Monday with Brent nearing a year low as rising Covid-19 cases and unrest in China weighed on the minds of traders, mindful of declining economic activity in the country.
Brent crude oil price chart
At the time of writing, US West Texas Intermediate (WTI) futures slid $2.08, or 2.7%, to $74.20 a barrel, its lowest since 27 December last year, while Brent crude futures dropped $2.16, or 2.6%, to trade at $81.47 a barrel - it went to $81.16 at one point, its lowest since 11 January.
The drop on Monday follows oil sliding almost 5% last week, marking three consecutive weekly losses.
Piero Cingari, market specialist at Capital.com, noted the lower crude demand expectations.
"Price changes are dominated by what happens in China, the world's second largest user of crude oil. In stark contrast to the perceived attempts to reopen at the beginning of November, lockdowns have been reinstated in major cities, sparking rare protests and thus affecting consumption."
What is your sentiment on Oil - Brent?
Vote to see Traders sentiment!
Could oil prices fall further?
Osama Rizvi, an energy analyst at Primary Vision, highlighted in a note sent to Capital.com how areas in China that account for almost 20% of the country's GDP are in lockdown, posing a serious threat to its growth.
"The Purchasing Managers Index (PMI) fell 0.9% to 49.2% and its oil imports declined for the first three quarters, falling 4.3% year-on-year," he said.
As a result of this and other factors, Rizvi said he believes oil prices will fall further.
What else is impacting oil prices?
Piero Cingari shared his view on other fundamentals at play that could impact oil prices.
"On the supply side, reports that the US gave Chevron (CVX) a license to resume oil production in Venezuela - and Iraq's announcement that it will add 1 million to 1.5 million barrels per day of oil export capacity by 2025 also weighed on oil prices," he said.
Chevron (CVX) price chart
Cingarl further noted that G-7 has postponed the official decision on a price ceiling on Russian oil, which may prompt some retaliation from Russia, potentially reducing supply.
"However, supply-side risks are not entirely dissipated. At the OPEC+ meeting on Sunday 4 December, oil-producing countries could reaffirm their very tight supply policy in light of recent market developments," he added.
Technical take on oil prices
Technically speaking, Cingari highlighted that oil has dropped to December 2021 levels and is currently in negative territory for the year so far.
"The last phase of depreciation was violent, sending the daily-RSI near to oversold levels last seen in late September when WTI plummeted to $76 and Brent to $82. 2022 lows were revised downward, with bearish sentiment now dominating. WTI prices are currently 14% and 30% away from their respective 50-day and 200-day moving averages. It's a little bit too pessimistic.
US crude oil (WTI) price chart
"Given that a significant portion of the bad news is priced, dip buying behaviors may start to emerge precisely because of how quickly and perhaps extreme the recent downward trend was," he said.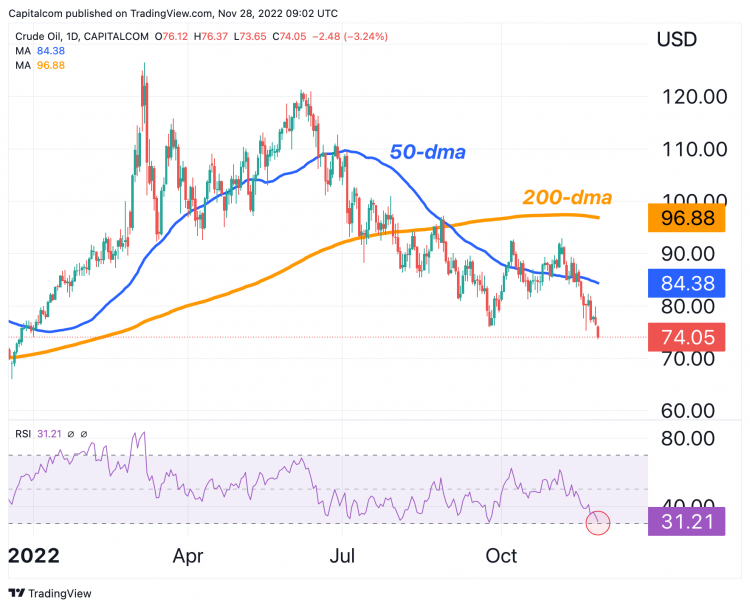 Chart: WTI approaching oversold technical levels
Daniela Hathorn, senior market analyst at Capital.com, shared her latest outlook for oil prices and noted how her view for the last few months has been that demand concerns have been outweighing the tightness in supply and therefore keeping oil prices within a descending trend, which has once again materialised.
"I have been keeping track of a technical "wave" pattern for the last six months or so. The pattern had been performing nicely until mid-October, at which point WTI broke above the descending trendline too soon within the pattern. This meant that, unlike in the previous waves, the price of WTI failed to break below the previous low ($75.81) before reversing higher and forming a new peak. Instead, it traded sideways for a week and then reversed to the upside, effectively breaking away from the fourth wave too soon and diminishing the effect of the pattern.
"But in an article I posted on 9 November, I mentioned how the $92.89 high on 7 November looked like the start of a new wave. And indeed it has been.The bearish pressure has increased from that point and WTI has once again fallen within a descending trendline resistance that is capping any attempts from buyers to regain control," she said.
Hathorn further noted that the selloff has now dropped below the previous pattern low ($76.02) and therefore has successfully completed the fifth "wave".
"From here on we could start to see some bullish momentum come in and test the descending trend line, although I imagine it's going to be tough to break higher given the selloff doesn't look to be over just yet.
"WTI is down over 20% since the 7 November peak (and the start of the fifth wave) but we may still see some further retracement towards $70 before we can turn higher and break the descending resistance," she added.
What do the banks think?
JPMorgan has cut its 2023 Brent crude forecast by $8 to $90/bbl, while Deutsche Bank believes supply disruptions will temporarily lift oil prices to $100/bbl in Q1 2023 – and that prices will resume declines through to the end of next year at $80/bbl.
Goldman Sachs also recently cut its fourth-quarter Brent price forecast – by $10 to $100 per barrel. The investment bank cited factors including a likely demand slowdown as a result of China's spike in Covid-19 cases.
Related reading