Oil price trend 2019: what to expect from the global oil market?
Subscribe to Weekly Highlights
The major market events for the week ahead right in your inbox.
Subscribe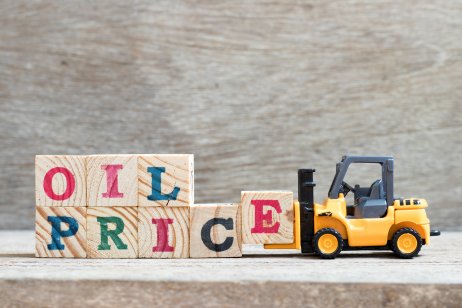 Content
According to the World Bank's oil price forecast 2019, crude oil prices are expected to valued at an average of $66 per barrel this year and $65 per barrel in 2020. This slightly downward revision of the oil price prediction is due to the lower than expected global growth outlook and higher than expected US oil production.
Global oil market performance
The ongoing trade dispute between the two major crude oil consumers – the United States and China - continue to suppress oil prices. Although, crude oil may still catch a bid in 2019 as the OPEC (Organisation of the Petroleum Exporting Countries) ensures that it keeps oil inventories "under control".
According to the OECD (Organisation for Economic Co-operation and Development, "trade tensions are not only hurting the short-term outlook but also medium-term prospects, calling for urgent government action to reinvigorate growth."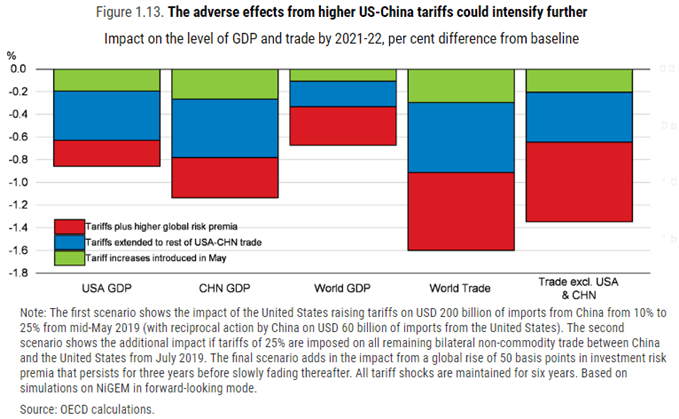 The OECD reminds that tariffs, imposed by the US and China in 2018, have already slowed down growth and contributed to inflation. Now it's time to see how OPEC and its allies will respond to the weakening oil price growth outlook.
The ongoing alliance of OPEC and selected countries can keep crude oil prices afloat with no rush to increase production. Therefore, crude oil prices may keep increasing as the OPEC alliance remains.
Recently OPEC and its partners once again cut production in their effort to steady the oil market.
Since the start of 2019, crude oil has experienced an almost 30% increase in price, but still hasn't fully recovered from the 40% drop in Q4 2018.
What is your sentiment on EA?
Vote to see Traders sentiment!
World liquid fuels production and supply balance
According to the Short-term Energy Outlook, a report by the US Energy Information Administration, crude oil production in the OPEC countries will average 30.3 million barrels per day, which is 1.7 million barrels lower than in 2018.
The EIA predicts further crude oil production to decline by 0.4 million barrels per day to an average of 29.8 million b/d in 2020.
The EIA forecasts that the decrease in the world's oil inventories by 0.2 million b/d in 2019 and by 0.1 million b/d increase in 2020. It is projected that global oil demand will rise by 1.4 million barrels in 2019 and by 1.5 million barrels in 2020.
Crude oil price trend: 2019, 2020 and beyond
In April 2019, crude oil prices had been increasing for the previous 4 consecutive months, gradually approaching 6-month highs. Despite the EIA prediction that the Iranian crude oil production and exports will decrease, crude oil supply from OPEC and other countries look like they will manage to offset the lack of Iranian oil barrels. Oil production is expected to increase in the United Arab Emirates, Kuwait, Saudi Arabia and Russia.
According to the Short-term Energy Outlook (EIA) the Brent crude oil price 2019 will average $73 per barrel, which is $5 more than previously forecasted, and will decline to $67 per barrel in 2020.
Let's take a quick look at other oil price forecasts:
The OECD Economic Outlook (as of November 2018) seemed more bullish, claiming that the oil price in 2019 per barrel will reach $80.

The IMF's Primary Commodity Prices Projections forecasts that, by 2020, the Brent crude oil price to reach $53 per barrel, and the WTI – $50 per barrel.

The World Bank's estimations anticipate that the 3 world's major oil benchmarks – WTI, Brent and Dubai – will continue to grow after 2020 and will reach $70 per barrel by 2030.
The Oil price 2019 depends on the supply and demand forces from international markets. Some crucial supply-side factors affecting price expectations include: US crude oil stocks, OPEC oil supply and US shale oil production.
On December 2018, OPEC and its partners agreed to cut down oil production by 1.2 million barrels a day. The agreement was to start from January for a 6 month period. The agreement helped hold oil prices afloat, despite the increasing US oil inventories. In April, Brent crude oil price reached $71 per barrel.
According to the OPEC's Monthly oil market report, in 2019 the world's oil demand will increase by 1.3 million b/d. But the growing US shale oil activity is expected to limit price gains.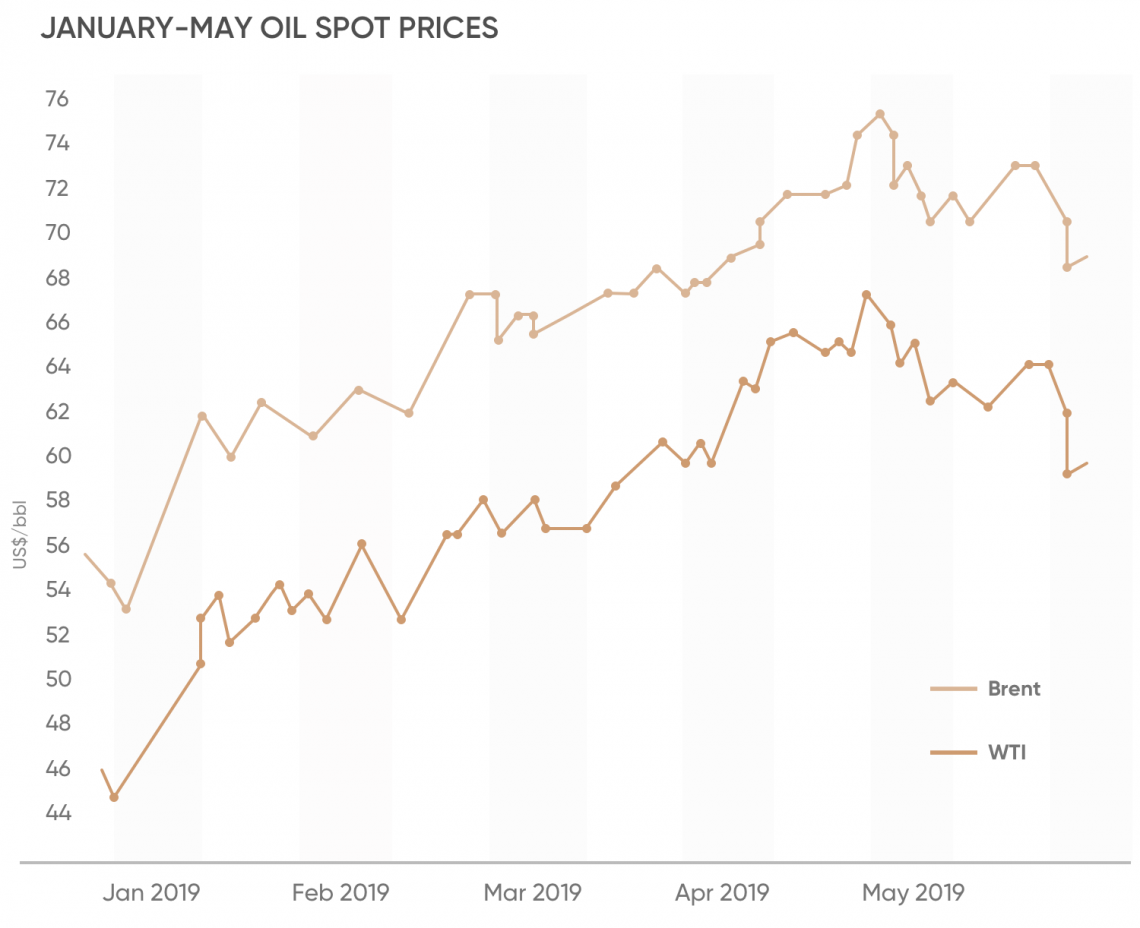 Since the beginning of the year Brent has increased by $13.74 per barrel or 25.02%. The latest Brent oil price, as of the end of May 2019, stood at around $67 per barrel. WTI crude oil has increased $11.85, or 25.45%. The current US crude oil price is $58 per barrel.