Oil-currencies weaken as crude falls, NZD rallies while TRY sinks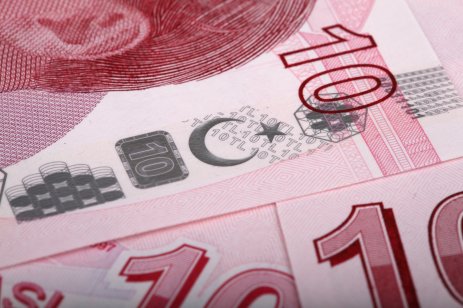 Oil-related currencies are the underperformers on Thursday, as US President Joe Biden pushes China, India, Japan and other nations to open their oil reserves to curb global energy prices. Brent prices fell below $80 per barrel.
The Norwegian krone (NOK) was down 0.2% against the US dollar, after seven straight days of losses, and Russian ruble (RUB) lost 0.7%. USD/CAD is broadly unchanged as elevated consumer inflation in Canada bolstered the case for higher interest rates.
Sterling benefitted from both strong labour and inflation data this week, gaining ground against its peers. Cable (GBP/USD) is up 0.1% from previous close, while EUR/GBP is flat after falling to 0.8385 yesterday.
The kiwi (NZD) is the best performer among the major currencies, up 0.7% against the dollar, as short-term inflation expectations are expected to rise to 2.96% in the fourth quarter adding pressure on the Reserve Bank of New Zealand (RBNZ) to deliver a rate hike next week.
The euro paused for a breath after six straight sessions of losses against the dollar, with EUR/USD finding a support around 1.1315-1.1320.
Yesterday, the Turkish lira (TRY) tumbled 2.8% hitting new record lows against the dollar, after President Recep Tayyip Erdoğan once again expressed his willingness to fight high interest rates "to the end" to reduce pain in the population, just a day before the meeting of the Central Bank of Turkey (CBT). Today, the CBT cut interest rates by 100 basis points, or 1%, to 15%, in line with market expectations. Lira weakened again after the decision.
What is your sentiment on Oil - Brent?
Vote to see Traders sentiment!
Forex Daily Matrix – 18 November 2021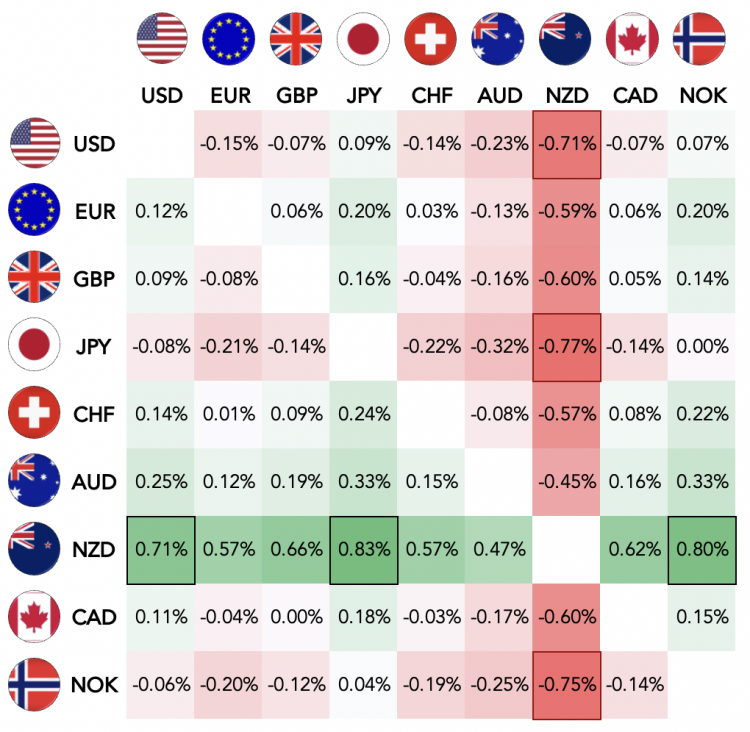 Forex daily matrix as of 17 November 2021, 11:00 GMT – Credit: Capital.com
US dollar
As of this writing, the US Dollar index (DXY) was last at 95.68, down 0.1% from the previous close.
Elevated US inflation and expectations on monetary policy normalisation remain the key driving factor behind the recent strength of the US dollar against other major currencies.
Money markets currently assign a 64% chance the US Federal Reserve starts raising interest rates in June next year.
Yesterday, US Federal Open Market Committee member Charles Evans said inflation could last longer than expected but a strong labour market will keep the economic outlook optimistic.
On the nomination of a Fed Chair, the White House announced that Biden would make his decision in the days before the Thanksgiving Day holiday.
A reappointment of Chair Jerome Powell is still the most likely outcome (60%) according to online forecasts market (Predictit.org), but his margin is narrowing against Fed Governor Lael Brainard (40%) who is seen as a more dovish chair by the market.
DXY technical levels:
52-week high: 96.18
52-week low: 89.212
50-day moving average: 93.92
200-day moving average: 92.21
14-day Relative Strength Index (RSI): 68.72
Chart of the day: Turkish Lira tumbled as interest rates fall way below inflation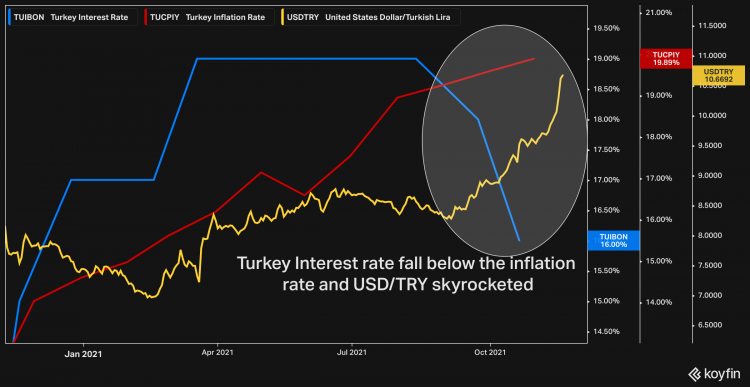 USD/TRY Chart and Turkey interest rate and inflation rate – Credit: Capital.com
British pound
GBP/USD was last at 1.3492 in London midday trading, up 0.1% from previous close, while EUR/GBP traded unchanged at 0.8395.
The British pound continues to remain supported by elevated inflation in the country and a strong recovery in the labour market, which raise the probabilities of a first Bank of England interest rate hike in December.
Money markets are now fully pricing in a 15bps hike next month, according to the latest CME BoE Watch.
GBP/USD technical levels.
52-week high: 1.4248
52-week low: 1.3107
50-day moving average: 1.3645
200-day moving average: 1.3837
14-day Relative Strength Index (RSI): 43.85
Euro
The euro was up 0.14% to 1.1332 against the US dollar, after posting six straight sessions of losses.
Short-term yield differentials between the US and the German bond market remain the dominant driver of EUR/USD as shown previously.
Yesterday, the eurozone inflation rate print was not severe as elsewhere, rising to 4.1% year-on-year in October but matching market expectations.
Meanwhile, German Chancellor Angela Merkel has warned that Germany is in the midst of a "dramatic" fourth Covid-19 wave, with daily infections reaching a new high.
On the technical front, the Relative Strength Index (RSI) indicator for EUR/USD continues to hover in the oversold area (below 30) on the daily timeframe chart..
EUR/USD technical levels:
52-week high: 1.2349
52-week low: 1.1265
50-day moving average: 1.1614
200-day moving average: 1.1866
14-day Relative Strength Index (RSI): 28.66
Forex Performance Heatmap – 18 November 2021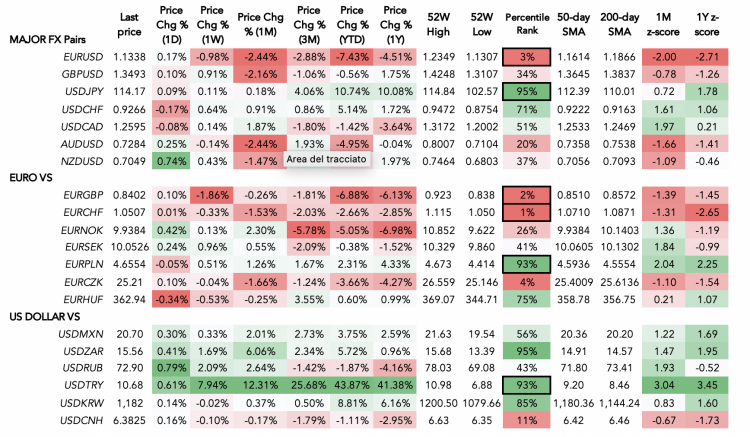 Forex performance heatmap as of 18 November 2021, 11:00 GMT – Credit: Capital.com
Other currency pairs (% change from previous close):