Oil 2023 outlook: How will recession fears and price cap affect prices?
Subscribe to Weekly Highlights
The major market events for the week ahead right in your inbox.
Subscribe
Content
Commodities have been one of the most volatile asset classes in 2022. Energy prices were catapulted in the first quarter as Russia started to invade Ukraine and their performance has been a rollercoaster ever since.
As with most commodities, oil, sometimes referred to as liquid gold, is highly sensitive to supply and demand factors and the state of the economy. Both US crude (WTI) and Brent Crude started the year by reaching their highest levels since 2008 as Europe was being plunged into an energy crisis that remains unresolved, but as momentum has reversed throughout the year, they are both now facing their lowest level in 2022.
Oil, US Crude (WTI): 2022 Year in Review
The year started off with strong bullish momentum in January which had been building throughout most of 2021. At this point, markets were starting to see a bit more clarity about the end of the pandemic as vaccine rollouts were gathering pace worldwide.
We started to see volatility picking up throughout the end of January as headlines were reporting Russian troops mobilising as tensions were escalating in the East. By February, prices were seeing daily moves of over 2% with daily ranges of up to 10%. By mid-February, as fighting escalated in separatist regions, oil prices had risen over 25% since the beginning of the year. On the 1st of March, we saw the first daily gain of over 10%, with WTI rallying 32% in just 6 days to its all-time peak of $126/bbl on March 8th.
But as quickly as the price shot up it came back down again, and by March 15th it had dropped 27%, coming to rest at $92/bbl, before shooting up once again to $115/bbl by March 24th. Overall, March saw the highest average daily ranges on record but despite the volatility, the price closed only 5.7% above where it had started the month.
Throughout the first half of the year, oil prices kept a bullish bias, with WTI reaching its second peak of the year at $121/bbl on June 8th. The build-up to this level seemed more sustainable as there was a clear pattern of higher highs and, despite some sellers challenging the move higher, the average daily range shortened considerably as volatility started to die down.
WTI Average Daily Range (ADR) YTD 2022

WTI Average Daily Range. Photo: capital.com. Source: tradingview
But then came interest rate hikes from central banks to combat soaring inflation and traders became concerned about the risk of a global recession, which would have a damaging effect on the global oil demand. Since the peak in June, oil commenced a steady decline over 4 months, shedding 37% to $76/bbl on September 26th, its lowest level since January 4th.
Since then we have seen some sideways consolidation as OPEC+ stepped in with production cuts to counteract the selloff in crude prices. As of December 2022, the potential for a recovery in China has picked up hopes about a recovery in demand but WTI is back trading around its September low, with bearish momentum picking up in an attempt to break to a new 2022, currently sitting at $73.62/bbl on November 28th.
What is your sentiment on Oil - Crude?
Vote to see Traders sentiment!
Fundamental forecast: tight supply vs slowing growth
As of the end of 2022 supply remains tight. After the buildup during the pandemic, inventories have been declining steadily throughout the year which, coupled with reduced refining capacity and investment, means that existing capacity is less capable of meeting demand.
Stocks of Crude Oil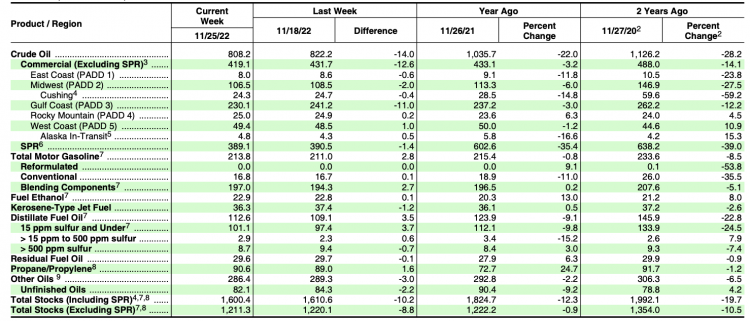 Stocks of Crude Oil by PAD District, and Stocks of Petroleum Products, U.S. Totals. Source: eia.gov
But concerns about demand stemming from China have been front and centre for the past few months. Moreover, concerns about global growth slowdown on the back of aggressive rate hikes from central banks have been keeping a lid on oil prices. The general feeling going into 2023 is that economies worldwide are going to face contraction in the first half of the year, before returning to growth thereafter.
To counteract the downside risk, the recent EU embargo and G7 price cap on Russian oil alongside the end of the US SPR releases should continue to keep supply conditions tight. Moreover, OPEC+ has been unusually proactive throughout the year to balance out the excess supply so this is likely to continue in the new year, and the increasing likelihood of a Chinese reopening in the first half of the year will likely help oil prices edge higher.
Adding to the argument of oil prices remaining supported is the fact that we may be coming to the end of the hiking schedule for most central banks. Peak rates have not yet been reached and there seems to be a lack of consensus on what they'll actually be, but the messaging from most banks has started to show a "pause to assess the impact so far" approach. This means that economies may actually fare better than originally expected throughout the first quarter of the year, and oil demand may not take as big a hit.
There is also the uncertainty of how much of an impact the price cap will have on Russian supply. After agreeing on the price cap last Friday, the G7 countries, plus the EU and Australia are planning to continue buying Russian crude but want to limit Russian revenues. Russia has threatened to stop supplying these countries with crude but they have not yet lowered their output levels. In any case, the breakeven price for Russian crude is thought to be below the $60/bbl price cap so whilst profits would be capped, Russian could still continue to supply crude to these countries.
Finally, the development of the Russia-Ukraine war will continue to be of high importance in 2023. Despite there being no peace agreement in sight, a de-escalation of tensions would slowly return crude flows to pre-war levels but the removal of supply-side risks would be the prominent theme and this would bring oil prices down.
Global oil demand growth, 2011 - 2025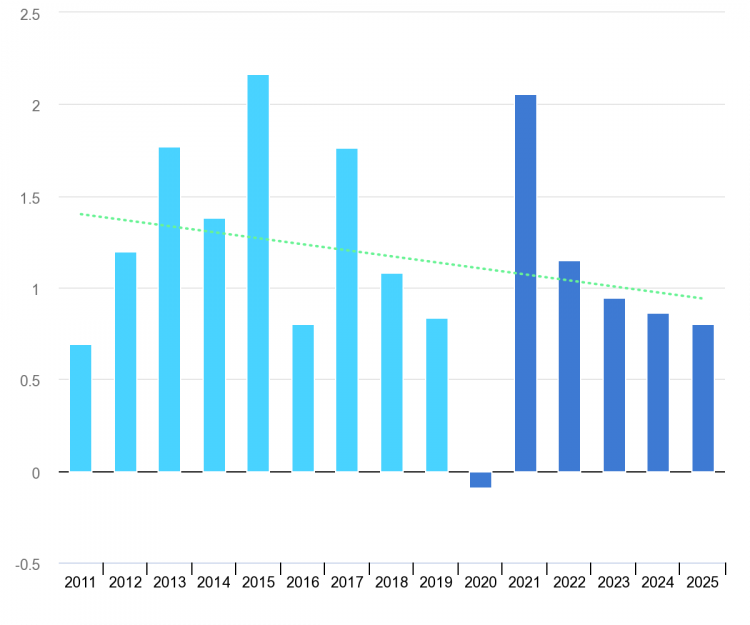 Global oil demand growth. Source: iea.org
Technical Outlook: Bears don't look like they're done just yet
As some of you may know, I have been following a "wave" pattern on the WTI chart for the past 6 months or so and in some way, the pattern continues to show some value.
It had been performing nicely until mid-October, at which point WTI broke above the descending trend line too soon within the pattern. This meant that, unlike in the previous waves, the price of WTI failed to break below the previous low ($75.81) before reversing higher and forming a new peak. Instead, it traded sideways for a week and then reversed to the upside, effectively breaking away from the fourth wave (marked in red on the chart) too soon and diminishing the effect of the pattern.
But then the 92.89 high on November 7th looked like the start of a new wave. And indeed it looks like it has been. The bearish pressure has increased from that point and WTI has once again fallen within a descending trend line resistance that is capping any attempts from buyers to regain control.
In fact, the selloff has then dropped below the previous pattern low (76.02) and therefore had successfully completed the 5th "wave". From there on we've seen some bullish momentum come in and test the descending trend line, although it's going to be tough to break higher given the selloff doesn't look to be over just yet.
WTI is down over 20% since the November 7th peak (and the start of the 5th wave) but the pattern suggests we may still see some further retracement towards $70 before we can turn higher and break the descending resistance.
So overall, despite the lack of completion of the fourth "wave" it seems like WTI continues to be stuck in this loop of pullbacks and retracements. That said, looking ahead towards 2023 there are a few things to keep in mind.
One, the US has confirmed it will start replenishing its Strategic Petroleum Reserves (SPR) at a price between $68 and $72, meaning there may be a further reason for support up ahead.
Two, despite the reaction to the Chinese reopening trade being muted so far, the risk of recession is likely already discounted in the price of crude meaning there could be room for optimism in the first quarter of 2023 if the economic data shows more resilience than expected.
So overall the outlook for Q1 is for oil to continue its bearish trend but at a reduced capacity, similar to what we've seen in Q4 of 2022. Because of this, sideways consolidation cannot be ruled out, especially as support looms.
WTI daily chart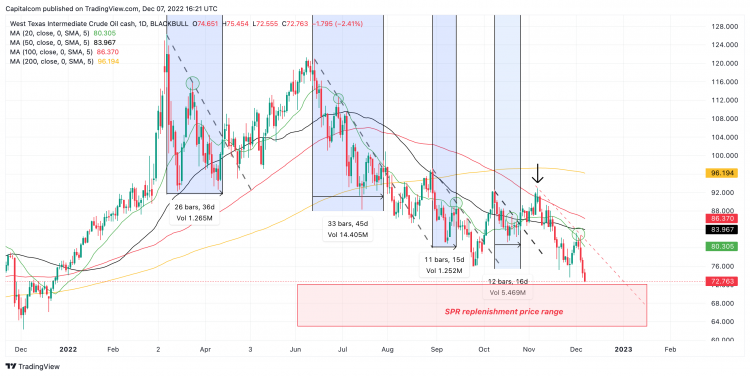 WTI daily chart. Photo: capital.com. Source: tradingview
Will oil go up or down in 2023?

The easing of covid restrictions in China alongside the recently imposed price cap on Russian crude should keep oil prices supported in 2023, but concerns about global growth seem to be weighing on investors.
Related reading