Offshore oil bonanza: Is Guyana the next Saudi Arabia?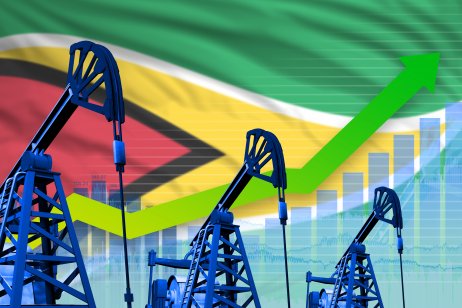 One of the promising offshore oil discoveries in the last decade was off the coast of the impoverished South American country of Guyana, a tiny nation where multinational oil companies are rushing to drill a nearly pure crude.
Guyana could possibly be "South America's Saudi Arabia," said one oil executive, whose employer is drilling in the nation. The list of oil majors and minors who are discovering and developing is long, including Shell (SHEL), ExxonMobil (XOM), Chevron (CVX), Hess (HES), Phillips 66 (PSX), France's TotalEnergies (TTE) and Canada-based GDX Energy and Frontera Energy (XTSE).
What is your sentiment on RDSa?
Vote to see Traders sentiment!
Royal Dutch Shell
TotalEnergies
Chevron
Oil insiders in the US and Latin America told Capital.com that once the oil is flowing freely it could have a positive impact on the global crude market, where supply constraints resulting from industry underinvestment during the pandemic and Russia's invasion of Ukraine have led to price volatility. Oil still meets more than 30% of global energy demand and 90% of transportation needs, and remains virtually indispensable for powering larger vehicles like trucks, planes and ships.
Billions invested
Global oil companies have spent billions of dollars in sustained investments, regardless of crude prices, Guyana's Natural Resource Ministry spokesman said.
"It's an important part of their commitment to responsibly meeting the world's energy needs," he told Capital.com in a telephone interview from the capital of Georgetown. He confirmed reports that eventually Ghana could produce upwards of 17 to 19 million barrels per day, but gave no timeline.
ExxonMobil said it expects to invest between $2bn and $24bn in 2022 and between $20bn and $24bn through 2027. "We're excited about the growth and opportunities we see ahead in Guyana," the company said in a statement to Capital.com. Recently, ExxonMobil discovered the equivalent of nearly 11 billion barrels of recoverable oil off Guyana's shore in the 6.6-million-acre Stabroek Block
"That's more than 10% of all the new conventional resources discovered anywhere in the world between 2015 and the end of last year," the company said.
The block is a seven-year oil joint venture between ExxonMobil joined up with Hess and China's CNOOC.
ExxonMobil
The good stuff
The crude extracted from Guyana's largest deposit, the Stabroek Block, is crude royalty, it contains low carbon content, lower than 0.5% and has a high American Petroleum Institute quality (above 30 degrees). Guyana oil is "high-quality oil-bearing sand," said the oil executive. Some oil pumps from Latin America wells, such as Venezuela's, will not require heavy refining due to high Sulphur content, known as sour crude.
"Guyana's low refining cost oil is massively attractive for oil companies," the executive said, adding refining quality crude is $3 to $4 per barrel, while heavy, sour crude can cost nearly double.
R
educe carbon footprint
ExxonMobil said its Guyana venture will help it reduce its carbon footprint.
In fact, the Houston-based energy giant plans include spending more than $15 billion through 2027 to slash greenhouse gas emissions from company operations, and for investments in lower-emission business opportunities to help others reduce their emissions.
"Some of that money will be spent in Guyana, where by 2027 our operations are expected to have about 30% lower greenhouse gas intensity than the average of our upstream portfolio. We're looking at even more ways to reduce emissions in Guyana and in other operations around the world," ExxonMobil statement read.