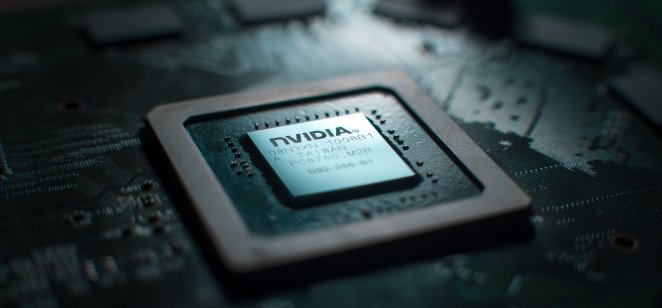 Founded in 1993, Nvidia (NVDA) is a fast-growing technology company, offering services and products that are used in multiple industries such as autonomous machines, data centres, healthcare, and gaming among others.
The firm has divided its business into two segments: the Graphical Processing Unit (GPU) and Tegra Processor. The GPU segment is made up of its popular products like GeForce, which is used in the gaming industry, and Quadro, Tesla, Grid, DGX and EGX. The Tegra Processor segment includes its Tegra processors, SHIELD, and AGX.
Nvidia's products are some of the most popular in the industries it operates in. For example, according to Forbes, the company has the biggest market share in the GPU industry with more than $10 billion in annual revenue. It is followed by Advanced Micro Devices (AMD) and Intel (INTC), which have about $4.7 billion and $3.3 billion respectively.
What makes Nvidia special for investors?
Going by the latest analyst calls and recent Nvidia stock trend, there is no surprise why many investors feel rather confident in the company. The stock has jumped by more than 50 per cent in the past 12 months and almost 1,170 per cent in five years. In contrast, during the same period, the tech-heavy Nasdaq 100 (US100) has gained about 10 per cent and 88 per cent respectively.
At the current NVDA market cap of more than $173 billion, investors are paying 43 times forward earnings. While this is relatively pricey compared to Intel, Qualcomm (QCOM), and Micron (MU), which have a forward PE of 11.5, 21, and 16, it is still significantly cheaper than AMD, with its forward PE ratio of 82.
In addition to its stellar stock performance, Nvidia has had relatively faster growth in the past few years. According to Seeking Alpha, the company's three-year CAGR is about 16.4 per cent compared to the 15.9 per cent of AMD. Its estimated forward revenue growth is 8 per cent, lower than AMD's 15 per cent, but still higher than that of peer companies. Besides, Nvidia has higher margins than its competitors, with an EBITDA margin of 29 per cent in the last quarter.
Moreover, according to Allied Research, the GPU industry is expected to continue growing, reaching $157 billion by 2022. For that, Nvidia's strong brand and market share in the GPU industry also play a substantial role in its popularity among investors.

Analysts are upbeat on the Nvidia stock outlook because of the firm's strategic investments in other fast-growing industries like cloud computing, autonomous driving and artificial intelligence.
At the end, the company has a good record of beating consensus forecasts. Data from Seeking Alpha shows that Nvidia has only missed revenue forecasts in three quarters since 2016, while missing EPS estimates only once.
Nvidia stock analysis: latest news and performance
Nvidia stock performance has been rather excellent over the years. In general, the stock price has risen by more than 18,000 per cent since its IPO in 1999. In contrast, Nasdaq 100 has only surged by a bit over 300 per cent during this time.
However, there were still a few downfalls the stock has gone through. For example, NVDA dropped by 90 per cent between December 2001 and September 2002. It also shed by 80 per cent during the infamous 2008 financial crisis. The stock has then risen from about $7 in 2008 to an all-time high of $288 this year. The key milestones of its performance are shown below.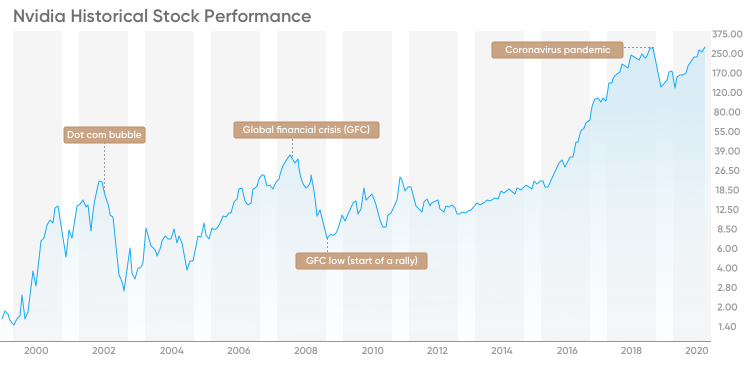 Nvidia stock has been relatively strong this year, gaining more than 16 per cent. It is quite an impressive result compared to the overall decline in other US stocks. This is partly because the company has seen increased demand for its gaming products as more people stay home. In the most recent quarter, its gaming revenue grew by 56 per cent to $1.49 billion.
Analysts also believe that the business will benefit from increased demand for its healthcare and life sciences offerings.
Another catalyst has been its planned acquisition of Mellanox, a company that supplies networking products based on the InfiniBand and Ethernet technology. The deal was recently approved by Chinese authorities, meaning that the purchase will be completed in the coming weeks.
Nvidia share price forecast: consider all the headwinds
Is Nvidia a good investment? This is a commonly asked question, especially in the period of pandemic-related uncertainty. Nvidia is a good company in many aspects. Thanks to the quality of its products, its positioning in some of the fastest-growing industries, and its efficient cash management strategies, it seems ready to face all the headwinds that lie ahead.
However, there are still chances that the Covid-19 outbreak will hurt some of its operations in the long run. In an update earlier this year, the firm said that its business is expected to take a $100 million hit because of the disease.
Moreover, while Nvidia dominates the GPU industry, there are signs that companies like AMD are ready to rapidly expand their market share. According to JPR, AMD's Radeon GPUs are becoming relatively popular among gamers, which is a worrying sign for Nvidia.
Another challenge for the company is in its gaming platform, which has been losing access to major titles. A recent report showed that Nvidia's GeForce will no longer be able to play titles from Codemasters, Warner Bros, Interactive Entertainment and Microsoft's Xbox Game Studios.
Nvidia stock price forecast: should I invest in Nvidia?
Let's now take a look at the Nvidia share price prediction from sell-side experts. Data compiled by MarketBeat shows that most analysts have a buy rating on the company.
Some of the bullish analysts include Oppenheimer, UBS (UBSG), Bank of America (BAC), and Wedbush. The most optimistic prognosis comes from Oppenheimer, who has a target price of $350, which is a 22 per cent upside from the current price.
A summary of analysts' NVDA stock prediction is shown below.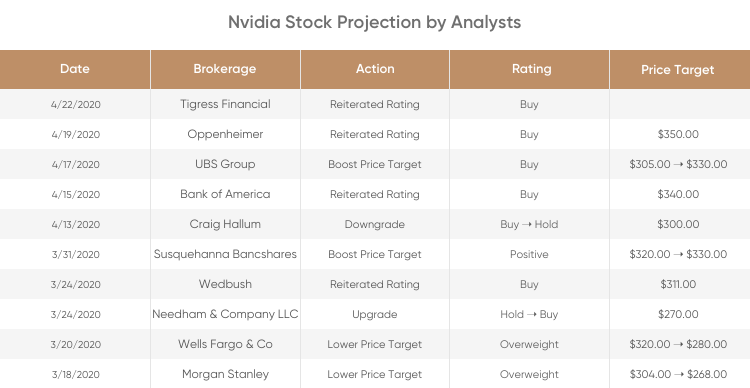 Still, some experts are a bit cautious on the stock. In a recent note, analysts at Citigroup (C) lowered their rating on the company saying that data spending would decline substantially due to the pandemic.
Meanwhile, a technical Nvidia stock forecast provided by Wallet Investor suggests the stock will likely rise to a high of $333 in October and then end the year at around $293. This level is a few points above where the stock is trading at today.
Another Nvidia stock projection by Gov Capital shows that the company's stock will continue rising throughout 2020, with NVDA price hitting $367 in the next 12 months.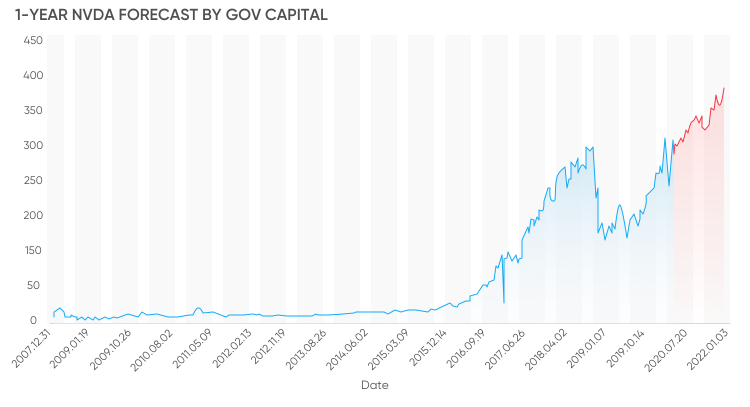 A technical look: how high will NVDA go?
We have already answered the question "Why is Nvidia stock going up?" from a fundamental side. Let's now look briefly at how high the stock might actually go in the future from a technical perspective.
On the four-hour chart, the stock has found resistance at the 78.6 per cent Fibonacci retracement level. The price is also above the 100-day and 50-day EMA. Therefore, the price will remain bullish if it moves above the 78.6 per cent retracement level. If this happens, bulls will aim for the all-time high of $316.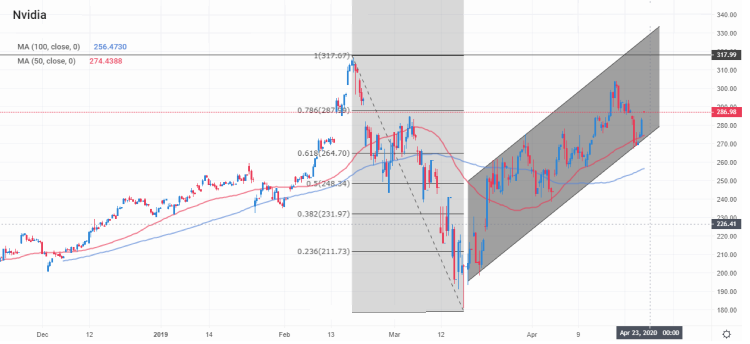 The bottom line
The next few months will likely be volatile for Nvidia stock price and the entire market because we are still learning more about the pandemic. In the near term, the most important day for NVDA stock will be 20 May, when the company is expected to release its earnings. Also, a flattening of the coronavirus curve will be beneficial to the business.
Read more: Most traded stocks of April 2020