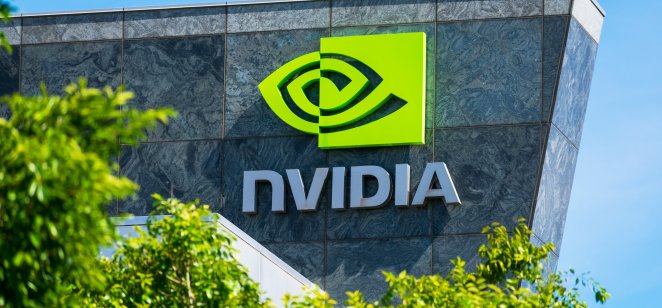 US chipmaker NVIDIA (NVDA) stock price has reversed some of the last week's losses after upbeat US retail sales data showed an 0.9% increase in April. The positive retail data slightly eased concerns about slowing consumer growth, which had partly contributed to the sell-off in tech stocks, including NVIDIA.
Previously, the stock plunged to an 11-month low of $155.67 intraday following a wider shift in sentiment for risk-on assets amid the start of the policy tightening cycle by the US Federal Reserve (Fed).
The tech stock price has been in the dumps in 2022, falling 39% year-to-date, as of 18 May, dragging down its market to $441.23bn. But what does the short-term price increase mean for the NVDA stock prediction?
NVIDIA stock analysis: Technical view
NVIDIA (NVDA), founded in 1993, is a leading designer of graphics processing units that improve the computing experience. Its products are used in a wide variety of application markets, such as gaming, automotive infotainment systems and cryptocurrency mining.
In the past two years, NVIDIA's stock growth had been stellar, gaining 121.91% and 129.29% in 2020 and 2021, respectively. The global chip manufacturing industry saw rising demand from new technology trends, such as Internet of Things (IoT) and artificial intelligence (AI).
The rapid growth of advanced gaming services, IoT and AI has raised demand for data centre capacity to handle internet traffic that needs to be powered by advanced semiconductor chips. New vehicle technology, such as autonomous driving, also requires cutting-edge chips.
The rising popularity of cryptocurrencies also drove NVIDIA's stock growth as the company's graphics processing chips have been used for crypto mining. Global chip shortages induced by the Covid-19 pandemic had also been bullish for NVIDIA.
But the tech stock started to give up its gains entering 2022. As of 18 May, NVIDIA has lost 47% – almost half of its stock value – from the all-time high of $346.47 achieved intraday in November 2021. This year, NVIDIA stock has disappointed shareholders with a 39% loss, despite the company's strong financial performance.
Although Nvidia's recent drop is in line with the wider market, the chipmaker is underperforming the tech-savvy Nasdaq Composite Index (US100), which has lost 23.4% year-to-date.
Risk assets came under pressure amid geopolitical uncertainty following the Russian invasion of Ukraine, and monetary policy tightening by the Fed in an attempt to tame decades-high inflation.
The intensifying sell-off in cryptocurrencies, which saw the price of bitcoin (BTC) plummeting to below $26,000 for the first time in 16 months, may have a further negative effect on the Nvidia stock price due to its exposure to cryptocurrency mining.
In other news, the US Securities and Exchange Commission (SEC) fined NVIDIA for failing to report cryptocurrency mining revenue growth adequately. The chipmaker responded by agreeing to pay a $5.5m fine on 6 May. The stock fell 9.24% on the next trading day.
In terms of technical analysis, at the time of writing (18 May), the stock was trading above its 10-day moving average (MA), signifying some short-term bullishness. The relative strength index (RSI) reading of 43 stayed neutral, meaning a trend reversal isn't likely.
Slowing demand for semiconductors
The Russia-Ukraine war and new Covid-19 lockdowns in China have severely harmed demand for consumer electronics and home appliances, according to Zhao Haijun, CEO of Chinese Semiconductor Manufacturing International, quoted by Nikkei Asia on 13 May.
As a result, there has been a "significant adjustment" in chip order for those sectors.
Zhao estimated that at least 200m units of smartphones could disappear this year as companies with exposure in Russia and Ukraine saw their revenue gone. In addition, sales in China have also dropped due to the new Covid-19 lockdowns.
Abhinav Davuluri, analyst at Morningstar, also pointed out that decelerating demand is of concern, which could outweigh the ongoing semiconductor shortage.
"Despite the ongoing chip shortage, we think investors are rightly concerned about slowing demand in large end markets such as PCs and smartphones. We expect many chip firms to continue recording strong results in 2022, but we anticipate a slowdown in 2023 as demand ebbs and new supply comes online," he said in a note published on 15 May.
What to expect from Q1 results?
NVIDIA is scheduled to release its first quarter results for fiscal year 2023 on 25 May. According to the latest forward guidance, the company expected revenue for the quarter to be around $8.10bn, plus or minus 2%. Generally Accepted Accounting Principles (GAAP) and non-GAAP gross margins are expected to be 65.2% and 67%, respectively.
"We expect strong results and a rosy outlook thanks to the company's latest Hopper H100 GPU for data centres that will launch later this year," said Morningstar's Davuluri, referring to NVIDIA's new data centre solution graphic processing unit (GPU) launched in March during the Graphics Technology Conference (GTC) 2022.
Davuluri forecast the company's data centre business to grow at least 40% in fiscal 2023 as customers such as Microsoft (MSFT), Amazon (AMZN), and Google-parent Alphabet (GOOGL) invest in the company's data centre GPUs for both internal and external workloads, including natural language processing and recommendation engines.
What is your sentiment on NVDA?
Vote to see Traders sentiment!
"We do think NVIDIA is likely to face demand headwinds in its gaming segment in the coming quarters as economic conditions deteriorate. We believe consumer-oriented end markets are at greater risk of a slowdown," he said.
As for the drop in cryptocurrency, Davuluri believed the recent volatility won't have a material impact on NVIDIA (NVDA) as the company's revenue mix now skews more towards data centres.
Zacks' analysts expected NVIDIA to spotlight strong growth in its flagship graphic cards for gaming, GeForce desktop and notebook GPU, as well as surging demand for its hyperscale accelerators for AI computing.
"Additionally, collaboration with Mercedes-Benz is expected to further strengthen NVIDIA's presence in the autonomous vehicles and other automotive electronics space. However, management expects COVID-19 pandemic to negatively impact near-term revenues. Moreover, the U.S.-China trade war remains a key concern," Zacks analysts said.
NVIDIA stock forecast 2022-2025, 2030
What is the analyst outlook on NVIDIA future stock price for 2022 and 2023? The current downtrend did not seem to dampen analyst optimism.
At the time of writing (19 May) the consensus of 32 analyst views compiled by MarketBeat set NVIDIA stock price target at an average of $325.31 for the next twelve months, expecting the price to rise by 78.97% from the share price at the time of writing (18 May). The price targets ranged from a high of $410 to the low of $217.
The consensus sentiment on the stock was a 'buy', with 25 out of 32 analysts giving it a 'buy' recommendation, six a 'hold' and one a 'strong buy'.
Meanwhile, in its NVIDIA share price forecast, economic data provider Trading Economics projected that the stock could trade at $172.66 a share by the end of this quarter and at $160.58 in one year.
Although analysts don't typically provide long-term forecasts beyond 2023, algorithm-based forecasting sites do. Wallet Investor, for example, gave a bullish outlook for NVIDIA's share price, suggesting the stock is an "awesome long-term" investment.
The site projected that NVIDIA stock could trade at $285.266 within a year by May 2023. According to its predictions, the share could rise to $379.867 in May 2024. NVIDIA stock is expected to rise by 49% hitting $566.061 in May 2026. Its 5 year forecast saw the share price trade at $636.599 by May 2027.
Gov Capital's algorithm-based NVIDIA stock forecast estimated that the stock could rise to $381.437 by May 2023 and $631.127 by May 2024. The company expected the NVIDIA stock to increase to $1,276.34 by May 2026.
Algorithm-based forecasting sites did not yet provide NVIDIA stock projections for 2030.
When looking for NVIDIA stock price predictions, always remember that analyst and algorithm-based projections can be wrong. Forecasts and analysts' expectations shouldn't be used as a substitute for your own research.
Always conduct your own due diligence and remember that your decision to trade should depend on your risk tolerance, portfolio size and goals, and experience in the market. Keep in mind that past performance does not guarantee future returns. And never invest or trade money you cannot afford to lose.
Is NVIDIA a good stock to buy?
Morningstar's analyst Abhinav Davuluri believed the company will maintain its solid financial performance this year, particularly with expected robust growth from its data centre's segment. However, whether NVIDIA is a good stock for you to buy should depend on your own research. It's worth remembering that analysts' predictions can be wrong.
Will NVIDIA stock go up?
Analysts and algorithm-based forecasting services suggested NVIDIA stock could go up within a one-year period. However, keep in mind that stock markets remain volatile and there may be price fluctuations. Both analysts and algorithm-based websites do get their predictions wrong. Always rely on your own research. And never invest money that you cannot afford to lose.
FAQs
Is NVIDIA a good long-term investment?

NVIDIA stock has suffered through a downtrend despite strong financial performance amid the wider shift in market sentiment in 2022. Whether NVIDIA is a good long-term investment should depend on your risk tolerance, portfolio size and goals, and your experience in the market. Always conduct your own research before investing. And never invest money that you cannot afford to lose.
Why has the NVIDIA stock price been going down?

There has been a wider shift in market sentiment for tech stocks. A disappointing global economic outlook, high inflation and monetary tightening may slow consumer demand for gaming, smartphones and computers, affecting NVIDIA's (NVDA) fundamentals. Furthermore, in times of uncertainty, investors are shifting their investment portfolios away from riskier assets towards safe havens.
How high can NVIDIA stock go?

Wall Street analysts gave varying price targets for the next twelve months, ranging from the high of $410 and the low of $217, and averaging $325 at the time of writing (18 May). In terms of long-term forecasts, Gov Capital suggested that NVIDIA's share price could rise to $1,276.34 in 2026. Wallet Investor projected it to hit $566 in May 2026. However, it is critical to conduct your own research before any investing or trading decision, as predictions may be inaccurate.
Where will NVIDIA stock be in 5 years?

As of 18 May, Wallet Investor suggested that NVIDIA stock could reach $643.450 in May 2027. However, keep in mind that stock markets are volatile, and the price may fluctuate significantly during this time. Always conduct your own research. And never invest or trade money you cannot afford to lose.
Should you buy NVIDIA stock?

As of 18 May, NVIDIA stock has lost 39% of its value this year. Your decision to buy NVIDIA should depend on your risk tolerance, portfolio size and goals, and experience in the stock market. You should do your own research to form an opinion on whether the stock is suitable for you. Remember that past performance does not guarantee future returns. And never invest or trade money you cannot afford to lose.