No impact on commodities after US rate hike paused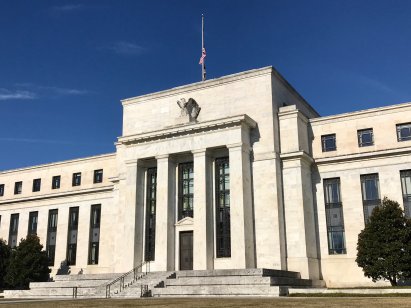 The commodities markets hardly moved Wednesday afternoon after the US Federal Reserve hinted at an interest rate hike in coming months.
The Fed's Federal Open Market Committee's December minutes suggested its intention to raise interest rates in mid-March, the latest turn towards eliminating stimulus to combat rising inflation.
"It will soon be appropriate to raise the target range for the federal funds rate," Fed chair Jerome Powell said at a press conference, adding the central bank's rate setting committee was ready to raise rates at its March 15-16 meeting.
"The economy no longer needs sustained monetary policy support," he said. Powell posed the possibility of a much more aggressive balance sheet reduction and refused to rule out the potential of having an interest rate hike at each policy meeting.
Normally, when the Feds speak, there's a reaction in futures markets. But this wasn't the case Wednesday.
Gold
Powell's hawkish press conference sent gold down slightly further, even though the precious metal was losing value throughout the day. Gold prices dropped nearly $45 Wednesday from a high of $1,850 to a low of $1,814.
The World Gold Council said despite upcoming rate hikes, real rates remain low.
Near term, the gold price will likely react to real rates in response to the speed at which global central banks tighten monetary policies and their effectiveness in controlling inflation, said Juan Carlos Artigas, head of research for WGC.
"Our analysis shows that gold has outperformed in the months following the first Fed hikes during the past four tightening cycles," he said.
While rate hikes can create headwinds for gold, history shows their effects are limited.
"Elevated inflation and market pullbacks will likely sustain demand for gold as a hedge. Jewellery and central bank gold demand may provide additional longer-term support," Artigas said.
Silver prices also dropped Wednesday from a high of $24.02 an ounce to $23.52, but the metal was slipping through the trading session.
What is your sentiment on Gold?
Vote to see Traders sentiment!
Oil
Crude futures remained at record-level highs Wednesday, not because of the Fed's action, but events unfolding in Eastern Europe, said sources.
West Texas Intermediate reached a seven-year peak Wednesday when trading reached $87.95 a barrel shortly after 12 noon EDT (UTC-5).
Andrew Lipow, president of Lipow Oil Associates, told Capital.com, "The geopolitical and supply disruption issues that are resulting in significantly higher prices are far more beneficial to the oil industry than the detriment of near-term interest rate increases is to companies carrying debt."
On Wednesday, Moscow indicated it would quickly "take retaliatory measures" if the US and NATO continued their "aggressive" policies and failed to accept Russia's security demands. President Vladimir Putin denies his government plans to invade while amassing 100,000 troops near the Ukrainian border.
"The barrel price action is being determined by growing apprehension that ongoing supply issues may worsen due to the escalating tension between Russia and the West over Ukraine and the threat of military attacks on infrastructure in the Middle East," said Ricardo Evangelista, senior analyst at ActivTrades, in a note obtained by Capital.com.
Read more: Russia-NATO tension sends crude oil to seven-year high