Profits surge tenfold for shipping operator Hapag-Lloyd (HLAG)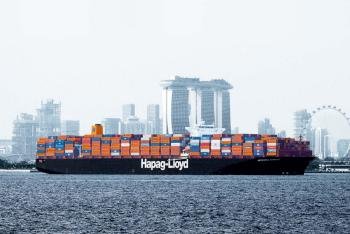 New results from the German-based international shipping operator Hapag-Lloyd released on Friday showed how carriers are reaping the benefits of surging freight rates and scarcer capacity following Covid-19 bottle-necks.
Hapag-Lloyd said that revenues for the first nine months of 2021 soared by 70% to $17.9bn (€15.6bn) and added that earnings momentum will remain "at a high level for the rest of the year".
Third-quarter net profits catapulted to €2.83bn compared to €250.9m for the same period a year ago. Earnings per share for the nine-month period jumped to €31.60 from €3.01.
A previous EBITDA forecast for the full year was made on 29 October with pre-tax earnings estimated at €7.6bn-€9.3bn for the freight operator, which controls 257 vessels. This has now been raised to €10.1bn–€10.9bn.
Hapag-Lloyd said that the barnstorming earnings were primarily linked to a higher average freight rate of $1,818 TEU – the TEU freight rate is based on a twenty-foot shipping container – compared to the nine-month 2020 rate of $1,097. Hapag-Lloyd's share price rose 1.75% to €220.80 in early trading, but has since fallen away.
Transport expenses also climbed for Hapag-Lloyd, up 16% in this nine-month period due to higher container handling.
Debt helped
The increase was partly offset by the weaker US dollar compared to the euro, Hapag-Lloyd said. The new numbers have still allowed net debt levels to be snipped by more than €3.4bn since the start of this year.
"Despite all the operational challenges, we achieved an extraordinarily strong nine-month result," the company said in an earnings report this morning. "However, global supply chains are under enormous pressure, which further intensified during the peak season in the third quarter."
"This unfortunately also creates additional operational burdens for carriers, ports and terminals – but, most importantly, for customers worldwide. We will do everything in our power to help with suitable offers and to do our part to resolve the situation through targeted investments and flexible capacity management," said Rolf Habben Jansen, CEO of Hapag-Lloyd.
What is your sentiment on HLAG?
Vote to see Traders sentiment!
Rivals also reap profits from crisis
Before the pandemic, profitability for some freight players had been more arduous, with the lean streak stretching back through much of the previous decade. Recently, Hapag-Lloyd's rival Maersk said it had the most profitable quarter ever with operating profits soaring to $5.9bn.
Hapag-Lloyd also took the opportunity today to confirm that Donya-Florence Amer was joining as chief information officer – the first woman to take an executive board position in the company's 175-year history. Amer joins in February 2022. Hapag-Lloyd is dominated by five major shareholders, including Kühne Maritime GmbH, which control 96.4% of the share capital.
Read more: Hapag-Lloyd shares hit new high on huge profit increase