Nigeria launches eNaira after delays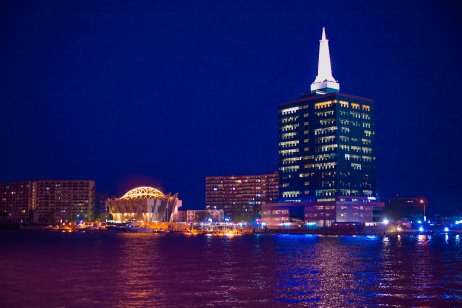 Nigeria became the latest country – and the first African nation – to issue its own cryptocurrency on Monday after the country's central bank launched the eNaira.
At a press conference, President Muhammadu Buhari described the new currency as one that will "serve as the support for every electronic payment in Nigeria."
As of 4pm EDT, the eNaira wallet had more than 5,000 downloads, according to a report from Vanguard.
'Not just another CBDC'
eNaira is described as "not just another central bank digital currency" (CBDC), according to the asset's official website. Instead, it is "a people-oriented digital currency leveraging technology to connect individuals and businesses for easy trading and financial inclusion," according to the website.
The asset was developed in partnership with fintech company Bitt, which also helped develop the Easter Caribbean Central Bank's CBDC.
Bitt CEO Brian Popelka said he is proud his Barbados-based company helped Nigeria launch the digital currency in "record time."
"Today's launch is an exceptional achievement for both the CBN and Bitt teams. We look forward to continued partnership on this CBDC deployment journey and to provide additional features to expand eNaira's value to all Nigerians," Popelka said in a press release.
Nigeria's central bank governor Godwin Emefiele said during the press conference that more than 500 million eNaira ($1.21m) have already been minted.
It was originally scheduled to launch on 1 October but was delayed because of Nigerian Independence Day.
About face
The adoption of the eNaira is an about face for Nigeria's government, which outlawed cryptocurrencies in February. Now the currency is in circulation, eNaira's website claims it will be "a trusted ally to the numerous customers we will serve and our roots continue to be firmly grounded in them."
More than 81 countries are looking to adopt a similar digital currency, according to eNaira's website. Some examples include China, the Bahamas, and the European Union.
Last month, El Salvador unveiled a legal cryptocurrency tender. However, the rollout was shaky due to technical difficulties with the country's wallet and it has since been mired in regulatory action.

Read More: Lucid Motors shares close 11.4% higher as production ramps up
The difference between stocks and CFDs
The main difference between CFD trading and stock trading is that you don't own the underlying stock when you trade on an individual stock CFD.
With CFDs, you never actually buy or sell the underlying asset that you've chosen to trade. You can still benefit if the market moves in your favour, or make a loss if it moves against you.
However, with traditional stock trading you enter a contract to exchange the legal ownership of the individual shares for money, and you own this equity.
CFDs are leveraged products, which means that you only need to deposit a percentage of the fullvalue of the CFD trade in order to open a position. But with traditional stock trading, you buy the shares for the full amount. In the UK, there is no stamp duty on CFD trading, but there is when you buy stocks.
CFDs attract overnight costs to hold the trades, (unless you use 1-1 leverage) which makes them more suited to short-term trading opportunities. Stocks are more normally bought and held for longer. You might also pay a stockbroker commission or fees when buying and selling stocks.