Nigel Farage: Tech stocks will tank again in 2023 says leading Eurosceptic
Subscribe to Weekly Highlights
The major market events for the week ahead right in your inbox.
Subscribe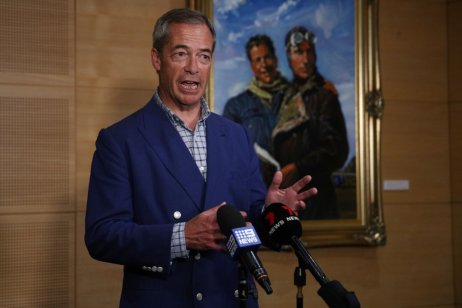 Content
It's been a steep decline for tech stocks in 2022. Eurosceptic and former Member of the European Parliament, Nigel Farage thinks it will only get worse in 2023.
Speaking in an exclusive interview with Capital.com, Farage said: "Tech has had a terrible year. It will have another terrible year next year. It doesn't mean there won't be some companies in that space that will do well, but, that sector is going to do badly."
The Nasdaq 100 (US100) has plummeted 29% this year, versus 2021 for the same period when it was up 26%.
Popular tech stocks such as Meta have seen billions wiped off their market capital. META has seen its stock price plunge by 66% year-to-date, which translates into a $700bn (£574bn) loss in market value.
What is your sentiment on META?
Vote to see Traders sentiment!
Nasdaq 100 (US100) share price chart
Tech stocks will continue to tank in 2023 and beyond
Other tech stocks, such as Amazon (AMZN) have suffered a similar fate: AMZN shares are down 47% so far this year.
Farage blames the pandemic era for the situation that tech stocks find themselves in today.
"Tech in 2020 and 2021 was insane. Massive valuations of companies in many cases that never made a profit," Farage said.
Farage believes next year will be even worse for tech stocks and it will take the sector a while to rebound.
So, if the markets think tech stocks will rebound quickly, then they might want to think again.
"The dot com bubble that we saw in 1999, right around the turn of the millennium. And remember this, the Nasdaq. People forget this stuff. The Nasdaq, when the dot com bubble burst, the Nasdaq fell 84%. The index fell 84% and took more than a handful of years to get back to where it was before the beginning," Farage adds.
Farage's comments are echoed by American stockbroker and financial commentator, Peter Schiff, who also spoke exclusively to Capital.com.
"Well, I think tech valuations peaked in 2021. I think that was really the speculative blow off the end of the mania," Schiff explains.
With that said, Schiff does see some companies that will come out on top, despite the gloomy outlook.
"Companies that earn a lot of money, that pay good dividends. And more importantly, the companies that sell the types of products that consumers just must buy, even if the price goes up, they're going to keep on buying," Schiff adds.
"They may give up buying other things, but they must buy certain things. And so, resources, food, energy, utilities, tobacco, they're going to be a lot of companies that are going to be able to have pricing power and those are going to deliver returns."
Will Twitter collapse in 2023?
One tech company that has been making headlines recently, is the social media site Twitter. Once publicly traded, Twitter was purchased last month and delisted from the New York Stock Exchange (NYSE), after much controversary, by billionaire and Tesla (TSLA) boss Elon Musk.
Since Musk took over, he has fired several executives, including head of legal, Vijaya Gadde, and Twitter's CEO Parag Agrawal. Musk has also reinstated former US President Donald Trump's Twitter account.
Rumours have run rife online about whether Twitter is on the verge of collapse.
"I really want Musk to succeed. I genuinely do. I just wonder whether we can keep the company together. He's charging a few dollars a month for the blue tick. He will try to diversify the income stream away from corporate advertising. You know, he might make this work," Farage said.
But Farage has his concerns about Musk and Twitter's future.
"The price he's paid for Twitter is just lunacy. One of the worst corporate deals I've ever seen in my lifetime. What do you call seven and a half thousand staff? And you basically tell the world that a bunch of lazy lefties spend all day at home," Farage adds.
Schiff agrees that the venture may take a turn for the worst.
"At this point I think Musk just does what he wants. I feel sorry for some of the people that invested alongside him in this venture," Schiff told Capital.com.
Tesla (TSLA) share price chart
Any positives for the markets in 2023?
So, with the doom and gloom outlook for tech stocks and Twitter's potential demise on the horizon, are there any positive areas that markets can look forward to in 2023?
"Well, I'm optimistic on certain markets. I think the emerging markets to me in general look very cheap," Schiff said.
"I think commodities are also going to be strong. I think we've had a bit of a pullback, but I think we're going to see much higher prices across the board: energy, industrial materials, agriculture. So, investments in those sectors and countries that are rich in those resources, could do well."
"You know, history shows us that even in bear markets at certain times, companies that do well, it's called a flight to quality. And it's firms that have been around for some time. It's firms that make products that people will buy. It's firms that pay good dividends. And of course, the cheaper prices become, the better in percentage terms those dividends are," Farage said.
"And the history of those companies is you reinvest those dividends when stock markets are relatively cheap and they pay very handsome rewards over the course of the next three, five, ten-year period," Farage concludes.
The outlook for certain sectors next year looks bleak and it seems likely that tech stocks will take some time to recover.
But, for the savvy trader and those looking to see beyond the doom and gloom, there are some assets that could perform extremely well, even during these harsh macro-economic times.
Related reading