The rise of NFT companies floating on the stock market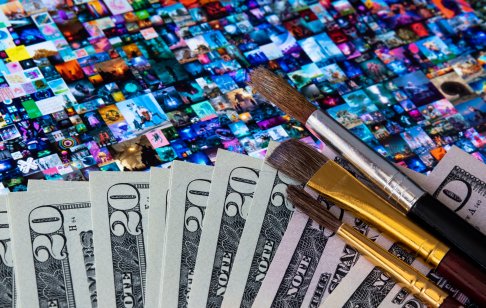 So, what does Christie's auction house and Twitter have in common? Well, they both sold and promoted non-fungible tokens (NFTs). NFTs are assets many companies are taking notice of and it's these orgnaisations that are starting to float on the stock market.
NFTs are digital assets that can be bought and sold like any other piece of property, but they do not have a tangible form. They can be digital assets like art, video clips or music. An easy way to understand the concept is to think of an NFT as a certificate of ownership for a virtual or physical asset.
NFTs gaining financial momentum
NFTs gained significant prominence this year. According to the trading site NonFungible.com, in June, monthly sales volume of NFTs checked in at $59.2m (£44.82m). Today, that number has reached $2.6bn.
Christie's sale in March of an NFT by digital artist Beeple for $69m set a world record and Twitter founder Jack Dorsey promoted an NFT of the first-ever tweet, with bids reaching as high at $2.5m.
With NFTs growing we are now seeing a rise in NFT companies floating on the stock market.
Capital.com caught up with Dorian Banks, CEO at Canadian digital agency for the metaverse, Looking Glass Labs, and owner of subsidiary NFT innovation hub, House of Kibaa, to discuss all things digital and the rise of this new asset that appears to be taking the stock market – and the world – by storm.
Your organisation sounds fantastic. For people who may not fully understand the technology can you explain what you do and why?
We do a variety of things but primarily we produce/sell NFTs to our customers. In addition, we are building a metaverse, which we'll see parts of starting next year.
We also build NFTs and often aid in marketing for third parties including other NFT brands, celebrities, major brands, musicians and sports figures. Our main differentiator is that all our NFTs are 3D and metaverse-ready, whereas almost all other NFT creators produce 2D JPEG/PNG artwork.
You are about to head to initial public offering (IPO). What will you use the investment money for and why?
We aren't doing a money-raising IPO, but rather a Direct Listing. We raised $2.5m last month from friends, families and some other investors which, when combined with our $6.2m NFT sales plus follow-on royalties, means we don't need to raise additional funds at this time. We may look to do a new raise next year.
Which country markets are key for you and why?
NFTs are mostly sold in the English-speaking world, so North America and Europe are the current key markets. We will see this change very soon as more regions hop on the NFT train.
Any mergers and acquisitions on the horizon?
Looking Glass Labs acquired House of Kibaa as its primary NFT/metaverse brand and have taken minor ownership in a game studio. We are actively pursuing acquisitions of all types in and around the NFT, metaverse and gaming sectors.
What does the future of the industry look like to you and why?
"The future is going to be all about the metaverse, an alternate online world you can explore with friends, families and even work colleagues. Together with NFTs, this will be a huge part of everyone's digital future. "NFTs will become part of everyday life. Concert tickets, plane tickets, restaurant reservations, vehicle purchases, stock purchases...these will all be in some form of an NFT going forward."
Any future forecasts for revenue and growth?
All I'll say at this point is our 2021 revenue-to-date of $7m will be eclipsed in 2022.
As far as headcount, our goal is to add several hundred employees to our various locations, as rapidly as possible.
Why should investors take notice of your organisation?
Investors interested in the NFT and metaverse space have very limited options for investment as there are very few pure play public companies in the space. Additionally, we have a great reputation in the community and the potential for growth is currently limitless.
Any future plans you can discuss with us that may still be top secret?
"We just teased that we'll be the first NFT/metaverse company to also produce a live action series which is currently in process. We've teamed up with some amazing award-winning scriptwriters and we'll be dropping the names of the actors soon."
Why have you decided to become a listed company now?
Much of Canada's venture capital comes from venture exchanges. I've been part of many startups that have listed in order to have access to capital. Canada isn't Silicon Valley, so we have these alternate sources of funds available. Being one of the first NFT/metaverse companies to trade on a stock exchange should also not be discounted.
Read more: Top 5 most popular NFTs on Google