Netflix (NFLX) doom numbers: Is there a happy ending?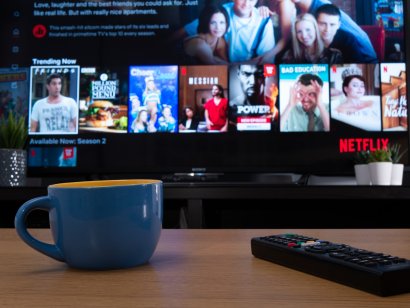 Netflix's (NFLX) most recent earnings release sent the stock plummeting, with slower revenue growth and a drop in paid subscribers. The company is now making changes to their business model in order to protect their bottom line.
The most recent earnings release from Netflix shows the company losing subscribers for the first time in a decade. The company cited increased competition behind this.
However, analysts believe inflation and a rise in other video services, such as Tik Tok, may also be a factor. These issues are not Netflix-specific, and may affect other streaming services such as Disney+ (DIS), Apple TV (APPL), Roku (ROKU) and Amazon Prime (AMZN).
Netflix (NFLX) price chart
Growth in revenue has also slowed down, and is expected to continue in a downward trend in the coming quarter.
Netflix plans to protect its profitability by monetising shared profiles and introducing advertising to its platforms in line with its peers.
What is your sentiment on DIS?
Vote to see Traders sentiment!
Netflix earnings
The streaming giant's first-quarter earning release, published on Tuesday 19 April 2022, revealed a significant drop in the number of subscribers for the first time in almost a decade, with a loss of 200,000 paid subscribers.
Netflix lost subscribers across all regions except Asia. Ceasing their streaming services in Russia has also cost the company 0.7 million subscribers from that country. The company stated that the reason for its fall is account sharing paired with high competition.
Furthermore, the earnings release showed a slowdown in revenue growth, from 16% year-on-year to 9.8%. This is expected to drop a further 0.1% in the coming quarter.
This earning release was followed by a drop in share price of more than 25%. However, ahead of the earnings, the shares also fell by an additional 6% since the start of April.
Disney (DIS) Price Chart
Major risks facing the stock
Following its shares since dropping by almost 40% according to the Wall Street Journal, JP Morgan downgraded its rating for the stock from 'buy' to 'neutral', and reduced its price target by almost half.
In an investment note seen by capital.com, they state four main risks currently facing the streaming platform:
Relatively high household penetration: With a large number of households using shared Netflix accounts, the company is currently unable to profit from multiple people using one account.
Increased competition: The video on demand market is now more saturated than ever, with high-quality competition coming from the Disney+ (DIS), Apple TV (APPL), Roku (ROKU)
Slowdown in adoption of smart TVs: JP Morgan believes there is a high correlation in the drop in TV connection adotpion and the drop in engagement and subscriber growth.
Macro and geopolitical factors: Continuing Covid disruptions are still affecting aquisitions targets.
Losing out to TikTok?
Regarding the loss in subscription, Adam Seagrave, UK sales trader at Saxo Bank, believes inflation has a role to play in in the loss in subscriber numbers.
He said: "The company saw its first fall in subscribers in 10 years – losing 200,000 in the first three months of the year. This is expected to fall by two million in Q2 due to tighter purchasing power for consumers through increased inflation and a higher cost of living."
Shaun Murison, senior market analyst at IG, outlines this as the result of post-pandemic normalisation and increased appetite for other video applications.
Said Murison: "The group is forecasting further subscriber losses in the next quarter, which is also highlighting a normalisation of the industry post the on-demand boom in the heart of the pandemic and lockdown environments.
"Another threat to screen time for the on-demand streaming industry, particularly for younger generations, is the increased appetite for online gaming and video apps such as TikTok."
The above causes are not Netflix-specific, and might have an industry-wide implication. Peers such as Disney (DIS), Apple (APPL) Amazon (AMZN) and Roku (ROKU) potentially seeing similar trends in the coming year.
Roku (ROKU) Price Chart
How can Netflix stock survive?
In order to maintain its profitability, Netflix has three options.
In the short term, Netflix is focusing on monetising its shared accounts. Making sharing easy has been a tool for growing membership in the past, however they formerly did not see this as an opportunity to grow revenue.

Netflix has started adding costs for additional shared accounts in some of their markets. At present, JP Morgan does not believe a full rollout will occur until 2023.
To increase its revenue per subscriber, Netflix might introduce advertisements. Seagrave explains: "The streaming giant plans to counter negative growth estimations in 2022 by introducing a lower price offering, which would include adverts for customers.

"JP Morgan believe that with the success of the ad-supported tier for Hulu and Disney+ (DIS), Netflix is likely to take this path."
In the long term, Netflix is confident in their current approach of making regional shows more globally appealing. According to their shareholder letter, they expect the largest growth to come from Asia.
Despite the negative scores, Murison believes Netflix is still a good opportunity for the long term.
He said: "The share price is expected to remain under pressure over the near term, but far-sighted investors backing management's ability to continue transforming the business in what is still not a fully saturated market may see this as a pricing opportunity for long-term investment."