Morgan Stanley posts record quarter driven by latest acquisitions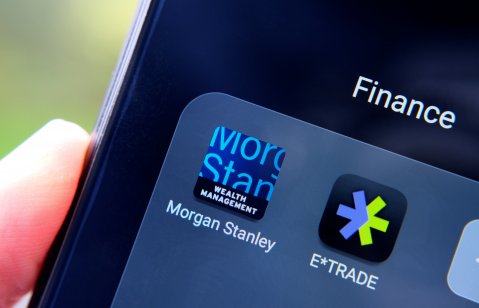 Morgan Stanley exceeded analysts' expectations in its third-quarter earnings report on Thursday driven by its acquisitions of Eaton Vance and E*TRADE within the last year.
Revenue was up more than 25% year over year to $14.8bn beating out estimates of $14bn, according to analysts surveyed by Refinitiv. Earnings per share were up to $1.98 compared with estimates of $1.68.
Morgan Stanley shares opened 1.3% higher following the earnings call.
Wealth management
Wealth management specifically increased by 27% to $5.9bn following the close of its $13bn acquisition of E*TRADE last October.
"The Wealth Management business, which now includes E*TRADE, is growing assets at levels far beyond what we've seen," Morgan Stanley CEO James Gorman said on the company's earnings call. "We believe this is going to be an economic engine for Morgan Stanley for decades to come."
Investment management
The investment management business is still much smaller than some of its other business segments, but Morgan Stanley has built it to $1.5trn in assets under management from $715bn a year ago.
The $7bn Eaton Vance acquisition that closed in March helped drive investment management net revenues up by more than 37% to $1.5bn.
Gorman said investment management revenues are now more than triple average quarterly levels from five years ago.
Underwriting revenues
Morgan Stanley increased its equities underwriting revenue by 15% year over year to $1bn driven by a robust market for initial public offerings.
The initial public offerings from more than 2,000 companies through the end of September raised a record $421bn globally, according to Refinitiv data. That was more than double the proceeds raised during the same period last year.
Likewise, Morgan Stanley's fixed-income underwriting increased by 19% to $567m as the bank helped corporations fund the debt portions of their M&A deals.
Equity and fixed income trading also grew in the quarter by 24% and 16% respectively.
Mergers and acquisitions
A slew of corporate mergers and acquisitions coming out of the pandemic helped Morgan Stanley increase its advisory fees to a record $1.27bn in the quarter.
Those M&A advisory fees are up by 256% year over year from just $357m in the third quarter of 2020.
Advisory fees along with equity and fixed-income underwriting helped propel its overall investment banking franchise to record revenue of $2.85bn during the quarter – up 67% year over year, exceeding StreetAccount estimates by more than $600m.
Read more: Big 6 banks expect 3Q gains amid frothy M&A environment