What is Monavale? What you need to know about MONA, a Web 3.0 fashion platform token
Subscribe to Weekly Highlights
The major market events for the week ahead right in your inbox.
Subscribe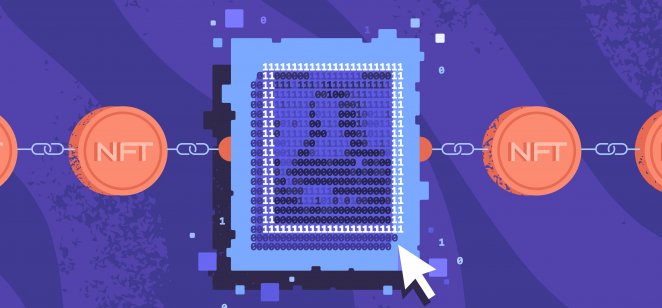 Content
Non-fungible tokens (NFTs) rocketed in popularity in 2021 amid increased participation from art collectors and enthusiasts. As a result, several Web3 platforms emerged with diverse business models to ride the Web3 wave.
One such project that gained huge popularity in 2021 was DIGITALAX. It claims to be the first exclusively digital fashion auction exchange platform and open-source digital fashion toolkit. Its native governance token is Monavale (MONA).
The Monavale token shot to prominence and reached a lifetime high of $5,980 on 16 November 2021. As of 2 October, MONA was trading at $616, down nearly 90% from its peak, according to CoinMarketCap.

How does DIGITALAX operate, and what function does the MONA coin play inside its ecosystem? Can the project establish its place among the burgeoning Web 3 momentum? Find out in our Monavale analysis.
What is Monavale and DIGITALAX?
DIGITALAX is the world's first fashion-exclusive digital platform. Built on the Ethereum (ETH) blockchain, intends to bring innovation and revolution to the fashion, gaming, esports and virtual reality (VR) sectors.
Emma-Jane MacKinnon-Lee, an Australian former aerospace engineering student, developed the protocol. The goal is to establish a decentralised autonomous organisation (DAO) to operate DIGITALAX in the future.
What is Monavale? The native ERC-20 token of the DIGITALAX platform is called Monavale (MONA). It is the network's utility token and plays a role in the platform's governance.
Developers utilise MONA as a prize, acquiring MONA and staking it on their featured games to reward and transfer the token to winning players.
MONA is the transparent activity ledger that players use to record their game outcomes. When participants achieve particular thresholds of MONA, they can leverage themselves within the ecosystem and begin to earn consistent sustainable value.
What is your sentiment on MATIC/USD?
Vote to see Traders sentiment!
How does DIGITALAX work?
DIGITALAX's Digital Fashion Operating System (DFOS) enables users to deploy 3D fashion garments on any digital content platform effortlessly. This implies that the fashion items developed on DIGITALAX's platform can be utilised for player avatars in games and competitions.

DIGITALAX also lets users buy and sell these digital fashion garments as NFTs.
The platform has collaborated with several world-acclaimed digital fashion designers, whose special couture is posted on DIGITALAX and sold at NFT auctions.
In addition, the platform aspires to provide new industry standards for digital assets, open digital licenсing, digital supply chain automation, and the resolution of fundamental issues with the liquidity and stability of NFTs.
The supply chain architecture of Digitalax encourages new access routes for increased creative supply. Independent designers can sell customisable fractional components of a digital fashion accessory, down to the material, pattern, and texture level.
As a result, artists can open source these elements into digital libraries, where they can be used in master garments by the entire community of digital fashion artists.
Pros and Cons of DIGITALAX and Monavale
Let's take a look at some of the pros and cons of both DIGITALAX and Monavale.
Pros
The following are some pros associated with DIGITALAX and Monavale:
Strong blockchain infrastructure: Since the platform is built on Ethereum, it can provide reliable functionality and user experience for its users. Smart contracts on Ethereum make it easy to assign ownership and regulate the transferability of NFTs. In addition, Ethereum includes a token standard called ERC-721 that is specifically designed for the minting of NFTs.

Global Designer Network (GDN): DIGITALAX comprises talented artists from all over the world who specialise in 3D garments and accessory modelling across platforms.

First-mover advantage: DIGITALAX is pursuing a unique route and business concept, and there are currently no rivals. All of these factors might contribute to Monavale's potential growth.
Cons
The following are some cons associated with DIGITALAX and Monavale:
Limited use cases: Cryptocurrency projects such as Cardano (ADA), Avalanche (AVAX) and others have strong use cases, and a huge assortment of possibilities. Monavale's use case is limited to fashion and NFT marketplaces in general.

Poor price performance: Since reaching an all-time high in November 2021, MONA's price action and market sentiment have been bearish, with no substantial trading activity.

Lesser known token: According to CoinMarketCap, Monavale ranks 866, with a market capitalisation of $6.5m, making it a lesser-known cryptocurrency project.
Monavale coin news and price drivers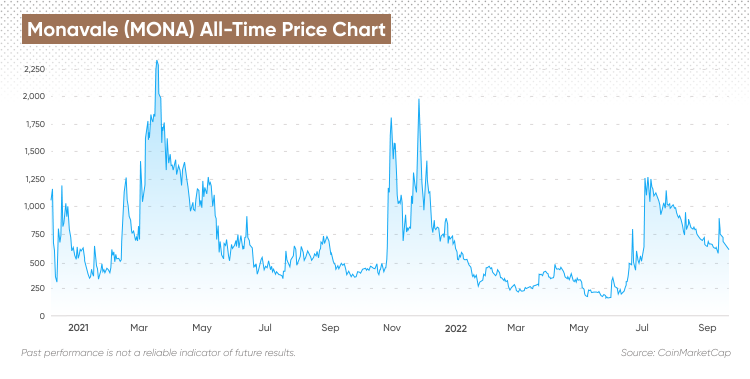 The MONA coin has undergone several important milestones. Here is a snapshot of some of the key news and highlights associated with the token.
| | |
| --- | --- |
| Long position overnight fee | -0.0500% |
| Short position overnight fee | 0.0140% |
| Overnight fee time | 22:00 (UTC) |
| Spread | 0.0015791 |
| | |
| --- | --- |
| Long position overnight fee | -0.0500% |
| Short position overnight fee | -0.0500% |
| Overnight fee time | 22:00 (UTC) |
| Spread | 0.00000724 |
| | |
| --- | --- |
| Long position overnight fee | -0.0500% |
| Short position overnight fee | 0.0140% |
| Overnight fee time | 22:00 (UTC) |
| Spread | 0.00361 |
| | |
| --- | --- |
| Long position overnight fee | -0.0500% |
| Short position overnight fee | 0.0140% |
| Overnight fee time | 22:00 (UTC) |
| Spread | 5.50 |
Acceptance of MONA on Raribe as a payment medium
In April 2022, Monavale announced that MONA is now accepted as a payment medium on Rarible.com, a prominent NFT market. Anybody can market their NFTs on Rarible with a purchase option of the MONA token.
Partnership with HEAT
In April 2022, DIGITALAX partnered with HEAT, a marketplace for motion data, to create the Web3 Fashion Movement Collection Auction, which combined the capabilities of web3, NFTs, fashion, and kinesthetic movement.
This collaboration between HEAT, DIGITALAX, and the GDN investigated how digital fashion can be utilised to represent motion in virtual spaces.
Additionally, DIGITALAX declared that they had contributed 42.5% of their profits to UkraineDAO and 42.5% to designers in the GDN who were directly affected by the Russian invasion of Ukraine. The HEAT DAO team received the remaining 15% of the allotment.
Partnership with Polygon
In April 2021, DIGITALAX partnered with Polygon (MATIC) to bring digital fashion into the real world.
Through this collaboration, the partners plan to produce a tangible fashion collection in which each item will also be listed as an NFT. The entire fashion collection is planned to be built on memes that relate closely to real-world users.
In addition to their NFT, customers will receive XP points that could be utilised on the DIGITALAX esports platform to compete in events and gain incentives.
In addition, users will acquire a common NFT that is anticipated to increase in value over time for its owner, being dynamic in nature and directly influenced by market data.
"The collection will be sold as physical pieces first, each with a corresponding claim ticket for an easy to use digital inventory (and wallet), followed soon after by a series of NFTs minted on Polygon," said a statement from Polygon.
The Digitalax team also announced the imminent launch of a unique multi-token protocol bridge that has been created to enable users to acquire tokens on the Polygon network effectively.
The bottom line: Is Monavale (MONA) crypto worth it?
Even though it is relatively new, DIGITALAX has been able to push the frontiers of the digital fashion and gaming industries with its innovative ideas.
In addition, DIGITALAX's partnership with Polygon, an industry powerhouse, is a means of attracting mainstream fashion enthusiasts and exposing them to NFTs, cryptocurrencies, and the broader digital metaverse.
However, after reaching an all-time high in November 2021, its price action has been bearish, and it trades roughly 90% below the peak, as of 2 October.
Cryptocurrency markets are extremely volatile. It is very important to do your own research before trading and investing, observe the most recent news, technical and fundamental analysis, as well as a range of analyst commentary.
Whether Monavale (MONA) is a good investment for you should depend on your investment goals, risk tolerance, and the size of your portfolio.
Remember that past performance does not guarantee future returns. Never trade with funds that you cannot afford to lose.
FAQs
Is Monavale crypto a good investment?

DIGITALAX is a digital fashion platform built on the Ethereum blockchain. DIGITALAX intends to bring innovation and revolution to the worlds of fashion, gaming, esports, and virtual reality (VR). Monavile's (the native token of the platform) price action has been bearish during 2022 due to bearish market sentiments.

Whether the MONA token is a good fit for your portfolio depends on your circumstances and risk tolerance. Consider making your own research and analysis before making any trading decisions. You should never trade or invest money you cannot afford to lose.
Where can I buy Monavale coin?

Monavale cryptocurrency is not readily available on all cryptocurrency exchanges. As of 2 October, the token is available on the Coinbase (COIN) centralised exchange, and the Uniswap (UNI) decentralised exchange (DEX), according to CoinMarketCap.
How much is Monavale?

As of 2 October, Monavale (MONA) was trading at $616, according to CoinMarketCap.
Related reading