Mid-day: US gauges down as Biden releases oil reserves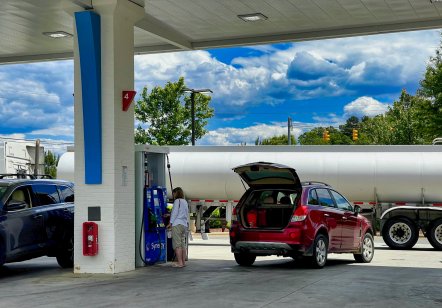 The major US indices are down across the board in early trading on Tuesday as President Joe Biden announced the release of oil reserves.
By mid-day, the Dow Jones Industrial Average was wobbling between losses of 0.05% and gains of 0.10%.
The S&P 500 was 0.28% lower, while the tech-heavy Nasdaq Composite had fallen 0.98%.
At the close of Monday's session, the Dow Jones Industrial Average rose 17 points, or 0.1%, the S&P 500 fell 3% lower, while the Nasdaq Composite dipped 1.3% lower after starting the day higher.
Biden releases strategic oil reserves
Today, President Biden announced the Department of Energy would make 50 million barrels of oil from the Strategic Petroleum Reserve available, to lower gas prices for Americans and address the mismatch between demand exiting the pandemic and supply.
According to the White House, 32 million barrels will be an exchange over the next several months, releasing oil that will eventually return to the Strategic Petroleum Reserve in the years ahead.
"The exchange is a tool matched to today's specific economic environment, where markets expect future oil prices to be lower than they are today and helps provide relief to Americans immediately and bridge to that period of expected lower oil prices," according to the press release.
The Biden administration hopes the exchange provide relief for Americans while bridging the time gap between expected lower oil prices.
What is your sentiment on META?
Vote to see Traders sentiment!
Winners and losers: Tech stocks drop, pull Nasdaq lower
Shares for Dollar Tree are 6.24% better intraday following the retailer's topping expectations on sales.
Shares for Zoom Video Communications sank 15% after the company reported sluggish sales, while shares for Best Buy dropped 15% following its dip in sales growth.
In other tech stocks, shares for Facebook-parent Meta fell more than 2%, shares for Twitter sank over 2%, while shares for Netflix plummeted 1.8% and shares for Roku were cut 3%.
Shares for Best Buy went down 16% following the retailer's report showing a weak forecast for holiday sales.
Oil: Crude prices spike amid release of reserves
Oil futures are trading higher across all markets following US President Biden's decision to release strategic oil reserves designed to provide relief for Americans.
West Texas Intermediate crude, the US benchmark, was up 2% at $78.27 a barrel, while Brent crude, the global benchmark, rose 2.6% to $81.80 a barrel.
On Friday, crude futures had fallen to a seven-week low.
Gold: Futures on track for fourth day of losses
Gold futures are down on Tuesday, threatening to extend their losing skid to four days as the precious metal has now dropped to the lowest value in about two weeks.
On Tuesday, December gold traded for $19.60, or 1.1%, lower at $1,786.70 an ounce, extending its move toward its lowest point in two weeks.
During yesterday's trading, gold fell 2.4% to post its sharpest percentage drop since 6 August.
Forex: US dollar stronger, still lags other currency
The yield on the two-year note climbed to 0.622%, from 0.580% on Monday, while the yield on the benchmark 10-year bond rose to 1.653%, from 1.625% Monday.
In early trading on Tuesday, the dollar strengthened, with the WSJ Dollar Index rising to the highest level since July 2020.
On Tuesday, one US dollar equalled 0.89 of the euro, 0.75 of the pound sterling, 0.93 of the Swiss franc and 1.27 of the Canadian dollar.
Read more: Retailers fear Black Friday sales won't deliver this year