Microsoft and Activision Blizzard: ATVI stock price still below MSFT offer as regulatory hurdles persist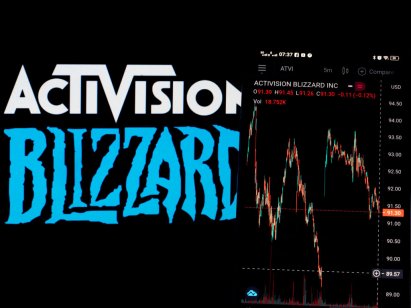 It's a takeover which has been clouded by a myriad of challenges, from lawsuits to regulatory issues. Microsoft's (MSFT) $68.7bn (£56bn) takeover of gaming giant
Activision Blizzard (ATVI), is not only being hotly debated by global regulators but the ATVI stock price remains resolutely below the MSFT offer.
Back in January 2022, Microsoft announced plans to purchase Activision Blizzard for $69bn, or $95 a share. ATVI is currently trading at around $77 per share, as investors price in the risk that the takeover may never happen. Activision shareholders approved the deal in April 2022, with more than 98% of votes in favour.
With that said, unlike other tech stocks, the ATVI share price was up 15% last year. Microsoft's stock price plummeted 28% in 2022.
What is your sentiment on MSFT?
Vote to see Traders sentiment!
Microsoft (MSFT) share price chart
Gamers file lawsuit aganist MSFT takeover of ATVI
But ATVI's share price remaining below the MSFT offer is not the only issue that plagues this deal.
In December, Microsoft was hit with a further blow in a US court, when a private consumer lawsuit was filed claiming the technology giant's purchase of the Call of Duty maker will unlawfully hinder competition in the video game market.
The complaint was filed in a California federal court with an administrative law judge, in the hope to stop Microsoft, which owns the Xbox console, from finalising one of the largest acquisitions in gaming history.
The complaint said: "This is a private antitrust action seeking an order of the Court prohibiting the proposed acquisition of Activision Blizzard, Inc. by Microsoft Corporation as a violation of Section 7 of the Clayton Antitrust Act (15 U.S.C. § 18). The threatened loss or damage to the Plaintiffs and to the public at-large by the merging of two giants in the video game industry is extensive and broad."
"In addition to the elimination of a significant rival, the proposed acquisition may give Microsoft far-outsized market power in the video game industry and may enable
Microsoft to foreclose rivals to critical inputs and important markets."
The plaintiffs named in the lawsuit are described as "individual citizens of the cities and states listed."
"Each Plaintiff is a consumer of video games, all with the express interest and intent in ensuring that the industry remains competitive," the lawsuit states.
"The potential acquisition of Activision Blizzard by Microsoft threatens loss and harm to the Plaintiffs, and to the public at large, of the salutary benefits of substantial
competition within the video game industry."
But that's not the only concern. Global regulators are on a mission to also block the deal - it seems. The Federal Trade Commission (FTC) is seeking to block technology giant Microsoft from acquiring leading video game developer Activision Blizzard, Inc. and its blockbuster gaming franchises such as Call of Duty.
"The FTC alleges that the deal, Microsoft's largest ever and the largest ever in the video gaming industry, would enable Microsoft to suppress competitors to its Xbox
gaming consoles and its rapidly growing subscription content and cloud-gaming business," a FTC statement said.
The FTC highlights that MSFT has a history of acquiring and using valuable content in order to "suppress competition from rival consoles."
This includes its acquisition of ZeniMax, the parent company of Bethesda Softworks (a well-known game developer).
"Microsoft decided to make several of Bethesda's titles including Starfield and Redfall Microsoft exclusives despite assurances it had given to European antitrust authorities that it had no incentive to withhold games from rival consoles," the FTC statement added.
"Microsoft has already shown that it can and will withhold content from its gaming rivals," said Holly Vedova, Director of the FTC's Bureau of Competition.
"We seek to stop Microsoft from gaining control over a leading independent game studio and using it to harm competition in multiple dynamic and fast-growing gaming markets."
Sony (SNE) has, unsurprisingly, come out on the 'against' side, given its PlayStation console is in direct competition with Microsoft's X-Box. But Meta (META), owner of Facebook and Instagram said it has no problem with the deal.
Despite this rising tide of uncertainty, Microsoft (MSFT) Gaming CEO, Phil Spencer is upbeat about the takeover and in a Wall Street Journal Tech Live conference last year, Spencer said regulators investigating the deal have been "fair and honest" and he is confident the takeover will go through.
But not everyone is convinced that the deal will go as smoothly as MSFT hopes.
Activision Blizzard (ATVI) share price chart
Global regulators continue to interrogate MSFT and ATVI
Joshua Raymond, an investment expert wrote in a note: "This deal was always at significant risk failure from Day One due to issues surrounding anti-competition and
the fact the US FTC has now moved to block the acquisition cements this view."
"There has also been much evidence that the market was also expecting failure. Before the news emerged, Activision's share prices were still trading at a 20% discount on the $95 price offered by Microsoft. That tells you the market lacked belief the deal would get done."
With that said, it's not just the FTC that Microsoft has to challenge, but European and UK regulators are scutinising this deal and there is risk it may fall apart.
On Friday, the UK's Competition and Markets Authority (CMA) made the decision to extend the deadline of its inquiry into the deal until 26 April.
"In taking this decision, the Inquiry Group had regard to the scope and complexity of the investigation and the need to consider a large volume of evidence as well as main party and third party submissions," Martin Coleman, Inquiry Group Chair said in a CMA statement.
EU antitrust regulators have also questioned the deal and quizzed game developers if they think that MSFT will block ATVI games once it has purchased the company.
But MSFT has had some good news.
Last month Chilean regulators approved the merger. It was announced last week that Chile's fiscalia Nacional economica - The National economic Prosecutor's office had cleared the deal following its phase one investigation.
MSFT takeover of ATVI is scheduled to complete this year, but a cloud hangs over the deal - which has caused a huge amount of controversy. From ATVI's low stock price, to global regulators and lawsuits damming the acquisition, MSFT still has a fight on its hands. With some of the biggest markets, such as the US, UK and Europe, all questioning whether the deal will squelch competition, it seems that MSFT's ambitions to acquire ATVI hangs in the balance.