MANA to SAND: Five biggest metaverse cryptos to watch
Subscribe to Weekly Highlights
The major market events for the week ahead right in your inbox.
Subscribe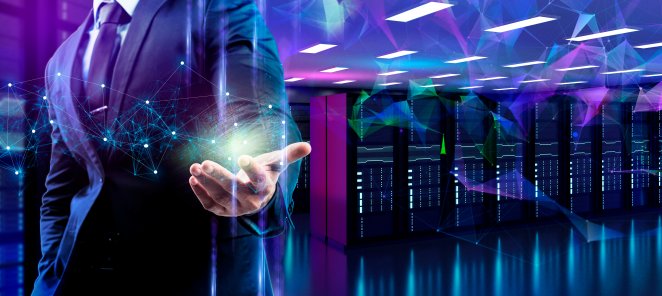 Content
The metaverse, a term first coined in Neal Stephenson's science fiction novel Snow Crash, refers to a combination of virtual reality, augmented reality and the internet.
The metaverse is centred around a user-owned internet economy that enables players to travel through three-dimensional (3D) worlds in order to purchase goods and avatars.
What makes the metaverse especially unique is that it provides a space for people all over the world to engage with different communities and participate in a shared virtual experience.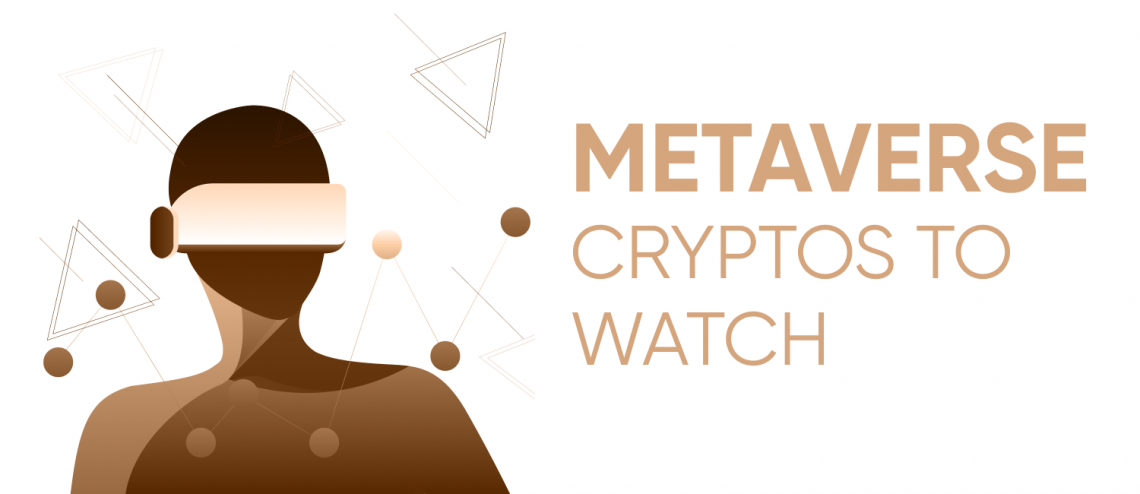 In essence, there is no single, unified entity called the metaverse, rather there are multiple mutually-reinforcing ways in which virtualisation and 3D web tools and objects are embedded into a virtual environment.
In many ways, the metaverse is at the forefront of the Web 3.0 internet evolution. Its emergence is a result of a number of exponential technology capacity and performance growth trends. Together, these rapidly expanding digital capacities and abilities are creating fertile ground for the expansion of the 3D web computing ecosystem.
The potential can be seen in Facebook's recent decision to rebrand its corporate name to Meta. The social media giant described the metaverse as a place that can enable better social experiences.
It's estimated that revenue from virtual gaming worlds could reach $400bn by 2025. In the third quarter of this year, total fundraising for cryptocurrency was $8.bn – $1.8bn of which went to Web 3 and non-fungible tokens (NFT), while fundraising for gaming applications overshadowed all other verticals of NFTs in the third quarter, hitting around $1bn.
Meta-related coins are up 37,000% this year, according to data from Macro Hive. Owing to its convergence of technologies, the metaverse trend could accelerate over the next decade.
Biggest metaverse coins by market capitalisation
Every virtual economy needs applications and systems that perform transactions. This is where metaverse cryptocurrencies come into play.
Some companies have developed virtual worlds that integrate cryptocurrencies so gamers can create structures like casinos and theme parks and monetise them. Most metaverse gaming cryptos work like virtual cash.
For example, if you visit Decentraland, you'll need its native MANA token in order to buy anything. Transactions are very fast thanks to blockchain technology that serves to enable the instant processing and settlement of digital assets like NFTs, while also offering a level of security and transparency through cryptography.
"The best performing cryptocurrencies in 2021 have been those related to the metaverse," said Bilal Hafeez, CEO and head of research at Macro Hive.
"Axie Infinity (AXS), which produces games that allow players to earn as they play, has seen its coin jump by almost 22,000% this year," Hafeez told Capital.com.
"Meanwhile, Decentraland (MANA) has seen its coin rise by 5,000% this year. Facebook's recent pivot to Meta has helped to bring about renewed interest in the metaverse industry."
Let's therefore take a look at the top five metaverse cryptos.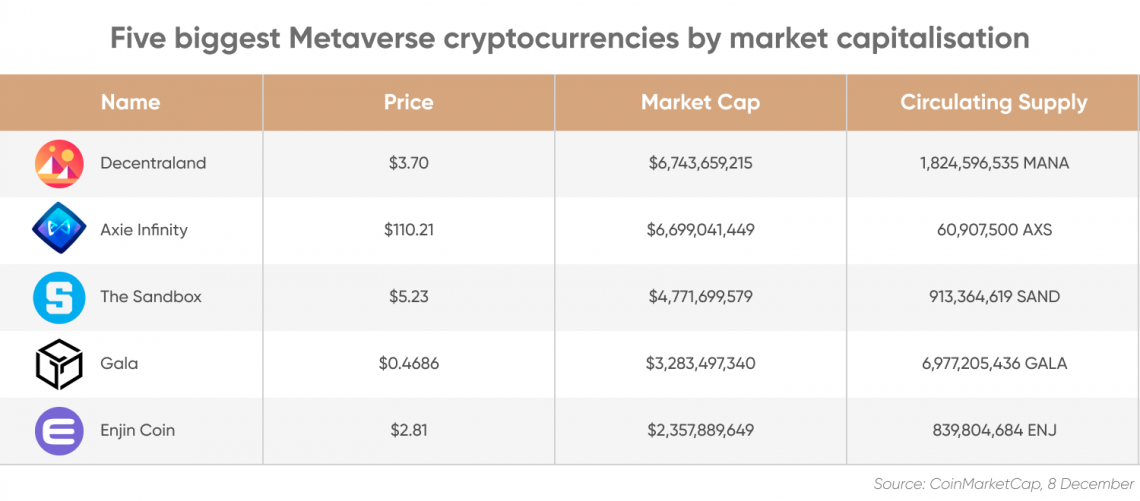 Decentraland: MANA
Decentraland is a 3D virtual reality platform powered by the Ethereum blockchain, which allows users to develop and monetise LAND parcels and avatars.
Decentraland is governed by a decentralised autonomous organisation (DAO) that enables token holders to vote on policies. MANA is the native ERC-20 token. It allows users to purchase plots of LAND and pay for in-world goods and services.
The platform has been growing at an accelerated rate. Decentraland currently has a market capitalisation of $6.5bn (8 December 2021).
Decentraland's thirty day NFT sales volume is up 398% at $42mn, according to data from DappRadar. More than 1,323 traders have bought or sold Decentraland NFTs in upwards of 1,558 transactions within the last thirty days. Its seven day total NFT sales volume is $10.9mn, with 402 NFTs sold during that time, at an average price of $27,300.
Axie Infinity: AXS
Axie Infinity is a blockchain-based gaming metaverse that rewards users with play-to-earn opportunities such as collecting, breeding and raising creatures known as Axies.
In October this year, Axie Infinity announced that it had reached two million daily active users. Even though the project was only launched in 2018, it currently has a market capitalisation of $6.5bn (8 December 2021).
According to Token Terminal, Axie Infinity's total revenue in the last thirty days is $128m, while its annualised total revenue is $1.66bn.
Axie Infinity has an all-time NFT sales volume of $3.7bn. More than 635,292 traders have bought or sold Axie Infinity NFTs in upwards of 2,456,478 transactions within the last thirty days.
In other crypto metaverse news, a rare Axie Genesis Plot was sold for 550 ETH last month, netting the seller $2.5m. The company claims that this is the largest sale ever recorded for a single plot of digital land.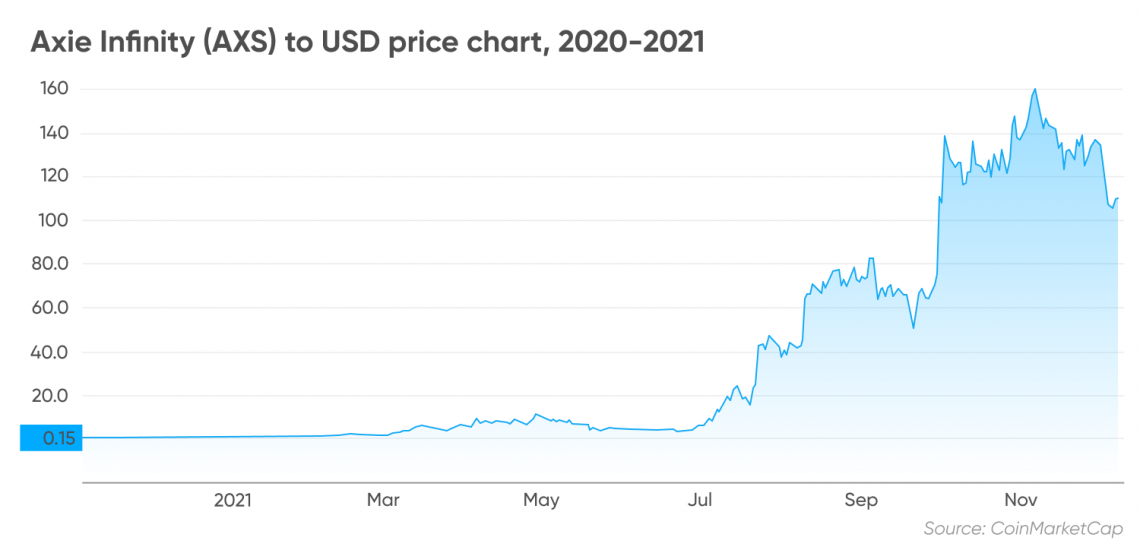 The Sandbox: SAND
Next in the list of the top metaverse coins is SAND, the native metaverse token of Sandbox. Sandbox is a virtual world where players can build, own and monetise various NFT assets on the Ethereum blockchain using the platform's utility token.
Unlike traditional games, Sandbox subscribes to a play-to-earn model. It provides users with VoxEdit, a software tool for the purpose of creating, rigging and animating voxel-based NFTs.
This unique function has led to the project reaching a market capitalisation of $4.6bn, as of 8 December 2021.
Earlier this year, the company announced record-breaking February 2021 sales of $2.8m – the highest monthly revenue in the company's history. A majority of that sum came from two LAND sales.
Sandbox has an all-time NFT token sales volume of $276m. More than 12,389 traders have bought or sold Sandbox NFTs in upwards of 21,309 transactions within the last thirty days.
Overall, the company has secured over sixty partnerships and amassed over 200,000 active community members.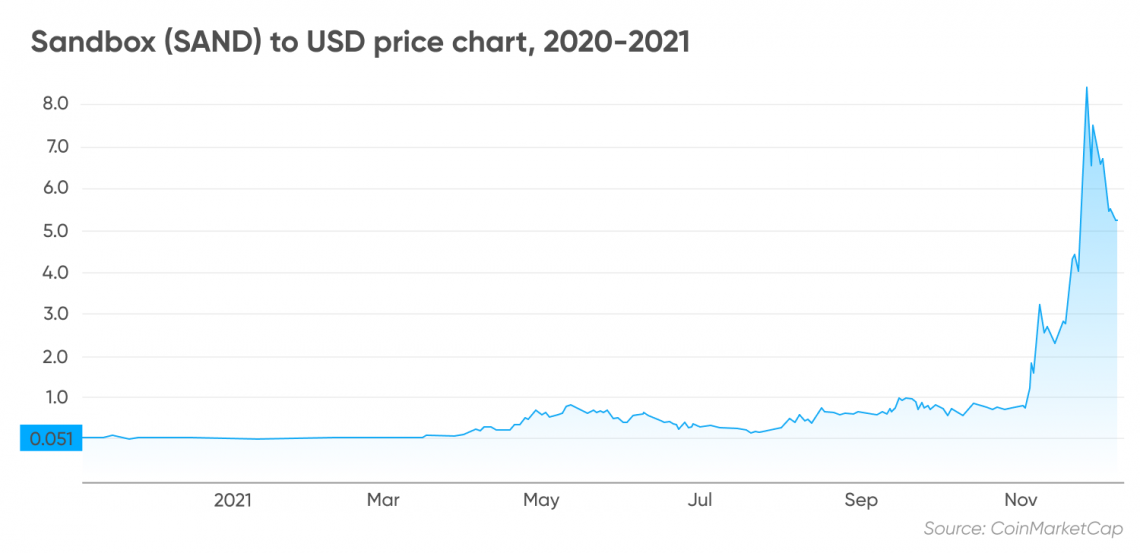 Gala Games: GALA
Gala Games is a blockchain gaming developer and metaverse crypto project. It's powered by a large and independent node network that allows gamers to use their NFT characters in gameplay. GALA is the cryptographically secure native token of the Gala Games ecosystem.
Gala Games has amassed 1.3m monthly active users since its launch in 2019. It currently has a market capitalisation of £3.1bn (8 December 2021). The project's 24-hour trading volume is up 44.71% at $640m, according to data from CoinMarketCap.
In September this year, the company announced that its Town Star usership has been increasing at a high rate.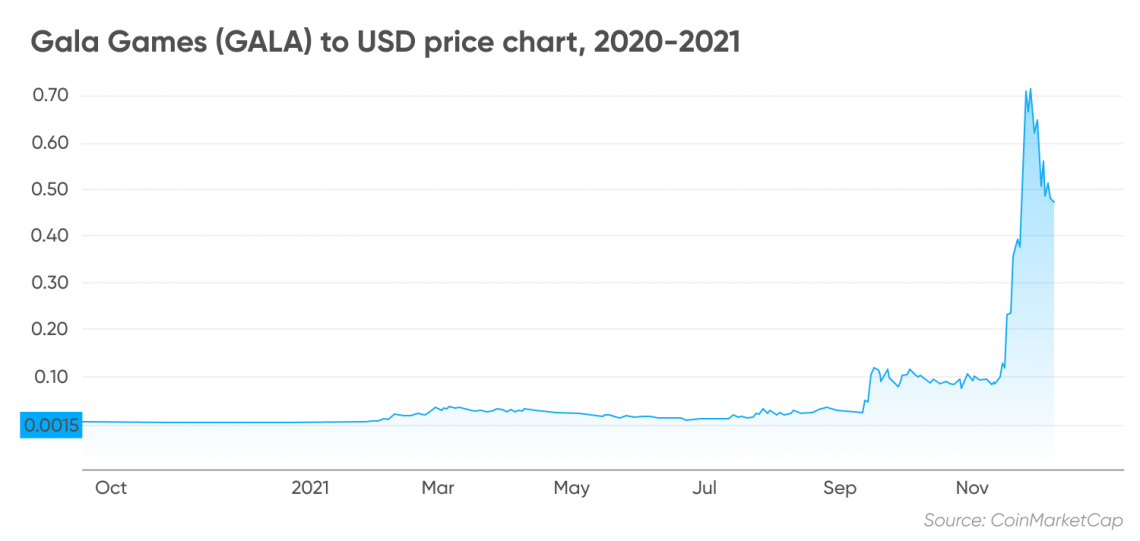 Enjin: ENJ
Last in the metaverse crypto list is Enjin, a blockchain platform and marketplace centred around player-owned NFTs. It's amassed 20m users, across 250,000 gamer communities since its launch in 2009.
Enjin gained traction recently after the company announced last month that it had launched a new Efinity fund to support builders of the decentralised metaverse.
Enjin hosted a successful initial coin offering (ICO) in 2017, with a total of 75,041 ether raised and 18,506 contributions. In June this year, it held a public sale through CoinList for new EFI token, which attracted 40,089 participants and sold out in two and a half hours.
Notably, Enjin became the first gaming cryptocurrency to be legally authorised for trade in Japan by the Japanese Virtual Currency Exchange Association this year.
Enjin currently has a market capitalisation of $2.2bn (8 December 2021). Its seven day NFT total sales volume is $1,145, with 8 NFTs sold during that time at an average price of $143.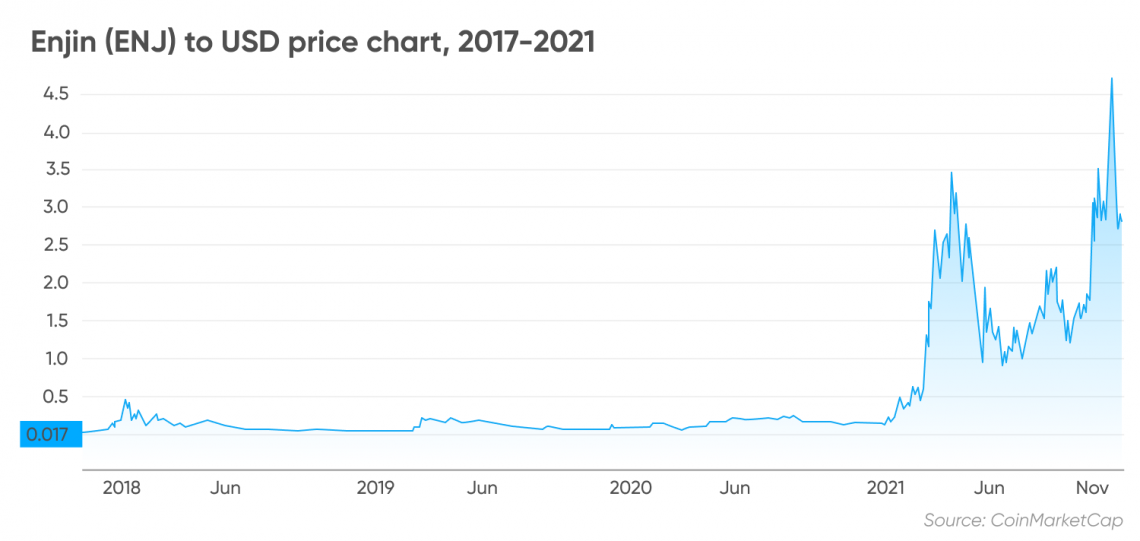 Risk associated with Metaverse coins
Despite the recent spark in interest and investor enthusiasm about metaverse coins, there are still concerns about the wider adoption of the virtual world and its digital economy.
"Since the metaverse is one of the newest digital frontiers, there's no telling whether users will continue to spend money in the virtual worlds they inhabit," Richard Delaney, senior analyst at OKEx, told Capital.com.
"For example, with Decentraland, its value proposition is that it empowers users with property rights which are enforced by the Ethereum blockchain independently of the virtual world itself.
"While this can be a powerful concept for the evolution of such spaces, some users may not support the economic model of land ownership which involves the self-custodying of one's own digital assets."
FAQs
What is a metaverse crypto?

Virtual metaverse worlds integrate cryptocurrencies so gamers can monetise their content, purchase land and pay for in-world goods and services.
What are the new and upcoming metaverse cryptos?

Axie Infinity and Gala Games are two of the newest projects in the list of the biggest metaverse cryptocurrencies. Axie Infinity was launched in 2018, while Gala Games was founded in 2019.
Read more: What is Decentraland and how does it work?