Merkel, whistle-blowers, Covid: 2022 trends to ignite market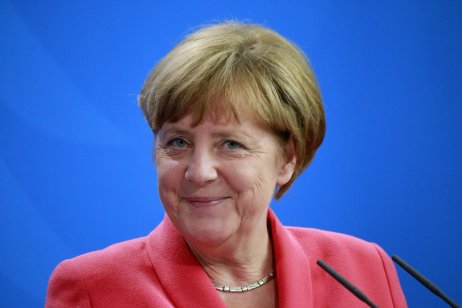 As we approach the end of 2021, we are leaving behind a year filled with the repercussions of Covid-19, vaccine debates and Delta and Omicron variant upheaval.
Emerging from the pandemic and with governments around the world putting in recovery measures to help their economies, what awaits European, US and UK stocks as we enter 2022?
Rising inflation and central banks sticking by their policies of keeping interest rates steady has been a recurring theme, but will it stay that way into 2022?
Capital.com speaks to analysts and experts, and forecasts the top five trends for 2022 that will no doubt impact European, US and UK stock markets.
Politics and policy
For European stocks, the key influence in 2022 will be Angela Merkel leaving office after 16 years in charge. The German leader will shortly resign from the helm of one of Europe's largest economies and this will not just be a change in leader but also a shift in political policy. Olaf Scholz will succeed Merkel and has already promised an era of big government spending. His centre-left Social Democrats will govern alongside the Green party and the business-friendly Free Democrats.
"The Green party has big ambitions to set a new green agenda for Germany and this requires huge investment. Also, a three-way coalition, in contrast to Merkel's recent two-way coalitions, could lead to political incoherence and political paralysis, which will not be good news for Germany in the long run," Kathleen Brooks, founder of Minerva Analysis told Capital.com.
According to Brooks, Scholz has three main issues to deal with when he takes office:
Covid-19.
Balancing Germany's books after the country ran up €400bn ($452bn) of debt during the pandemic.
Manging geopolitical foes, including Russia and China. If Russia manages to take advantage of a discordant political troika in Germany, it could be bad news for the euro in 2022.
Today, Angela Merkel is leaving behind her difficult shoes to fill. In 16 years she has reshaped what it means to be the Chancellor and shown that high office doesn't exclude empathy and warmth!
A remarkable politician, a remarkable woman!
EU will miss you.
Auf Wiedersehen! pic.twitter.com/hfU7BbEmK0

— Dacian Cioloş (@CiolosDacian) 8 December 2021
With political trends causing upheaval for European stocks, central bank policy in the US, UK and Europe will no doubt be another influence on markets next year.
Kunal Sawhney, CEO and analyst at equity company Kalkine Group, told Capital.com that the upcoming policy actions by the US Federal Reserve, European Central Bank and Bank of England are being watched, as they are likely to take a slew of reciprocal steps in the upcoming months to contain the rising rate of inflation across major economies.
What is your sentiment on META?
Vote to see Traders sentiment!
"With US inflation hovering at 30-year high and Britain's inflation hitting a decade high, earlier-than-expected interest rate actions by the major central banks will comprehensively affect the market direction in the upcoming quarters," Sawhney said.
Travel
The next influence on markets in 2022 will no doubt be the service sector, especially travel and tourism. With 2021 proving to be a hard year for the industry even before the discovery of the new Omicron variant, this is a sector that seems destined to face the hardest lessons from the pandemic.
"TUI, the package holiday specialist, has already said that travellers are holding back from making plans in the current environment. New Covid restrictions in the UK and across Europe are unlikely to help the travel industry, and we expect more pain for the airlines," Kathleen Brooks said.
Brooks forecasts that due to the rate of cash burn the industry has seen over the last two years, mergers and government bailouts are more than likely to be on the cards. The only saving grace for the industry will no doubt be the booster shots.
The cruise line sector was a Covid hotspot in 2020 but this may be the safest way to travel in the new year.
"Cruise operators only allowing vaccinated tourists on board could make cruising in a Covid-friendly bubble the newest holiday trend. It could also give cruise operators like Carnival and Royal Caribbean Cruises, which are trading down 12% and more than 20% respectively in 2021, a boost once the worst of the Omicron wave is behind us," Brooks added.
Kunal Sawhney shares Brooks sentiments. Sawhney believes that the service sector's recovery will be keenly eyed as most businesses in the aviation and hospitality industry are yet to witness uninterrupted service.
"The recently extended easements by the respective governments have lifted hopes, but the steep resurgence of cases in Europe – with the Austrian government reimposing a national lockdown, and countries like Germany and France looking forward to reintroducing some stern restrictions, and the Downing Street administration reproposing the mask mandate – means the service sector is highly likely to be impacted in a greater manner if things escalate from here," Sawhney added.
Regulation and technology
There is no doubt that regulation of social media and the internet is needed. Facebook has faced the repercussions of a whistle-blower who this year shone a light on some of the company's alleged unhealthy practices. Analysts believe that 2022 will bring about tighter controls from US regulators.
"It won't just be about telling them to make relatively small divestments, instead it could be about limiting their future activities and making them comply to codes and standards of practice. Thus, as we progress through this decade, social media companies could become like banks after the financial crisis, facing a tougher political environment with more constraints on their behaviour," Brooks said.
With Facebook being the biggest player in this space, any move by US regulators will no doubt impact its stock price.
I'll be testifying to Congress tomorrow as part of a panel about "Holding Big Tech Accountable" at 10:30am. We must demand transparency from Facebook, and I look forward to working with Congress to hold them accountable.

Tune in here: https://t.co/5GwoQW2oRy

— Frances Haugen (@FrancesHaugen) 1 December 2021
Health care and big pharma
The pandemic has shone a light on the need for adequate healthcare – all around the world. Big pharmaceutical companies such as Pfizer saved the day with their vaccines but have also profited from Covid.
Kathleen Brooks believes that Covid-19 has brought to light the need for more investment and innovation in the clinical healthcare space. Tools are needed that allow quicker diagnosis, such as super-sensitive blood tests that can pick up the very earliest signs of diseases like cancer, and the race is on to push forward developments in the healthcare space.
"Even though the pandemic continues to rage with the new Omicron variant, we still think that the focus will be on catch-up treatments and operations, particularly in the West, but also in China and India," Brooks said.
According to Brooks, this need for innovative technology may lead to a surge in worldwide healthcare spending, which some estimate could increase by 5% in dollar terms. Added to this, changes to Medicaid in the US mean that a potential seven million more Americans could qualify for expanded medical coverage, which is big news for US pharma companies.
"Overall, healthcare could benefit from a global focus on health and demand for novel treatments and early diagnostic tools, and from healthcare being a defensive sector as the world tries to fight this latest wave of Covid in early 2022," Brooks added.
Online retailers
Online retailers saved the day during the pandemic. With stand-alone stores and the high street subject to lockdowns, we had no other option but to spend our hard-earned cash online. But even with restrictions easing and bricks and mortar stores reopening, online stores are still very much needed.
"Online sales continue to cross national borders and even Brexit isn't slowing down Brits' demand for foreign goods. European retailers have not been as quick to adapt to online sales as US and Asian counterparts, and there could be an opportunity for investors for two reasons."
"Firstly, we expect big growth for some of the newest entrants, for example Turkish Getir, the super-fast grocery delivery company. Secondly, American private equity firms are awash with cash, and could look to buy up European companies with the potential to boost their online presence. Grocers and large brands, particularly in France and Germany, could be in focus," Brooks said.
But the online world and retailers in general are still facing operational difficulties and supply chain issues, which have been a huge problem this year.
"Operational difficulties have created market-wide issues that have categorically affected business operations and are expected to stretch beyond the first half of 2022, quieting the pace of market as well as economic recovery, as a large section of enterprises are still not able to realise even 70-80% of their pre-pandemic revenues," Sawhney added.
"The challenges, including an acute shortage of staff, untimeliness in orders due to faltering supply chains, repeated disruptions in cross-border trade and beaten-down consumption, are likely to continue," Sawhney said.
Read more: UK job openings fall in November for first time in 10 months