​​Measurable Data Token (MDT) price prediction: will data exchange work?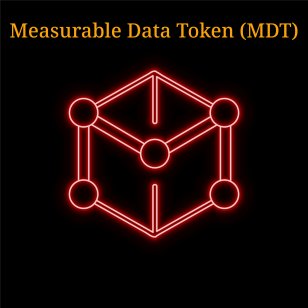 Decentralised data exchange platform utility coin Measurable Data Token (MDT)'s prices rose over the past month.
The MDT price has nearly doubled over the past month. It was trading around $0.08102 at the time of writing on 20 January, up 263% from $0.0223 on 19 December 2021, data from crypto asset tracking site CoinMarketCap shows.
The MDT price surged to $0.177 on 25 December 2021, the second highest on-record after reaching $0.519 on 11 January 2018.
The price uptrend coincided with several adjacent platform launches by MDT in 2021, including he blockchain-enabled cashback app RewardMe and blockchain oracle for financial data MeFi. Both apps and Measurable AI form parts of the decentralised data exchange ecosystem.
If you are interested in the token, read this analysis to find out the latest MDT coin news and MDT crypto price prediction.
What is Measurable Data Token?
According to MDT's whitepaper: "MDT is a decentralised data exchange economy built on the Ethereum Blockchain."
The data exchange's ecosystem consists of adjacent apps such as RewardMe, MailTime Email Messenger and MeFi, which feed into the Measurable platform, where all transactions are based on smart contract technology.
Measurable Foundation, a public company limited by guarantee registered in Singapore, was established in October 2017 to manage the development and promotion of MDT.
The blockchain-based MDT aims to be a new ecosystem for data exchange, where the buy and sell process between suppliers and providers is impartial and mutually beneficial. In addition, users can trade data with consent and be rewarded for sharing anonymous data.
"MDT connects users, data providers, and data buyers and denominates the value of data. It compensates users for sharing anonymous data points while providing data buyers and providers with a more efficient trading model," said the whitepaper.
MDT plans to incentivise users with rewards for the data points exchanged and believes the transparency of such data exchange can motivate users to participate in the platform. However, unlike traditional closed data exchanges, buyers could be at risk of buying invalid and fake data without any means of verification.
The project claims that its platform is "a more efficient exchange model where all transactions are strictly enforced with cryptographically secure smart contracts".
Function of MDT coin
MDT is a utility coin and a standard ERC 20 token, which facilitates the economy of the MDT ecosystem. The cryptocurrency will not "have any particular value outside the MDT ecosystem".
The Ethereum-based token will enable transactions on the ecosystem to be stored as smart contracts in the Ethereum blockchain. According to MDT, these smart contracts "are constructed by data providers, data buyers and the MDT platform". MDT believes that "using cryptographically secure token contracts helps enforce performance of the contracts".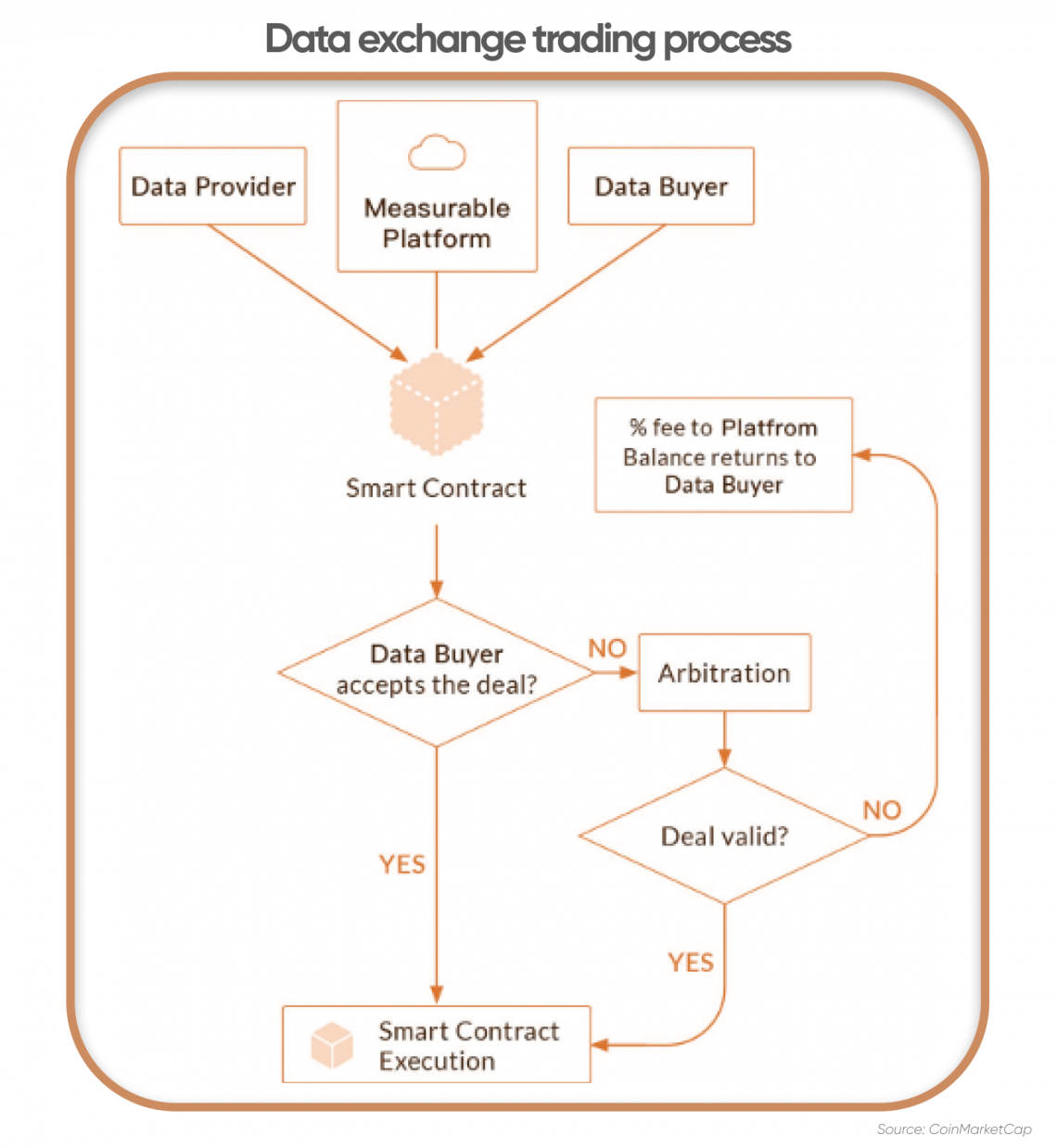 Token supply and distribution
According to MDT, the token has a maximum supply of 1 billion coins. The circulating supply is 676.16 million coins with a market cap of $54.63m, according to data from CoinMarketCap.
Half the total supply of MDT will be offered for sale to fund the project's development. The founding team of MDT, early investors and advisors were allocated 35% of the total token supply. The remaining coins are reserved for user growth pool, pre-sale and distribution event.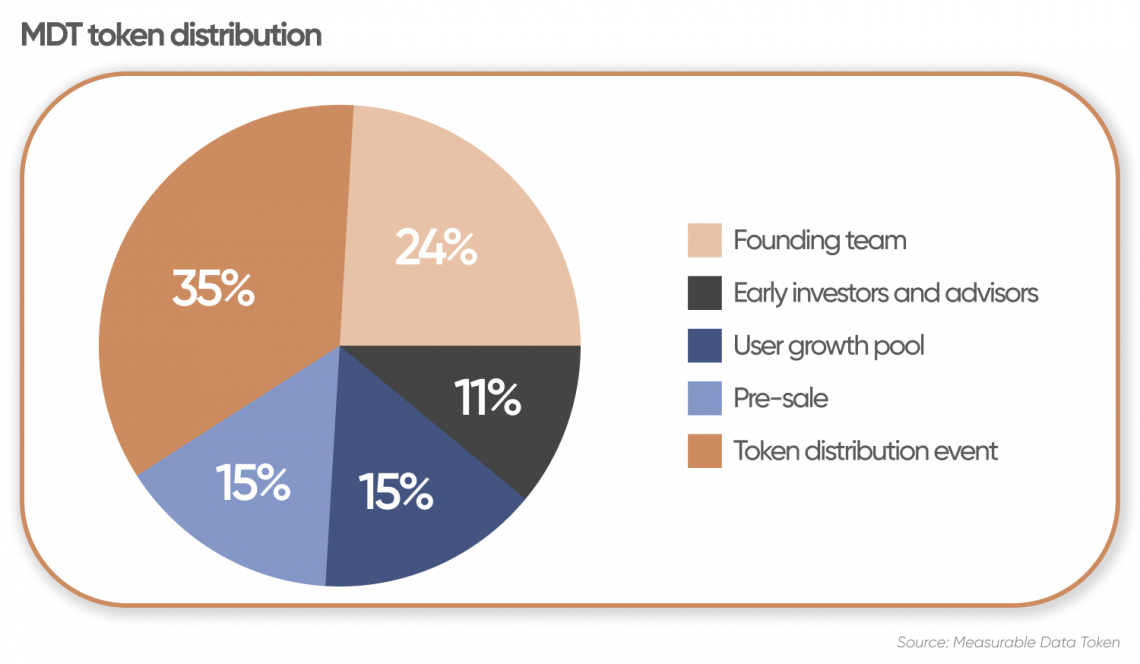 The MDT Foundation founding team also created MailTime Email Messengers. Team members will not be allowed to trade the 240 million tokens allocated to them for 24 months, but 10% of the supply can be vested immediately after the token distribution event and a further 15% six months later. The remaining will be vested at a rate of 1/18 a month over the following 18 months.
The exchange rate for ether (ETH)/MDT will be fixed during pre-sale, early bird and token distribution events at the below rates:
Pre-sale: 1 ETH = 7,500 MDT
Early bird: 1 ETH = 6,250 MDT
Token distribution event: 1 ETH = 5,000 MDT
MDT has also set the below conditions for the above events:
If the ETH/USD exchange rate fluctuates that the ETH price during Pre-sale is greater than that during Token Distribution Event by ⅓, stakeholders from Pre-sale will be compensated with the units to match the price difference.

If less than the targeted ETH is raised during Pre-sale, the remaining units will be reserved for Token Distribution Event.

If less than the targeted ETH is raised during Token Distribution Event, the remaining units will be reserved for a deposit pool, whose purpose will be communicated by the MDT foundation.

Token Distribution Event time-frame: 30 days, or within 24 hours of reaching the maximum.
Although the project has been in development since 2017, the token was only listed for trading on Coinbase in December 2021. Coinbase is one of the largest cryptocurrency exchanges in the world. In addition, MDT is available on Binance, OKEx, Bitterex, Poloniex, HitBTC and Gate.io.
The team behind MDT?
The MDT team is Hong Kong-based and headed by director Heatherm Huang, CEO of MailTime App and co-founder Measurable AI. Huang's LinkedIn profile shows he has been with the project since its inception.
According to MDT, its engineering team members are Gary Lau, Gem Ng, Allen Xu, Wing Chan, Ken Wong, Rept Lo, Maxi Cho and Matt Lung. Two data scientists, Dr Damien Passemier and Tiger Li, are also working on the project.
Project risk profile
According to cryptocurrency research and data site Is This Coin A Scam, the MDT project has a safety score of 5.33, data on 20 January 2022 shows. MDT scored highly at 8.83/10 based on its community metrics, 7.17/10 for sentiment, 7/10 for its credibility and 5.4 for trading volume. It was awarded 4.5/10 for development and 0.68/10 for awareness. The scores are based on the site's research on social media platforms such as Reddit and Twitter.
According to the site, MDT "is suited to a balanced investment style".
MDT coin price prediction
Despite a lack of awareness about this Measurable crypto project, the market outlook and forecast are bullish, with Price Prediction and Tech News Leader both expecting the MDT price to surpass $1 by 2028 and continue to rise in the subsequent years.
The most conservative forecast is by DigitalCoinPrice, which expects the MDT price to rise but stay below $0.20 in the next five years.
Note that analyst forecasts can be wrong. Forecasts shouldn't be used as a substitute for your own research. Always conduct your own due diligence before investing. And never invest or trade money you cannot afford to lose.
FAQs
Is Measurable Data Token a good investment?

MDT has launched adjacent apps which formed part of its decentralised data exchange ecosystem, which are major milestones for a blockchain project.

Whether it is a good investment or not will depend on your investing goals and portfolio composition. Cryptocurrency is an extremely high-risk investment and capital will be at risk, you should do your own research and never invest what you cannot afford to lose.
Will MDT coin price go up or down?

At least three forecast data providers expect MDT coin prices to rise in the next five years. However, forecasts can be wrong and have been inaccurate in the past. Please do your own research before making an investment.