Market close: Week ends in red for US indices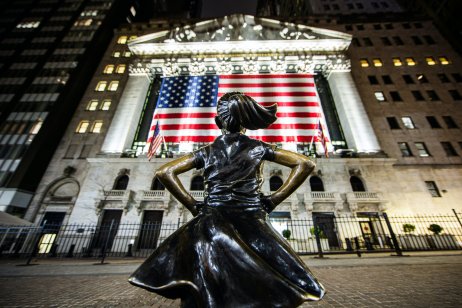 US benchmarks ended trading with small gains on Friday, despite ending the week with losses and snapping a five-week winning streak.
The Dow Jones Industrial Average went up 179.08 points, or 0.5% to close at 36,100.31, the S&P 500 increased around 0.7% to 4,682.85, while the Nasdaq Composite rallied 1% to 15,860.96.
For the week, the Dow fell 0.6%, the S&P 500 sank 0.3% and the Nasdaq Composite dropped 0.7%.
Job openings stay at record levels
A record 10 million Americans were out of work in September as the US economy struggles to rebound from the Covid-19 pandemic.
The latest data compiled by the US Bureau of Labor Statistics shows there were 10.4 million open jobs on the last business day in September.
What is your sentiment on JNJ?
Vote to see Traders sentiment!
Friday's winners and losers
Shares of Facebook parent Meta are up 4%, while shares of Apple, Microsoft, and Amazon are all up over 1%.
Shares of Johnson & Johnson closed the day up 1.2% after being up 1.4% halfway through the session. The company recently announced it was splitting into separate publicly traded companies.
Shares of Lordstown Motors continued their freefall Friday, settling at a 17.6% decrease after dropping 10% by mid-day.
Shares of Rivian Automotive closed 5.7% higher to give the start-up a market capitalisation around $111bn.
In assets: yields up, oil down, gold extends gains
The yield on the benchmark 10-year Treasury note jumped to 1.583% Friday, from 1.451% last week, posting its biggest one-week yield gain in around a month.
In the energy sector, West Texas Intermediate crude for December delivery sank 80 cents, or 1% to settle at $80.79 per barrel on the New York Mercantile Exchange.
The move marked a third weekly decline in a row for the US benchmark, which lost 0.6% this week, according to Dow Jones Market Data.
January Brent crude, the global benchmark, shed 70 cents, or 0.8% to $82.17 per barrel on ICE Futures Europe, representing a 0.7% weekly decline.
In metals, gold futures surged nearly 0.3% to close at $1,868.50 an ounce. The session's gain marks seven straight sessions gold finished in the green.
The closing mark is the highest settlement for an active contract since 11 June and represents the longest winning streak since a nine-day rise ending on 29 July 2020, according to Dow Jones Market Data.
In other metals, silver for December delivery went up five cents, or 0.2% to settle at $25.346 an ounce. For the week, silver is 4.9% higher.
Global markets: wins across the board
The Stoxx Europe 600 closed 0.3% higher, while in Asia, Japan's Nikkei 225 went up 1.1%, Hong Kong's Hang Seng went 0.3% higher and the Shanghai Composite added 0.2%.
In Canada, the Toronto Stock Exchange ended the session up 0.86%.
Read more: Elon Musk tweet fires up Tesla/Rivian comparison