MRO stock forecast: Can it hit new highs as energy prices rise?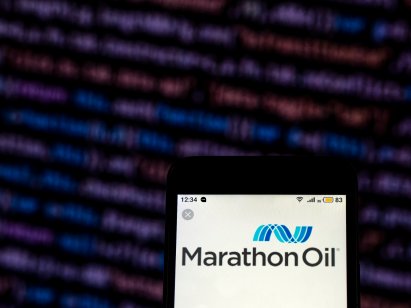 New York Stock Exchange (NYSE)-listed Marathon Oil Corporation (MRO) is holding its position close to its seven year high stock price after a 25% surge in March. Today (31 March) the price is $25.82.
The Texas-based oil producer is an independent exploration and production company with operations in America and Equatorial Guinea. In the US, the company operates oil fields and production facilities in Texas, North Dakota, Oklahoma and Northern Delaware basins. In February the company reported its 2021 net income at under $1bn.
MRO share prices closed at $25.5 on 30 March, up 24% from 23 February and more than double from a year ago. Supported by rising oil prices and strong demand, MRO stock value has been rising since the fourth quarter in 2020.
Are you interested to learn more about Marathon stock market dynamics and MRO stock outlook? Read this analysis for the latest marathon oil stock news and analysts' MRO stock predictions.
Rising oil and natural gas prices boost MRO's net income in 2021
According to MRO's full year 2021 financial result released on 16 February, net income surged to $946m in 2021, compared with a $1.45bn loss in the previous year. Revenue also jumped to $5.47bn, up 77% year-on-year (YoY). In response to the growing net income:
"Marathon Oil returned $819m of total capital to equity investors during the fourth quarter, including $772m of share repurchases ($724m of which settled in 2021) and $47m of base dividend payments."
On 26 January, MRO's board of directors declared a dividend of 7 cents a share on the company's common stock, payable on 10 March. Chairman, president and CEO Lee Tillman said:
"This is the fourth consecutive increase to our quarterly base dividend. Over the last year, we have now increased our base dividend by more than 130%, consistent with our commitment to pay a competitive and sustainable base dividend and to return a significant amount of cash flow to our shareholders."
The company will continue to prioritise free cash flow generation over production growth in 2022, as a result, the expected oil and oil-equivalent production is likely to remain flat from the previous year.
MRO's overall oil equivalent production fell to 348 thousand barrels of oil equivalent per day (mboed) in 2021, down 9% compared with 383 mboed in 2020. The company expects its oil equivalent production in 2022 at 340 to 350 mboed.
MRO expects more than $3bn of free cash flow in 2022, with an above 30% reinvestment rate at a projected oil price of $80 per barrel (bbl) West Texas Intermediate (WTI) and gas price of $4.00 per metric million British thermal unit (MMBtu) Henry Hub.

Rising oil and natural gas prices
Natural gas and oil prices have been rebounding following the economic downturn during the first wave of the Covid-19 pandemic in March 2020. According to MRO's unaudited statistics for oil and gas prices, the average price realisations for crude oil and condensate were $66.88/bbl in 2021, up 86% YoY from $35.93/bbl in 2020. The average realisation price of liquefied natural gas (LNG) spiked by 2.5 times to $28.89/bbl, compared with $11.28 in 2020. Natural gas also surged to $4.57 per thousand cubic feet (Mcf), up more than 2.5-fold from the previous year.
Oil prices have hit new multi-year highs this year, with the WTI crude rising to $130/bbl on 6 March following supply concern as the US banned Russian oil imports.
Environmental, social and governance (ESG) plan
MRO announced a series of new environment objectives on 27 January – it "believes continuously improving all elements of its ESG performance is foundational to maximising long-term shareholder value." The oil producer plans to cut its greenhouse gas intensity by 40% by 2022, 50% by 2025 and 70% by 2030.
The oil and gas sector is an emission-heavy industry, as carbon dioxide is made and released into the atmosphere during the drilling and extraction process. MRO plans to capture 90% of the greenhouse gas emissions in 2022.
As part of the World Bank's initiative, the company also aims to eliminate the routine practice of flaring by 2030. Routine flaring of gas is a common practice by oil and gas producers to dispose of large, unwanted amounts of associated petroleum gas.

Marathon Oil (MRO) stock price target
According to TipRanks, at the time of writing on 31 March, 11 out of the 15 Wall Street analysts surveyed gave a consensus rating of 'buy' for Marathon Oil stocks, while three recommended 'hold' and one 'sell' for the next 12 months.
The average 12-month Marathon Oil stock projection was $27.50, with a 8% upside potential. In a positive scenario, analysts forecast MRO share price could reach $35, while it could also fall to $20 in a negative scenario.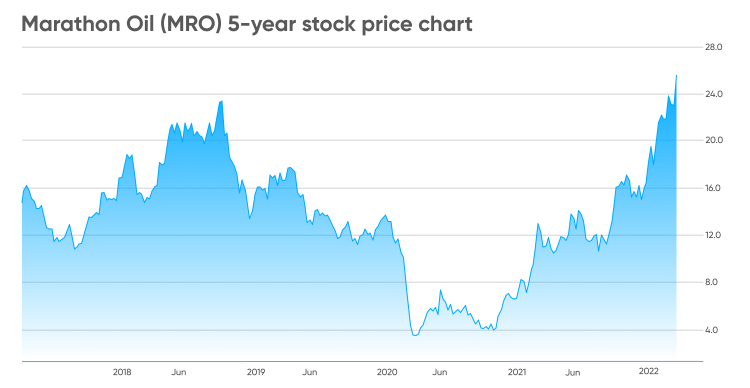 Marathon Oil share price forecast
Due to uncertainty and volatility in the energy market following Russia's invasion of Ukraine on 24 February, analysts' outlooks for MRO share prices were mixed in the next decade.
According to share price forecast provider Wallet Investor, MRO stock price was expected to fall to $24.32 in the next 12 months.
In contrast, Gov Capital's MRO share price forecast was more bullish, at $31.32 in the next 12 months. Although this was higher than the current MRO stock price level, it remained below the all-time high price of $40.14 on 8 January 2014.
According to share price forecast provider AI Pickup, MRO share price was expected to fluctuate in the next 10 years. The data provider forecast the average MRO share price could fall to $23.72 in 2022, and rebound to $27.15 in 2023, and continue to climb to $28.53 in 2024. AI Pickup's MRO stock forecast 2025 was that the price would ease slightly to $28.05.
The MRO stock price downtrend was expected to start from 2025 and continue in the next five years, falling to $23.44 in 2026. $24.57 in 2027, $18.28 in 2028, $18.98 in 2029, $18.39 in 2030, $16.92 in 2031 and $15.87 in 2032. Despite the forecast downtrend, the projected MRO stock price is above the $10 lows in March 2021.
When looking at any MRO stock analysis or stock forecast, it's important to bear in mind that analysts' forecasts and price targets can be wrong. Analysts' Marathon Oil's stock price predictions are based on making fundamental and technical studies of the stock's performance. Past performance is no guarantee of future results.
FAQs
Is MRO stock a good buy?

MRO has generated increased net income in 2021 and the company's market outlook in 2022 is expected to be positive.

However, whether it is a good buy or not will depend on your investing goals and portfolio composition. You should do your own research and never invest what you cannot afford to lose.
Will Marathon Oil stock go up or down?

As an oil and gas producer, MRO stock prices could be affected by several factors including supply and demand in the energy market and macroeconomics changes. The energy market was expected to be volatile in 2022 amid geopolitical tensions caused by the Russia-Ukraine crisis, as a result, MRO stock price trend is unpredictable.
Why has the MRO stock been going up?

MRO stock prices have been going up because of the company's increased income brought about by rising oil and gas prices.
How high will MRO stock go?

According to historical stock data, MRO stock prices hit an all-time high at $40.14 on 8 January 2014. However, analysts' forecasts can be wrong and have been inaccurate in the past. Always do your own research before investing.