Manchester United: Can Glazers expect top valuation after Chelsea sold off cheaply
Subscribe to Weekly Highlights
The major market events for the week ahead right in your inbox.
Subscribe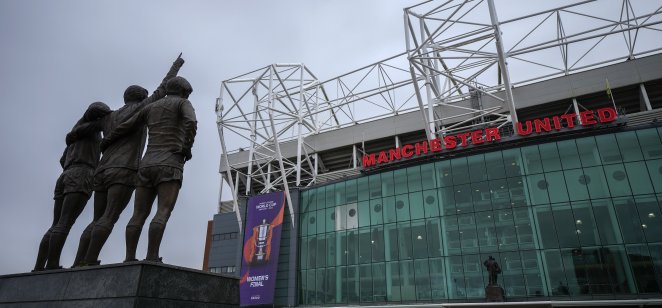 Content
The owners of Manchester United (MANU), the Glazer family, have put the club up for sale but what might the price tag be?
The consensus is that the recent sale of Premiership rivals Chelsea was cheap at £2.5bn – so does that set a marker for United?
Possibly, but then there are differences between the clubs. Certainly, Chelsea was more of a forced sale with Russian-owner Roman Abramovich under pressure to sell following Russia's invasion of Ukraine.
While the ill-will towards the Glazer family from Man United fans is well known (the Glazers never set foot in the stadium these days) there is no indication that this is in any way forcing a sale – the animosity towards them goes back decades!
There are other factors too indicating that United's price tag might not be in the same ballpark as Chelsea.
Unlike Chelsea, United fully owns its stadium and a large chunk of land around it. Chelsea's problems in how it can further develop its stadium at the present site have been well documented.
Also United is a bigger global footballing brand than Chelsea – so that will no doubt be a factor in the valuation.
However, this is not to say potential suitors will be fighting over Man United and driving up the price to crazy levels. At the moment, £5bn appears to be the figure bandied about.
Despite the club's strong brand there are underlying issues that potential investors will be aware of. As Russ Mould, investment director at AJ Bell explains: "Fans have been wanting the Glazers to sell Manchester United for years and now it looks like their wish could come true.
"Having not won the Premier League since 2013, left its stadium in a shabby state and loaded up on debt, Manchester United has not lived up to its reputation as a winning football club of late."
Mould points out that anyone who bought the shares will have suffered the same frustration as a season ticket holder, with the stock offering so much promise but always failing to move up the top of the league.
"Football clubs in general have proved to be terrible investments over the years. Excluding the 11% after-hours jump in the share price on the potential sale announcement, Manchester United's shares have fallen 30% in value over five years. Many people will find that a surprise given how well its brand is known around the world".
Mould adds: "Should the club find a new owner, the demands on its cash will extend far beyond securing the best players."
What is your sentiment on MANU?
Vote to see Traders sentiment!
| | |
| --- | --- |
| Long position overnight fee | -0.0242% |
| Short position overnight fee | -0.0203% |
| Overnight fee time | 22:00 (UTC) |
| Spread | 0.040 |
| | |
| --- | --- |
| Long position overnight fee | -0.0064% |
| Short position overnight fee | -0.0059% |
| Overnight fee time | 22:00 (UTC) |
| Spread | 0.15 |
| | |
| --- | --- |
| Long position overnight fee | -0.0308% |
| Short position overnight fee | -0.0137% |
| Overnight fee time | 22:00 (UTC) |
| Spread | 0.17 |
| | |
| --- | --- |
| Long position overnight fee | -0.0308% |
| Short position overnight fee | -0.0137% |
| Overnight fee time | 22:00 (UTC) |
| Spread | 0.20 |
Rivals up for sale too
Another thing to consider is that United is not the only Premiership club looking for an owner.
Liverpool FC's owners, US-based Fenway Sports Group, this month put the club up for sale. There have been persistent noises that Farhad Moshiri, owner of their Merseyside rivals Everton, might also be looking to sell.
Given the drawn-out sale of Newcastle United with the club eventually being sold UK businesswoman Amanda Staveley with a large Saudi Arabian backing, there is nothing to suggest that future Premiership club sales will be swift and uncomplicated – especially if the suitors are from Saudi Arabia or other countries with dubious human rights records.
Ben Yearsley, investment consultant at Fairview Investing, is not sure it is a seller's market right now. "There aren't many buyers out there with a spare £4bn to buy an asset with no real return from it - ie most are loss making! I've seen talk of Amazon or Apple which would be fascinating as no real big corporates have bought into the Premier league - they certainly have the pockets for it."
He thinks United will probably top Chelsea's price, though the redevelopment cost of old Trafford will be a concern. "The one benefit Liverpool has is that the stadium and training ground has been done so prospective owners know they won't have a huge outlay," Yearsley says.
Earnings potential
Danni Hewson agrees that finding a buyer at a good price might not be that easy.
"Any buyer interested in Manchester United will need to be asking a few serious questions about the club's earnings potential going forward. There's no denying the brand is exciting with an impressive global reach but how can it be further monetised beyond the avenues its already rumbled down?"
She adds: "Attempts to spin off a US style 'mega league' crashed and burnt. Streaming rights have been exploited and ticket and merchandise sales are likely to be impacted by the cost-of-living crisis which the OBR suggest will seriously set back UK household income".
As Hewson explains, football has always been about passion, it feeds the soul, but as a business it has a habit of sucking the well dry.
"Man U might arguably be the most shining of premier league stars, even with it's recent rather lacklustre pitch performance, but a future owner will undoubtedly be thinking with the head as well as the heart."
"And in the end it may come down to price and if it's exclusivity is diluted by the appearance of more than one team on the field that price tag might have to be discounted."
Related reading