Major shareholder objects Toshiba's (6502) spin-off plan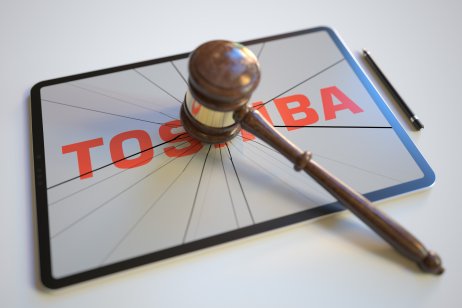 A major Toshiba shareholder has objected the company's plan to split its businesses into three entities, saying such a move would instead create three underperforming companies.
The opposition from Singapore-based 3D Investment Partners, Toshiba's second largest shareholder with around 7% ownership, highlighted the Japanese firm's thorny relations with its shareholders and raises the possibilities for shareholders voting against the board's plan.
The stock price of Toshiba immediately fell once trade opened today and currently down 1.1% at JPY4,623 – the lowest in three months.
Earlier this month, the electronics-to-nuclear power conglomerate unveiled plans to split into three – a holding company, an infrastructure services company, and a semiconductors and other electronic devices company to create long-term value. The demerger is expected to be completed as early as 2023.
Spin-offs will perpetuate Toshiba's problems
"Retaining all or most of Toshiba's businesses, and merely shuffling them into separate legal entities, does none of the hard work of sifting the core businesses from the non-core businesses and ensuring the core businesses are operated well, capitalised properly or governed effectively," 3D Investment said in a statement.
"In fact, we believe it is extremely unlikely that splitting Toshiba into three pieces, as the SRC [strategic review committee] has recommended, will resolve any of Toshiba's current execution, cultural, capital allocation or governance problems, and is instead very likely to create three underperforming companies in the image of today's Toshiba."
Toshiba has been rocked by several governance scandals in recent years, including alleged collusion with the government to help influence a key shareholder vote at its July 2020 annual general meeting, making shareholders doubting the credibility of the management.
"The demerger would create more prestigious senior jobs for insiders to fill, without any additional oversight or accountability. We fear this solution will merely perpetuate an underperforming culture. And, while shareholders await the split, Toshiba will flail as an oversized, unfocused conglomerate for two more years," said 3D Investment.
What is your sentiment on 6502?
Vote to see Traders sentiment!
Toshiba should consider partial sale
Earlier this year, private equity firm CVC Capital Partners held talks with Toshiba for potential $20bn buyout, but the discussions had since collapsed. 3D Investment said that the company should consider selling some of its non-core businesses.
Partnering with "global private equity firm to grow and improve Toshiba could be attractive to Toshiba's shareholders (depending of course on the terms), especially given the decades-long track record of abysmal value creation of standalone Toshiba," said 3D Investment.
"We therefore encourage you to open a formal process, develop a compelling plan for each of the businesses, provide detailed diligence materials and management meetings to interested financial and strategic parties, encourage and enable stretch proposals from those parties and evaluate the best path forward for Toshiba in light of the competitive proposals that we are certain will be submitted."
Read more: Japan's Toshiba unveils plan to split into three companies