Macau casino stocks: Can Sands and Wynn see further boost from Beijing?
Subscribe to Weekly Highlights
The major market events for the week ahead right in your inbox.
Subscribe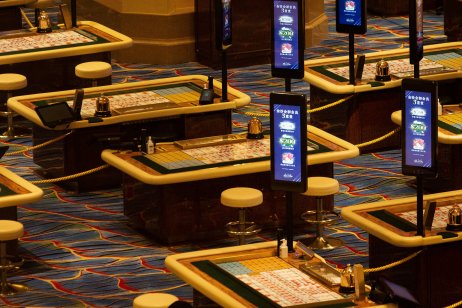 Content
Macau casino stocks have jumped since early November. Beijing announcing existing licences will be renewed and hopes of an end/easing in covid restrictions are seen as key reasons for the stock rises.
Sands China (Sands China) currently at HK$24 is up over 57% in the last month. Wynn Macau (WYNN)- currently at HK$7.74 is up 121% over the month.
MGM China (MGM China) - currently at HK$7.13 is up 98% over the month and Melco International Melco International (MLCO)- currently HK$7.88 is up 72% over the month.
Given the high percentage increase is there an argument that the positive noises on licensing and potential easing of Covid restriction are now priced into the stocks?
On closer inspection you could argue that the stock prices, historically speaking, are not inflated at current levels.
Pre-pandemic, Sands China was priced at HK$44; Wynn Macau at HK$21;MGM China HK$17; and Melco International HK$22
All four stocks are still signficantly lower than these pre-Covid price levels.
While the past month has shown positive momentum for these Macau names, it has been a pretty torrid year – so any bounce now is relative.
Last year, the Macau government pledged to step up oversight of casinos. This hard-line stance wiped more than $20bn off the market value of listed gambling operators, as fears that tight regulations could squeeze margins already impacted by Covid-19.
Casino stocks took one hell of a tumble as investors feared that as licenses to operate in Macau expired and gaming laws were reviewed, casino groups were essentially a high-risk bet.
But the landscape has changed somewhat since then. Last month, Beijing confirmed that the casino licenses of many of the operators in Macau - including all four profiled here - would be renewed. Given the billions of dollars the casino groups have ploughed into the China-owned territory to make it a global gambling centre, there will have been a huge and collective sigh of relief.
What is your sentiment on MLCO?
Vote to see Traders sentiment!
Investment in Macau
There is though, a degree of compromise with Beijing's offer. Those awarded licenses will be obliged to increase the focus on overseas customers and develop non-gaming projects. It is believed casino groups may have to invest something in the region of $12.5bn (combined) and in so doing, diversify Macau's tourist profile.
The attraction to families and non-gamblers is something that Las Vegas has pursued with theme/water parks, music events, shopping centres and art exhibitions included in the mix.
Lawrence Ho, chairman and chief executive of Melco, gave a clear indication that Beijing's expectations for casino groups would be satisfied.
"We are committed to Macau and its development as Asia's premier tourist destination," he said in a statement.
Brokers are largely bullish on these casino names right now. Marketbeat has a 'strong buy' recommendation for China Sands. And it has a 'moderate buy' rating for Melco International with a consensus price target of HK$11.51.
But there is no indication that brokers are positive on two other stocks in this list - MGM China and Wynn Macau. Perhaps this is not surprising given their financial position.
Recent research from the FT names MGM China and Wynn Macau as two stocks carrying worrying levels of debt as interest rates are going up.
With its Macau properties hit by Beijing's zero-Covid isolationism, MGM China's casinos have been cash-starved, out of reach from both overseas and mainland gamblers.Beijing has also hampered MGM's ability to attract high rollers by demanding it holds $618m in cash to qualify for the new 10-year licences.
The FT report also shows that while 'VIP' gaming had been softening over the years, it was still a big earner for Wynn Macau compared with some of its competitors.
Lockdown hit hard, with huge losses incurred just as the casino needed cash to keep paying staff and to comply with new laws forcing operators to hold large reserves. In June, the company had to borrow $500m from its US parent company, Wynn Resorts, fuelling speculation that casinos were struggling to secure bank financing.
Related reading