Lucid Motors shares close 11.4% higher as production ramps up
Subscribe to Weekly Highlights
The major market events for the week ahead right in your inbox.
Subscribe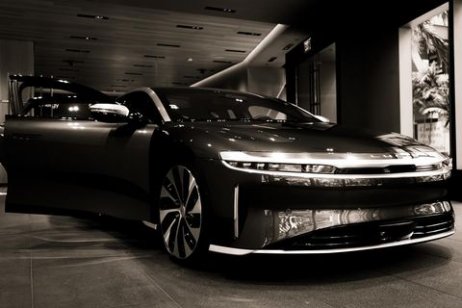 Shares of Lucid Group traded over 13% higher after the luxury EV manufacturer tweeted a photo indicating production models are ready for delivery on track with the previously announced month-end target.
Lucid shares closed Monday at $26.85 per share (£19.50), up 11.4% from Friday's closing share price of $24.11 on over 53 million in trading volume, more than double the average volume. Shares reached as high as $27.40 intraday, a 13.6% increase.
On Sunday, Lucid tweeted a photo of six Lucid Air sedans loaded on an auto-transport trailer with the hashtag #DreamAhead. Lucid is in production and has accepted over 13,000 advance orders, with delivery scheduled to begin this month. Lucid recently received US Environmental Protection Agency, Department of Transportation and Federal Communications Commission approval, the company reported.
Lucid makes five models
Lucid Group, the parent of operating unit Lucid Motors, trades on the Nasdaq exchange under the ticker LCID.
Newark, California-based Lucid manufactures five models of its Air sedan line, ranging in price from $77,400 for the Air Pure (after a $7,500 federal tax credit) to $169,000 for the 1,111 horsepower Air Dream Edition, with a 520-mile battery range.
Additionally, Lucid extended the redemption period for outstanding warrants to 29 October. Lucid said it expects roughly 44.4 million warrants to be redeemed in exchange for Class A shares of its common stock or at $11.50 per warrant, the company announced.
The share gains came amid a broader rally for EV manufacturers throughout Monday's session on the news car rental agency Hertz placed a 100,000 car order from Tesla, sending Tesla shares up over 12% to close at $1,024 per share and a market cap briefly topping $1trn.
Read more: EV maker Lucid shares soar after production week event
The difference between stocks and CFDs:
The main difference between CFD trading and stock trading is that you don't own the underlying stock when you trade on an individual stock CFD.
With CFDs, you never actually buy or sell the underlying asset that you've chosen to trade. You can still benefit if the market moves in your favour, or make a loss if it moves against you. However, with traditional stock trading you enter a contract to exchange the legal ownership of the individual shares for money, and you own this equity.
CFDs are leveraged products, which means that you only need to deposit a percentage of the full value of the CFD trade in order to open a position. But with traditional stock trading, you buy the shares for the full amount. In the UK, there is no stamp duty on CFD trading, but there is when you buy stocks.
CFDs attract overnight costs to hold the trades, (unless you use 1-1 leverage) which makes them more suited to short-term trading opportunities. Stocks are more normally bought and held for longer. You might also pay a stockbroker commission or fees when buying and selling stocks.