L&T (LT) and ReNew enter deal to tap green hydrogen in India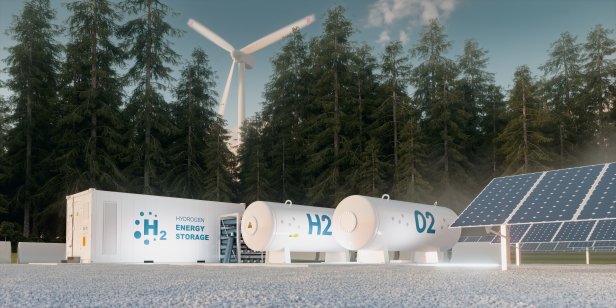 Indian engineering conglomerate Larsen & Toubro (L&T) said in a regulatory update on Thursday that it signed an agreement with Goldman Sachs-backed green energy producer ReNew Power to jointly develop and operate green hydrogen projects in India.
Green hydrogen demand in India is expected to grow up to 2 million metric tonnes per annum (MMPTA) by 2030 for use in refineries, fertilisers and city gas grids. This requires investments of around $60bn, considered as the size of the emerging green hydrogen market in the country.
L&T with its expertise in engineering and construction, and ReNew with its experience in the development of renewable energy projects, are market leaders in their respective sectors and this synergistic partnership is committed to tapping this emerging opportunity, the exchange release noted.
Building green energy portfolio
"This partnership with ReNew…brings together the impeccable track record of L&T in designing, executing, and delivering EPC (engineering procurement and construction) projects and the expertise of ReNew in developing utility-scale renewable energy projects," said L&T chief executive officer and managing director S N Subrahmanyan.
He considers green hydrogen to be a promising alternative fuel and an important lever for achieving a cleaner future. "L&T is extremely keen to add value in this space beyond the traditional EPC approach and is looking forward to working with ReNew," Subrahmanyan added.
Under the terms of the agreement, the companies will jointly develop, own, execute and operate green hydrogen projects in India.
ReNew Power, listed in NASDAQ as ReNew Energy Global (RNW), is one of the leading renewable energy companies in India by operational capacity.
Zero-emission targets
Green hydrogen is produced by splitting water into hydrogen and oxygen in an electrolyser by using renewable-powered electricity and is said to help the world meet its net-zero emission targets.
Many countries, including India (through its National Hydrogen Mission), have announced specific policy interventions to push for the widespread adoption of green hydrogen, L&T said.
"Green hydrogen will be a key driver of the transition to cleaner sources of energy and this partnership between ReNew and L&T, will allow both companies to pool their knowledge, expertise and resources to take maximum advantage of this transition," said ReNew's chairman and chief executive officer Sumant Sinha.
"I expect this partnership to set new benchmarks in the Indian renewable energy space and took forward to working together with L&T," he added.
This partnership is the latest development in the Indian green energy space which has already seen big announcements by industrialists Mukesh Ambani and Gautam Adani.
Read More: India's economy expands 8.4% July-September, above estimate