L'Oréal shows it's worth it, share price rises on Q3 result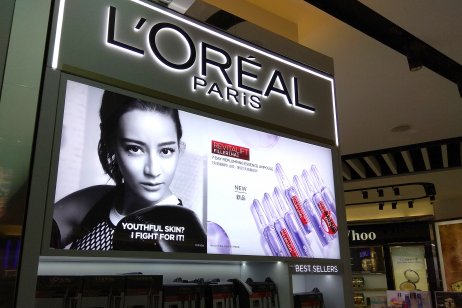 L'Oréal, a French personal care company headquartered in Clichy, Hauts-de-Seine, share price surged on Friday as it reported strong growth in its third quarter trading statement. The stock price for the beauty group rose over 6% to €392.45 (£330.85) in early morning trading.
Sales were at €23.19bn for the quarter, this was an 18% increase on a like-for-like basis. The beauty company also beat pre-pandemic levels, with growth accelerating over two years by 14.9% on a like-for-like basis in the third quarter, compared with 2019.
Regional growth
Regionally, growth came from North America, with a 23.1% rise in sales and North Asia sales increased by 22.6%.
Nicolas Hieronimus, CEO of L'Oréal, said: "All divisions increased their growth over two years quarter after quarter. As the public health situation has evolved, our employees have been safely and enthusiastically returning to the office in many countries over the last few months."
What is your sentiment on OR?
Vote to see Traders sentiment!
Gaining strength
"As a result of our agility, relevant strategic choices and strong investment in our brands, L'Oréal continues to significantly outperform a beauty market that is gradually returning to pre-crisis levels.
"Since the start of the pandemic, L'Oréal has been constantly gaining strength and is ideally positioned to continue to grow at its pre-crisis pace. We are more confident than ever in this growth momentum. In an environment which remains uncertain, our performance in the third quarter strengthens our ambition to outperform the market and achieve a year of growth in both sales and profits." Hieronimus concluded.
Read more: Evergrande shares rise as company averts dollar bond default
The difference between stocks and CFDs

The main difference between CFD trading and stock trading is that you don't own the underlying stock when you trade on an individual stock CFD. With CFDs, you never actually buy or sell the underlying asset that you've chosen to trade. You can still benefit if the market moves in your favour, or make a loss if it moves against you. However, with traditional stock trading you enter a contract to exchange the legal ownership of the individual shares for money, and you own this equity.CFDs are leveraged products, which means that you only need to deposit a percentage of the full value of the CFD trade in order to open a position. But with traditional stock trading, you buy the shares for the full amount. In the UK, there is no stamp duty on CFD trading, but there is when you buy stocks. CFDs attract overnight costs to hold the trades, (unless you use 1-1 leverage) which makes them more suited to short-term trading opportunities. Stocks are more normally bought and held for longer. You might also pay a stockbroker commission or fees when buying and selling stocks.