Kellogg's (K) reaches tentative agreement with union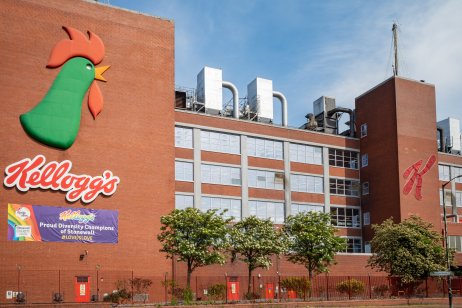 American food manufacturing company Kellogg Company (K) ended the week on a high note after the company reached a tentative agreement with a union that represents more than 1,400 of its striking workers.
The company announced the agreement on Thursday, which includes increased wages, improved health-care, and retirement benefits.
Kellogg's stock was up 5% to $65.77 (£49.64) per share after the agreement was announced. The stock cooled off on Friday, but still finished the week up more than 3%.
Agreement details
According to a press release, Kellogg's agreed to increase pay for all its workers across the board, including cost-of-living adjustments.
The company also said that its cereal plant employees are among the highest paid in the nation, with an average annual salary north of $120,000.
The business also agreed to provide accelerated pathways to receiving "legacy" status, which comes with additional benefits.
All employees will also receive expanded health-care and pension benefits, the company said.
"We value all of our employees," said Steve Cahillane, Kellogg's CEO. "They have enabled Kellogg to provide food to Americans for more than 115 years. We are hopeful our employees will vote to ratify this contract and return to work."
Capital.com reached out to the Bakery, Confectionary, Tobacco Workers and Grain Millers union, which represents the striking Kellogg workers, for comment on the agreement but did not immediately receive a reply.
Potential end of a strike
The deal could potentially end a strike that is now more two months old and has affected 1,400 workers at plants in Battle Creek, Michigan; Omaha, Nebraska; Lancaster, Pennsylvania and Memphis, Tennessee.
Kellogg's said the members will vote on the new agreement on Monday and the company should know the results by early next week.
Read more: US labour market remains strong as job openings increase