Kadena price prediction: What is Kadena (KDA)?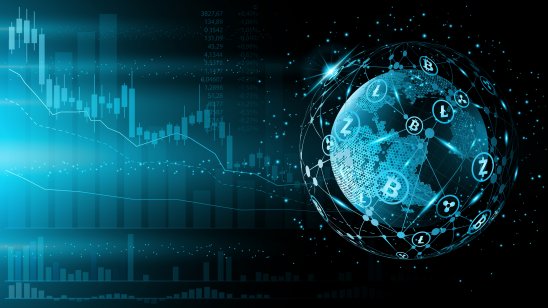 The Kadena organisation, launched in June 2016 by two former JPMorgan executives, Stuart Popejoy and Will Martino, is responsible for the Chainweb public blockchain, which is designed to massively increase network throughput. Its native cryptocurrency is kadena (KDA). Let's take a look at how the token has been doing, and some of the kadena price predictions that were being made on 1 November 2022, too.

Kadena explained
The company claims that Chainweb is the only sharded and scalable layer-1 proof-of-work (PoW) network in business today. Its permissioned blockchain is designed as a fully open-sourced project. It aims to solve the challenges faced by existing blockchains, such as speed, scalability and security limitations. The company goes so far as to state that the Kadena ecosystem provides a security level equivalent to that of Bitcoin (BTC).
Kadena promises low transaction fees for consumers as well as the introduction of the world's first autonomous cryptocurrency gas station on the company's blockchain. The crypto gas station is a wallet which exists purely to pay people's transaction, or gas, fees, thus, theoretically, making it easier for people to use decentralised applications (dApps).
#Kadena has launched the world's first autonomous crypto gas station, now live on our sharded & scalable layer-1 PoW #blockchain. Gas stations address a big barrier to adoption - requiring users to onboard to a #crypto to pay gas for dApp transactions. https://t.co/Wwv99ooWp2

— Kadena (@kadena_io) 5 August 2020
Pact, which comes equipped with formal verification, aims to make the process of designing safer smart contracts more seamless by automatically detecting bugs.
The network's supposedly unique architecture has enabled it to become the only platform, the company claims, to be able to deliver increased energy efficiency as transactions per second (TPS) scale.
According to the company, Kadena is the only network offering a completely decentralised infrastructure. Kadena says that it, unlike other platforms, has been designed to power global financial systems through a protocol that continually scales to higher TPS as more chains are added to the network, thus facilitating industrial scalability.
KDA is the digital currency used on the platform. Its main purpose is to pay for computation on the blockchain. The Chainweb public protocol functions through a braided consensus mechanism consisting of multiple individually mined peer chains that work in parallel to execute network transactions.
This architecture is capable of achieving network throughput in excess of 10,000 TPS. Each chain in the network mines the same cryptocurrency that can be transferred cross-chain via a trustless two-step Simple Payment Verification (SPV) at the smart contract level.
As a result of this design, the company reported that its hybrid platform recorded 480,000 TPS in 2020. In addition to massively increasing throughput, Chainweb also provides a significant increase in security.
Pact smart contracts can be updated, changed or fixed through an update mechanism in order to declare new versions of a smart contract that are applied only once the new code has been successfully executed. Any errors automatically roll-back the smart contracts to their previous state, allowing developers to fix potential errors. Meanwhile, the API functionality facilitates the extraction of data into external databases.
Pact smart contracts are comprised of three core elements:
Tables which support schemas and columnar history.

A set of public keys containing predicate functions.

A code module which contains function definitions, pact definitions, tables and schemas.
Pact comes equipped with a powerful validation tool suite in the form of formal verification, which uses Z3 Theorem Prover, an open-source tool developed by Microsoft, in order to mathematically verify and test for bugs that may be present in code.
The formal mathematical verification system analyses code with the use of proofs to test an intention that has been programmed into a smart contract, enabling developers to substantiate whether certain conditions can or cannot be met for a smart contract based on all given possible inputs that are available.
According to Kadena: "Pact empowers developers to implement robust, performant transactional logic, executing mission-critical business operations quickly and safely."
Kadena price history
While past performance should never be taken as an indicator of future results, knowing kadena's price historyy can help give us some important context when it comes to either interpreting a Kadena price prediction or making one of our own.
In the space of three months, the price of the kadena coin rose 28-fold, from $1 on 07 September 2021 to $28.25 on 11 November. This all-time high was preceded by a strong rally. It had been trading as low as $0.5712 on 11 June 2021.
The price rise came after an announcement, on 29 October 2021, that NFT capabilities were being introduced to Kadena's network.
KDA started 2021 at $0.1527 and experienced stratospheric growth throughout the year. On 24 November 2021, Kadena announced the launch of its wrapped KDA (wKDA) on the EU-licensed cryptocurrency exchange CoinMetro. Just before the announcement, KDA had been trading at $16.95 on 22 November 2021. The price reached a high of $18.45 on 24 November after news of the listing. The price retreated to $12.25 shortly after, however.
The first wrapped Bitcoin (kBTC) was minted on testnet on 10 December 2021, and KDA's price rose to $12.33 that same day. The kadena crypto would fall lower towards the end of the year, ending 2021 at around $12.48.
In 2022, the coin hit a downtrend from which it has not so far been able to escape. In January alone it lost more than 50% of its value. February was slightly more positive, with KDA rebounding to a high of $10.21. However, this was short-lived. The coin closed at $4.57 on 26 April 2022 and has not managed to rise above the $5 mark at the time of writing. This poor performance has been matched by large parts of the crypto market in general, after a series of collapses confirmed the bear market.
As of 1 November 2022, the coin was worth about $1.35. At the time of writing, there were just under 200 million KDA in circulation, out of a total supply of one billion. This meant that it had a market capitalisation of about $267m, making it the 121st largest crypto by that metric, according to CoinMarketCap.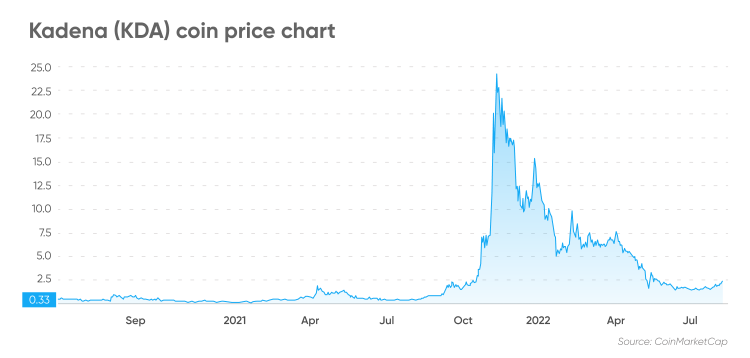 Price drivers
The launch of wKDA provided a boost to the project, since the token operates on the Ethereum blockchain, allowing it to interact with all Ethereum Virtual Machine (EVM) compatible decentralised finance (DeFi) protocols.
The project also addressed a major barrier facing the broad use of decentralised applications (dApps) – the requirement for participants to pay cryptocurrency gas fees upon joining. The creation of the world's first crypto gas station on Kadena's blockchain allows gas stations to pay users' joining costs, which can remove the friction of acquiring tokens in advance of sign-up.
CoinMetro saw 730,000 KDA coins deposited within 20 minutes of KDA staking relaunching on the exchange on 3 November 2021.
Finally, Kadena reported in 2021 that it had clocked up 480,000 TPS on its hybrid blockchain platform, beating competitors. For example, Solana has a transaction capacity of 50,000.
The risks for Kadena lie in the fact it is still a relatively new project, launched only seven years ago and operating within an emerging cryptocurrency industry that is subject to upward and downward trends.
Popejoy believes that Kadena's explosive growth can be attributed to the company's unique technology.
"Kadena has built the only layer-1 proof-of-work blockchain that scales with Pact, the safest smart contract language, from the ground up. Kadena finally enables projects to innovate without having to worry about gas fees, scalability and security. Examples of groundbreaking innovation include the first gas-free DEX operable on multiple blockchain platforms, the ability to mint NFTs, wrapped assets like Bitcoin and Ethereum, as well as other valuable protocols.
"I believe that Kadena will become mainstream in 2022 as we roll out our ecosystem with game-changing dApps, bridges to other protocols, integrations to leading cryptocurrency exchanges, wallets and even more," he told Capital.com.
Kadena price prediction
Before we take a look at some of the kadena price predictions that were being made as of 1 November 2022, it is important to note that price forecasts, especially for something as potentially volatile as a cryptocurrency, often end up being wrong. Also, long-term crypto price predictions are often made using an algorithm, which means that they can change at any time.
CoinCodex had a short-term kadena price prediction for 2022 which suggested that the token could potentially reach a little under $1.38 by 6 November before dropping to $0.949647 on 2 December. The site's technical analysis was bearish, with 15 indicators sending negative signals, against 12 that were bullish.
DigitalCoinPrice's KDA price prediction suggested the token could be worth $1.42 in 2022. The site gave a kadena price prediction for 2025 of $3.52 and argued that it could reach $7.46 by 2030.
PricePrediction.net had a kadena crypto price prediction which suggested that the average price of KDA could reach $1.49 in 2022 and $4.35 in 2025. Its kadena price prediction for 2030 saw itat $29.59 .
WalletInvestor struck a far more downbeat note. The site's kadena coin price prediction suggested that kadena could fall to trade at a mere $0.33 in a year's time.
Anndy Lian, chairman of BigONE Exchange and chief digital advisor for Mongolia's national productivity agenda, told Capital.com:
"The company's launch of its wrapped KDA (wKDA) on the Ethereum network is an added advantage to Kadena's current offering. The benefits are that they offer zero fee transactions, they leverage on sharding and offer faster payments using Kuro which boasts 480,000 TPS. I am a strong advocate for enhanced crypto governance and Kadena's unique ability to separate names from a set of public keys caught my eye early on. This specific feature allows enterprises to better govern crypto usage."
When considering a KDA coin price prediction, it is important to keep in mind that cryptocurrency markets remain extremely volatile, making it difficult to accurately predict what a coin or token's price will be in a few hours, and even harder to give long-term estimates. As such, analysts and algorithm-based forecasters can and do get their predictions wrong.
If you are considering investing in cryptocurrency tokens, we recommend that you always do your own research. Look at the latest market trends, news, technical and fundamental analysis, and expert opinion before making any investment decision. Keep in mind that past performance is no guarantee of future returns, and never trade with money that you cannot afford to lose.
FAQs
Is Kadena a good investment?

It is hard to say. A lot will depend on how the Kadena network continues to develop, as well as how well the crypto market in general performs in the future.

Remember, you should always carry out your own thorough research before making an investment. Even high market cap cryptocurrencies have proved vulnerable to the current bear markets. So investors should be prepared to make losses and never purchase more than they can afford to lose.
Will kadena go up or down?

It is difficult to tell. While the Kadena coin price prediction from DigitalCoinPrice as of 31 October 2022 was somewhat optimistic, other sites such as WalletInvestor were rather more downbeat. It is important to understand that price predictions are very often wrong, and you should also remember that prices can go down as well as up.

In volatile cryptocurrency markets, it is important to do your own research on a coin or token to determine if it is a good fit for your investment portfolio. Whether KDA is a suitable investment for you depends on your risk tolerance and how much you intend to invest, among other factors. When looking for a Kadena crypto price prediction, keep in mind that past performance is no guarantee of future returns, and never invest money that you cannot afford to lose.
How many kadena coins are there?

According to CoinMarketCap, as of 31 October 2022, there were 198,047,245.20 KDA in circulation out of a total supply of one billion.
Should I invest in Kadena?

This is a question that you will have to answer for yourself. Before you do so, however, you will need to conduct your own research. Never invest more money than you can afford to lose because prices can go down as well as up.