JD Sports and the World Cup: Can Messi shirts and Nike results boost JD shares?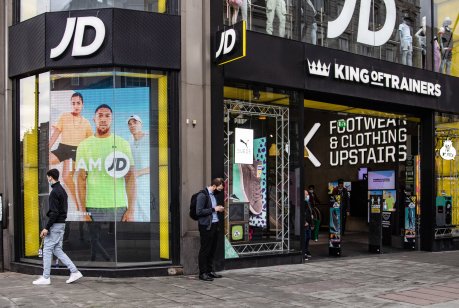 Why did the shares of JD Sports (JD.) fall during the World Cup?
And yet it's shares were up 6% on Wednesday and Frasers (Sports Direct) gained 3% too.
Perhaps the perfectly-scripted final, Mbappe v Messi, and the fact that the game on the day didn't disappoint provided a lift?
There has been news that Messi Argentina No.10 shirts can't be found for love nor money – could stories like this be a boon for companies like JD?
Perhaps the share price boost represented a more positive sentiment towards sports manufacturers/retailers generally, following stronger than expected results from Nike (NKE) ?
Russ Mould, investment director at AJ Bell, thinks investors should be wary of reading too much into a short-term, post-World Cup, Messi-boosted share price rise.
"Given that investing is all about finding companies with strong competitive positions, sound finances and competent management that can turn these facets into cash flow over the very long term, and then paying a sensible valuation for their stock, all of these issues are broadly irrelevant.
"From a trading point of view, they may be of some use, but it's really just noise, best blocked out."
Mould adds: "JD's shares will have been subject to multiple influences and shirt availability or otherwise could conceivably have been one of them, though ultimately you'd rather hope not.
"Macro factors such as consumer confidence, the ongoing cost of living crisis, and downbeat surveys of high street footfall could have had a role to play and probably a bigger one than results on the pitch in Qatar."
JD Sports share price chart
The prospect of rising interest rates would also be an issue to consider, Mould says. JD entered 2022 as a highly-rated stock owing to its perceived long-term growth potential, thanks to its strategic partnerships with key firms such as Nike, its omni-channel presence and the view that athleisure remains a growth market.
But rising interest rates are unhelpful for growth stocks, as they raise the discount rate at which long-term cash flows are discounted back to establish the net present values of those cashflows and thus a valuation for the equity.
"Add rising rates to a difficult macro backdrop and the lofty earnings multiples attributed to JD's stock at the start of the year and you can see why it is one of the five worst performers in the FTSE 100 in 2022 to date", Mould explains.
What is your sentiment on JD.?
Vote to see Traders sentiment!
Nike ticks plenty of boxes
Nike's better-than-expected quarterly results will have given traders something to get their teeth into, according to Mould. And Nike's ability to appeal across class and age demographics means wealthier clientele, less impacted by the cost-of-living crisis, have helped to drive sales.
The sports gear giant's discounting drove the top line and helped it to whittle down some of its excess inventory, but margin pressure was clear to see.
As Mould concludes, an easing of supply chain congestion, a weaker dollar and less inventory reduction and discounting could help margins in 2023; but macro factors, such as interest rates, could still have a big say on key issues such as valuation.
There remain other obstacles to clear in the short term too, particularly in the important Chinese market where the fate of the country's big reopening hangs in the balance thanks to mounting Covid infections.
"However, Nike looks like it is stepping up to the plate and its continued shift towards selling more direct-to-consumer should give it greater control over its own destiny," Mould suggests.