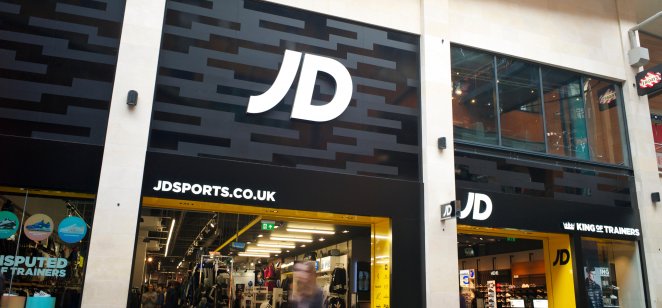 The stock price of JD Sports (JD.) has taken a hammering of late. Its shares are down 45% year to date.
At the tail end of November 2021, the stock was trading at around 234p, it fell to around 215p at the start of 2022 and has since headed south at speed, currently languishing at the 119p level.
The spectacular fall can to some degree be explained away by the cost-of-living crisis and the impact on non-essential retailers such as JD Sports.
The company's fine back in August by the Competition & Markets Authority (which related to JD Sports breaching obligations in regard to an investigation into the takeover of smaller rival Footasylum), will not have helped either.
Is JD Sports valued fairly?
But the question is whether the stock should be at the level it is? Earlier this month JD Sports Fashion upped its profit outlook for the year. The group which includes brands such as Millets, Tessuti, Blacks and Millets, said it now expects annual pre-tax profits to come in at £940m and estimated profit for the current financial year to at least equal that.
For the 14 weeks to 7 May 2022, the company also showed like for like businesses more than 5% higher than the same period in 2021.
While the board did stress that it was conscious of headwinds, including the general global macro-economic and geopolitical situation, the trading update accentuated the positive. True, the JD stock price rose following the update to around 131p but fell back quickly after to its current level 119p.
Jason Hollands, Managing Director of Bestinvest thinks JD has been a victim of the current economic environment but sees much to recommend the company right now.

"Consumer discretionary stocks are having a tough year because of the headwinds from rampant inflation which is going to squeeze consumption and so even the best players are going to get caught in the cross wind as asset managers reduce exposure".

That said, he stresses that JD Sports sales have held up really well and so far, they've managed to avoid supply chain disruption.
Exclusive deals with major brands
He adds: "Notwithstanding these near-term pressures on consumers, JD Sports is a great business. It has very strong relationships with Adidas and Nike, as the second most significant merchandiser for both brands globally, which it has leveraged effectively to the extent that 30% of product is exclusive to JD Sports".
"The stock is trading at a very attractive multiple of 16x forward earnings for a high-quality business with an 8% free cash flow yield".
Danni Hewson, financial analyst at AJ Bell sees JD Sports in a similar light to Hollands.
"Investors are paying close attention to consumer confidence levels and those outlooks from retail giants warning that sales will fall as budgets get squeezed harder. JD Sports has undoubtedly been caught in the stampede to the exit and it won't be immune to the current cost-of-living crisis".
What is your sentiment on JD.?
Vote to see Traders sentiment!
Long-term potential
People will cut back on discretionary spend and sales will be affected, Hewson says but does that make JD Sports a bad bet long term? She insists the 'long-term' is the time horizon investors should be concerned with and this might well make them look at the company's current share price with interest.
"Profits for the last year have soared and the company isn't expecting the elevated levels to be materially impacted by the current economic climate.
She adds: "Yes, it's dealing with supply issues, yes people are returning to the office and yes, some customers will be making cautious choices, but it's got robust growth plans and many of its customers don't pay the household energy bill.
"They're younger, with less demands on their income and most workplaces aren't asking staff to ditch the casual attire, particularly those ridiculously priced trainers."
MarketBeat's consensus forecast (from 10 analysts) rates JD Sports a 'buy'. This made up of eight buy recommendations, two 'hold' ratings and no 'sell' ratings.
Simply Wall St rates JD Sports 'signficantly below fair value'. It sees fair value at around the 305p level.
It also forecasts JD Sports' Return on Equity to be high in three years' time (21.6%).
Read more