Jakarta court to decide Garuda's (GIAA) $9.8bn debt recast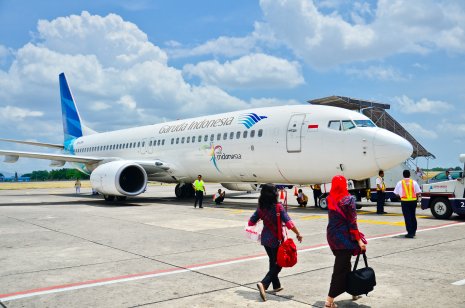 Airliner Garuda Indonesia is facing a crucial ruling on debt suspension on Thursday which will decide if it can secure a court-mandated restructuring and providing more time for a debt recast.
Similar to other airline companies, the national flag carrier has been hit hard by travel bans during the pandemic. Its cash and cash equivalent has dwindled to less than $40m at the end of September from over $119m at the start of the year, with losses in the January-September period amounted to $1.66bn.
The Jakarta Central Court will decide whether a debt suspension sought by an IT vendor of Garuda will be granted. The vendor, Mitra Buana Koorporindo, filed the debt suspension petitioned in October as Garuda still owes IDR4.2bn ($290,000) for its services.
Paving the way to slash debt
Should the court decides in favour of debt suspension to creditors, it would pave the way for Garuda to renegotiate repayments with aircraft lessors and could slash its debt from $9.8bn to $3.7bn, Deputy State Enterprises Minister Kartika Wirjoatmodjo, who oversees state transport companies, said in a Parliament hearing last month.
The government owns a 60.5% stake in Garuda Indonesia.
"Garuda has negative equity and is technically bankrupt as it cannot pay its debts, just not yet legally bankrupt. The government is looking for ways to restructure the debt and the most effective method is in-court settlement," he said.
Out of court settlement is not an option, said Kartika, as negotiations with over 60 creditors would take years, while Garuda might only have 3-6 months before all of its planes being grounded by lessors due to unpaid leases.
"An in-court settlement will bind all creditors. Yes, there is a risk that creditors may opt to reject Garuda's proposal, but we need to address this quickly. A court-mandated restructuring will enable quick resolution," the deputy minister added.
Creditors mostly foreign
The complexity in Garuda's restructuring comes as 70% of the creditors are foreign entities, posing jurisdiction issues in legal the process.
In September, the London Court of International Arbitration ruled that the airliner must settle its debt to two lessors.
"We are trying to get all creditors to be registered in Jakarta court and have the ruling to be registered in the UK, so that the proposal will be legally binding for all," said Kartika.
Part of the restructuring plan includes option to pay the aircraft lease by the number of operating hours instead of fixed amount and stopping leases on some types of aircrafts.
Read more: Philippine Airlines files Chapter 11 bankruptcy in US court